Gembryo Gem Drop #1 - An introduction
This being our very first Gem Drop after almost 5 months of developing Gembryo, this one is going to be a doozy so watch out, INCOMING!!!
Firstly and importantly, introductions are needed!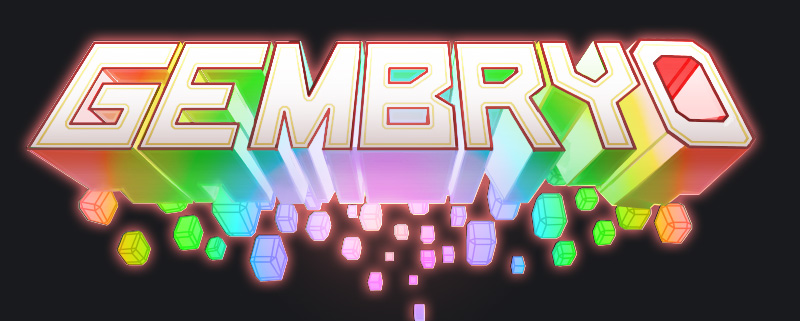 Gembryo is a game in development by East Bay Game Company which currently seats former co-workers that want to create games that stirred our imaginations and touched on why we wanted to become game developers in the first place. So we set out to create something in a familiar genre, if not nostalgic, that offered plenty of room for improvement. Then one day, a spark of inspiration came after an anecdote involving a house nearly getting burned down over over some over-cooked beef. It may sound odd, but from the smoke came the idea and after months of hard work, came Gembryo and it's characters.
Gembryo, being quite similar to games we played in arcades as teenagers, like Super Puzzle Fighter, we wanted to contribute a game that takes the things we loved from similar titles and combine it with aspects that we enjoy in the games of today.
Thus if I were to compare the familiar with Gembryo, I would like to list the following differences and improvements we plan to make the genre.
Gem-Crafted Powers
The most obvious difference is that some large gems can launch powers in addition to dropping gems onto your opponent's board. This creates a whole new dimension for the game and it's characters.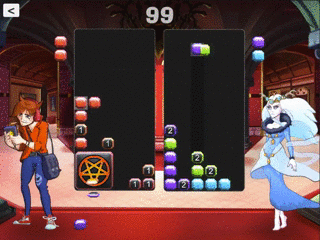 Some powers modify your opponent's board by raising rows of gems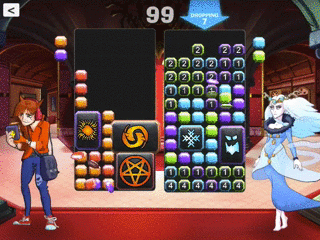 While some others intensify your attacks to help seal your victory!
A Gem-Based Fighter Game
Another notable difference with Gembryo is the pacing and control of the game. It's designed to play and feel more like a fighting game vs a puzzle game.
To accomplish this we remembered back what it was like playing a fighting arcade game for the first time. We button mashed, wiggled the joystick and yet we still managed to stand a chance against our opponent with the net result of having fun.
The more we played, the more patterns we recognized and thus our skill improved and the desire to try and learn new strategies grew.
We believed this experience was essential to include into Gembryo for both new and skilled players alike. So after building different systems with this in mind and experimenting with them, we'd like to share a few details of how we implemented these lessons into the game.

The only gem breaker you ever need
Gem breakers in Gembryo break any gem they touch - much like the multi-colored gems in Super Puzzle Fighter II. So, instead of effortly planting color-coded orbs in similar games we offer a gem that clears anything it touches for simpler and faster play. This allows a lot more action to take place over time as well as some awesome, panicky comeback KO's!

Easier Gem Building
Large gems are key to launching powers but how are they created? Instead of creating towering gem columns like in other titles, gem-building in Gembryo's makes easier use of both dimensions. Once a player has created a 2x2 cluster, it turns into a larger gem. The gem is then grown by simply adding more gems to it. All the gems need is a minimum amount of same color in an added row or column and the gem instantly grows larger! Together with universal gem breakers, this allows the player to enjoy the game on the macro scale with less stress on the micro scale.

Simple Minded Control
To let players easily wrap themselves around the game, simple control is essential in Gembryo. Currently, our desktop build allows players to place a gem pair by left clicking where to drop them and right clicking to rotate them. On mobile, we're planning something as simple as tapping the screen to position and rotate a gem pair and then double tap to drop it in place.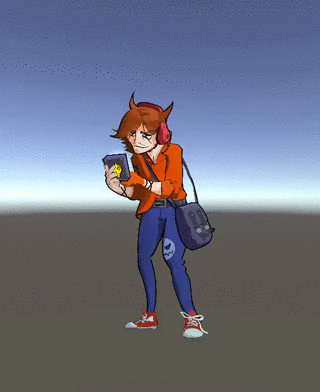 The Character Plays a Bigger Role
Lastly, we wanted to create a game with more emphasis on the characters as key components in the game. Most clones of the genre don't offer much in this aspect and thus we saw an opportunity to offer players awesome powers and abilities to unleash to further fill the character's persona.
So with that said, we're looking forward to rolling out 2 playable characters in our first playable demo to be available within a few weeks. In fact you will be hearing a lot about Felix, the Petulant Warlock Prodigy in the coming days followed up by another; Eve, the Winter Druid from the Shivering Woods. Additionally, we plan to roll out new characters regularly during and after the game's development cycle that will continue to evolve the game into the future.
But for now, we're hard at work to firming up something for you to play. So please, stay in touch on Facebook and Twitter as well as right here on IndieDB. We can't wait to show you what's coming up!
Happy Friday,
The Gembryo Team