Terrestrial planets are always nice, but will Infinity have gas giants too? Ofcourse!
For the first time we release screenshot of a gas giant using procedural generated textures in Infinity. Here's a gas giant with its 6 layers, each cloud layer is moving at different speeds.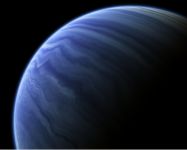 Last but not least, we have been trying to get good results when entering the atmosphere of the gas giant. It's still very experimental, at the moment my main problem is to blend the atmosphere look from space and from inside.
In the future, we will experiment with giant storms
(like the big red spot on Jupiter), different wheather effects, lightning, volumetric clouds, ...