Greetings, Oracles!
Since the conclusion of our IndieGogo campaign last month, we want to take this moment to announce our future plans! In lieu of reattempting a formal crowdfunding campaign, we have decided to move fundraising to our own website: mojogamestudios.com! There, we're in the process of redesigning our website to better represent our Crowdfunding Campaign. This new site will contain a campaign page with information on the game, a comprehensive breakdown of our rewards for backers, and a large blog section where we will post Bi-weekly update blogs on Cradle's progress.We are still hard at work making Aderyn's Cradle, even while we wait to raise our full funds!
So, what are we up to? The Iceland scene, based in part on the image below, already has a completed block-out and is awaiting assets to fill in the gamespace. Our Technical Art team is also working on a separate scene to demonstrate weapon augmentation, an essential process in Cradle. The augment showcase will give a taste of the power harnessed from the five forces of Anora. As part of our upcoming website updates, a new blog will be started for screenshots of the level and other development updates!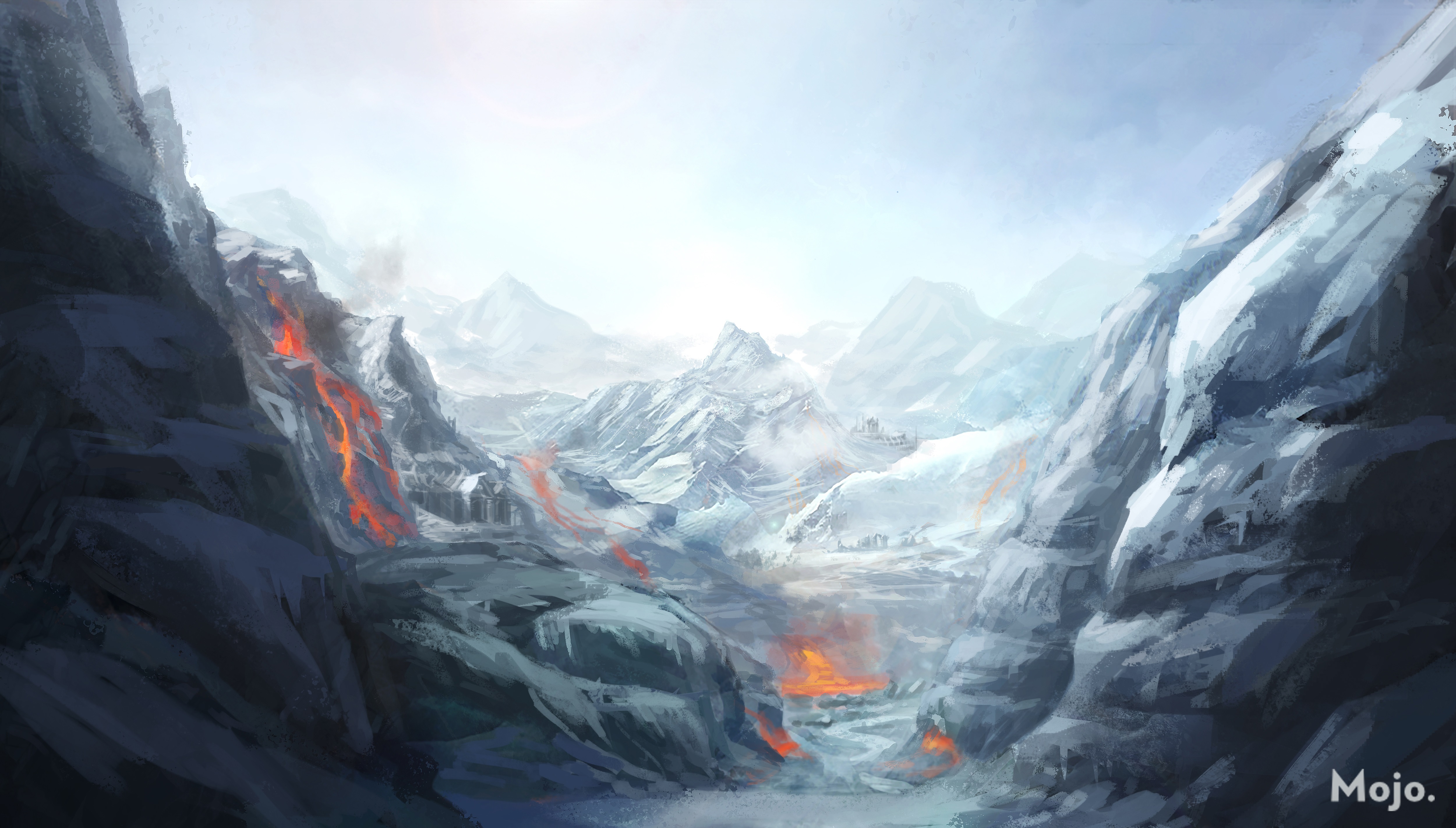 On the same priority level as Iceland development is polishing our Combat Island Downloadable Teaser and putting it through final testing stages. After many hours of tinkering and tweaking, the demo is almost complete! Soon we will be sending it out to various youtubers, including Jonathan Crow, Indie, and Game Grumps!
Along with continued work on the game's technical aspects, Mojo has kept up recruitment efforts, starting with everyone who emailed us during the Indiegogo campaign seeking positions on the team. We've also continued the expansion of our office space, further codified and organized our game design documents, and made robust additions to Cradle's lore, locations and backstory!
How will we carry on without full funding from Indiegogo? Having received greater funding would have simply allowed us to release both the scene and the full game sooner. Mojo will continue developing Cradle and our Icelands showcase for release at the same level of robustness and quality we've advertised, even in light of our IndieGogo campaign falling short. At the top of our company task list is continuing to develop the Iceland scene for our future, larger crowdfunding campaign, using the funding received through Indiegogo (thank you!).
As always, Mojo is grateful for your continued support. We can't wait to show you what we have in store!
-- Mojo Team