Resisting the Zionist Occupation is NOT Terrorism!
Here is the original trailer in MP4 Full HD 1080p 60fps format:
Mega.nz
Fursan al-Aqsa® is an Action Game which addresses the Israel x Palestine conflict from a Palestinian perspective, breaking the cliché of portraying Arabs as Terrorists. You will play in missions across Palestine with many objectives to accomplish, epic battles, powerful guns, vehicles to drive and more.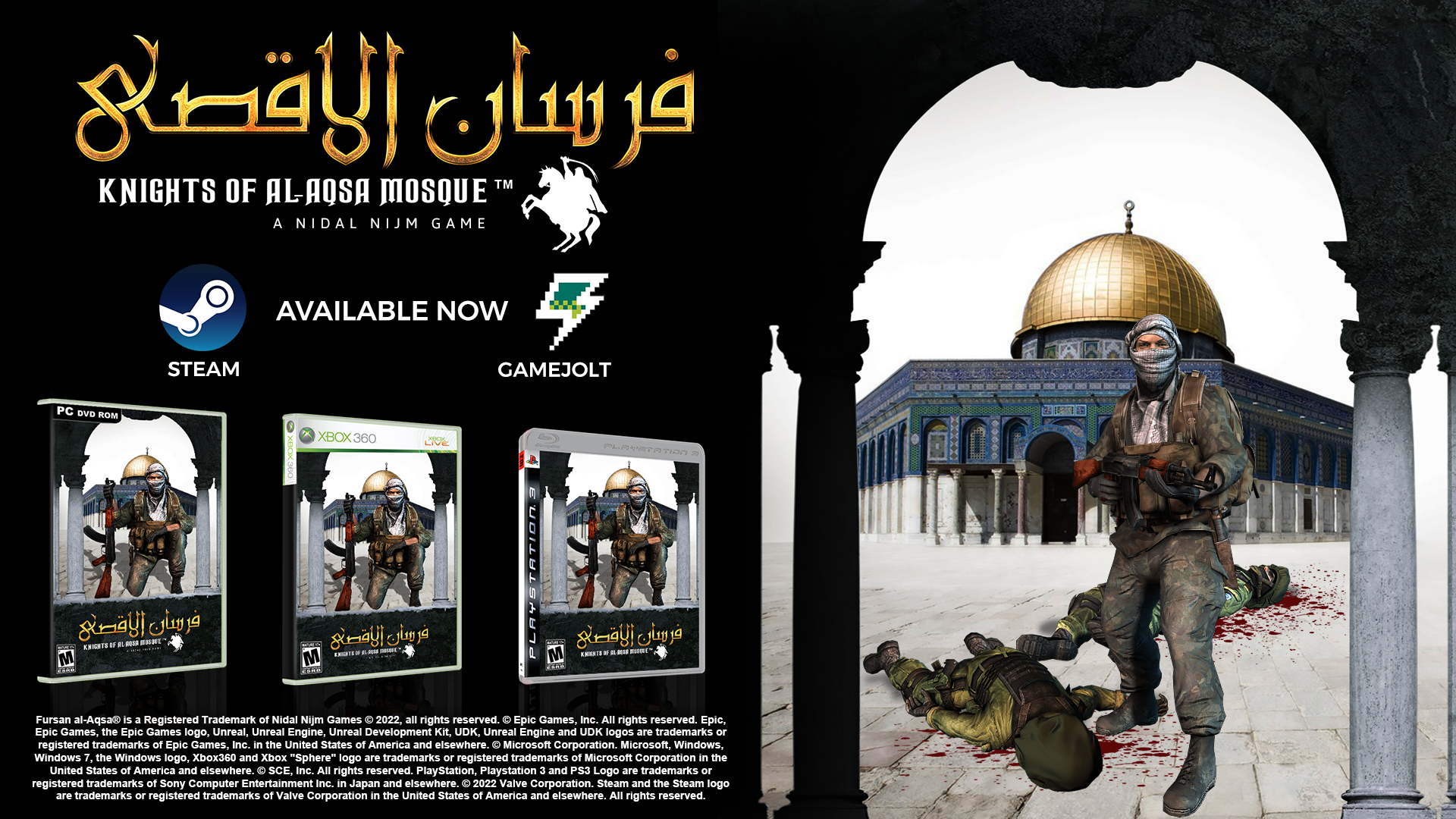 Available now on Steam (PC version):
Store.steampowered.com
And Gamejolt (PS3 and Xbox360 versions):
Gamejolt.com
Obs: The console version of this game is a Homebrew App, which means it only runs on Hacked Consoles (PS3 CFW/HEN, Xbox360 RGH/JTAG). And even though the content is the same (Campaign + Multiplayer), the PS3 and Xbox360 versions of Fursan al-Aqsa are inferior to the PC version, regarding graphics and performance. Also the consoles version, specially the PS3 version of Fursan al-Aqsa suffers from memory overload, which, sometimes causes missing textures and invisible objects (rendering problems), sometimes some textures may become too much blurry, and so on. Also On both consoles, due a problem on accessing the console's hard disk file system to write the save data, I had to make all the missions unlocked by default, but if you play from Mission 1 the game will take you to Mission 2, Mission 3, Mission 4 and so on. So that means I tried my best, and even with these small bugs, you can play the game and enjoy the gameplay experience on PS3 and Xbox360. I'm proud of this achievement, and I'm sure that despite its flaws, Fursan al-Aqsa is the most advanced homebrew game ever developed for the PS3 and XBOX360.
I thank you all for these years following my project, interacting with me, rooting for me, giving me words of support, and specially for playing my game's demo released last year on Steam, and giving me your precious feedback. Thanks to you, players and supporters of Fursan al-Aqsa, I was able to make this game even better than the Demo, fixing many bugs and shortcomings, polishing the game to make this one of the best Indie Games of 2022!
I hope you enjoy the full game, and please, write a small Steam User Review, because this is very important to help my game grow on Steam.
About the game size
The download size of this game is just 9.8 GB. After the installation it grows to 18.71GB, because this game has modding support and all game's assets are decrypted. However, if you want to free some disk space, you can free 3GB if you delete these 2 folders and the files inside them:
FursanAqsaGame\UDKGame\Movies\Story
FursanAqsaGame\UDKGame\Soundtrack
The first folder contains the Story Videos in MP4 HD format, for all languages. I included them inside the game folder so players don't need to go to YouTube for watching the game's Story Videos. The second folder contains the game soundtrack in wav format, which I included after many player's requesting this to me.
Obs: Due the modding support, the first time you run the game, it will ask to rebuild the game's scripts. Just click on 'Yes' and after the rebuild finishes, launch the game again.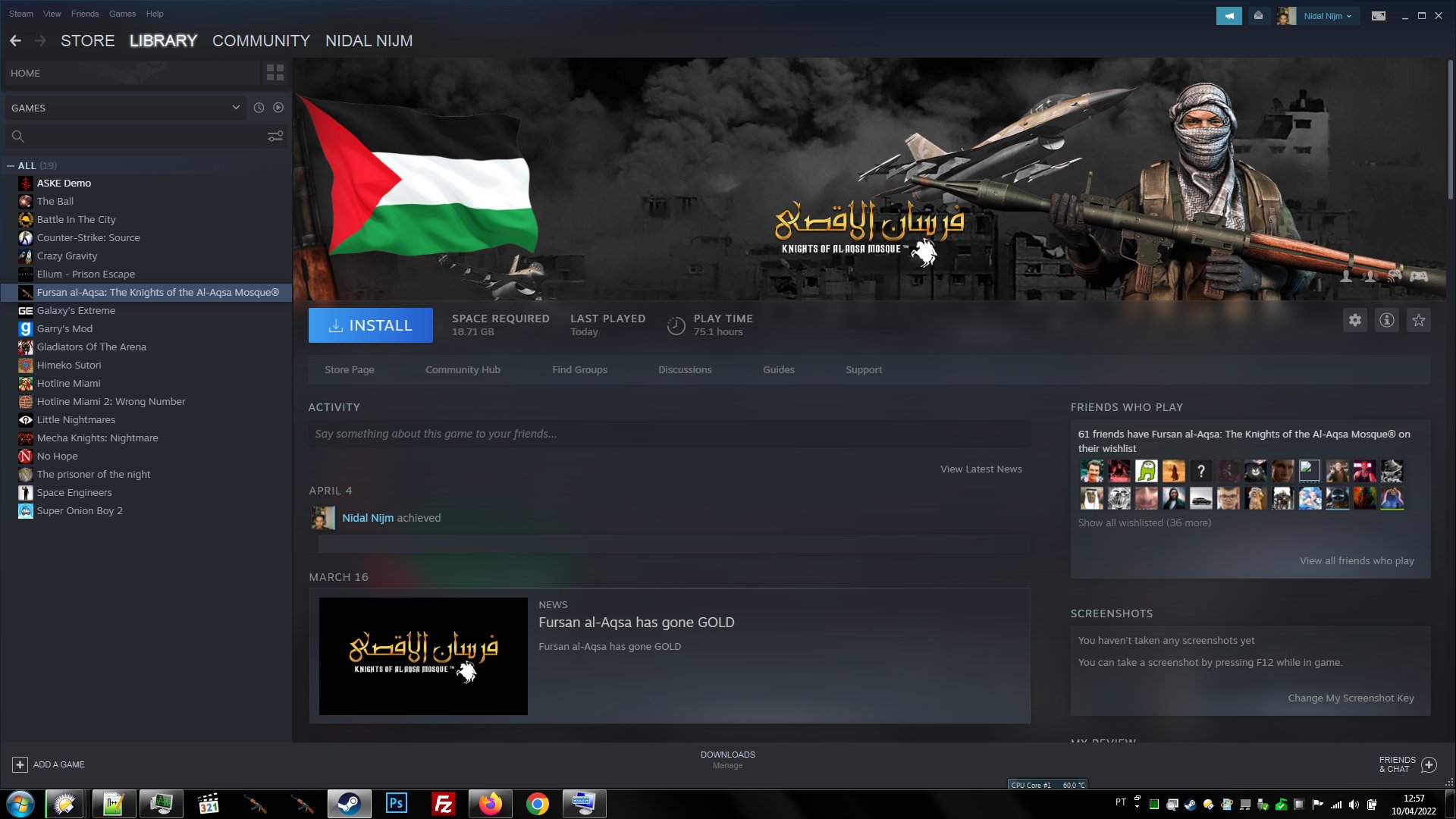 List of Improvements
* Improved overall game lighting with a fake HDR post processing effect;
* 9 Campaign Missions (including tutorial) with different environments ranging from Open Maps, Offices, Urban Environment, Bunkers, Military Camps, and so on;
* Varied gameplay from stealth, strategy, open combat, vehicles driving missions and so on;
* Many multiplayer maps;
* Full localization to English, Simplified Chinese, Portuguese-Brazil, Arabic;
* Custom game launcher with options menu;
* Craphics configuration;
* Rebind some keys;
* Added support for Ambient Occlusion;
* Added support for Motion Blur;
* Added support for Bloom;
* Added support for DirectX 9 MSAA - Multi Sampling Anti-Aliasing up to 4x;
* Added support to DirectX 9 Anisotropy Texture-Filtering up to 6x;
* Added complete control over Music and SFX volume;
* FOV selection menu;
* Select ADS mode between Toggle and Hold;
* Improved AI;
* Zionists sometimes commit suicide randomly;
* Improved knife kills precision;
* Improved bullet time;
* Reduced muzzleflashes;
* Improved bullet physics for all guns;
* Iron sights animation on first person mode;
* Fixed one of the worst bugs of my game, on which the guns didn't shoot the enemies whenever the player was leaning in a wall;
* Level unlock system;
* Updated training mission;
* Added Performance Mode for very old PC's which can't run 3D games very well;
* Original MP4 videos of the game's history to watch directly on you PC, so you can pause and read the text better;
* Game soundtrack;
* Steam Achievements coming soon;
* Challenges Missions coming soon;
* 3 New Campaign Missions coming soon;