Hi everyone!
So first, we did it!!! We have reach our goals on Kickstarter and even achieved some Stretch goals like the console export for Xbox One and Ps4!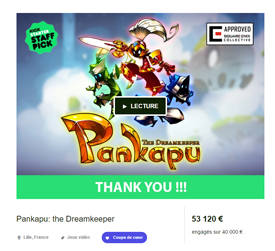 And this is us, happy like crazy!!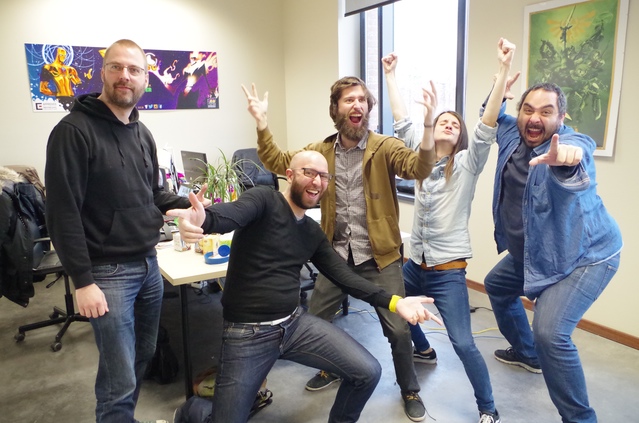 This success is clearly thanks to you, You have been amazing, thank you so much for your support!
Now it's time for our monthly update about the recent progress on Pankapu, so sit back, relax and here we go!!!
Omnia Express n°1

The pre-production is almost over, after spending 1 year on it, the bulk of the work is done. We have finished to write the whole story of Pankapu and Djaha'reel, and now we just have to focus on the cutscenes (animated comics).


The story is a really important part. Pankapu is based on a strong story telling, like a fable, it's why it was essential for us to finish the narration first.
We will not show you here what we have written, it would be ashamed if we spoil you before the release, but with the passion we put in it, you will be pleased by the richness of the story (at least, we hope :-) ).
But for today let us introduce you the new threat hovering on Omnia.
To infinity and beyond:
This last month we focused on a new enemy, the Upaki .
When we create a new enemy, it has to bring new mechanics too. Indeed this new enemy is a flying nightmare, capable of throwing corrupted projectiles on our guardian. It means Pankapu will have to fight like he never did before ... in the air...
I will let Nathan, who was in charge of designing this enemy, to talk about his process.
1.Concept art
We needed a flying enemy, capable of throwing projectiles. Because he was one of the first enemy of the game, I began my researches while keeping in mind "Make it simple". My first idea was a kind of flying Gelatyn, a small ball of nightmare's matter... with wings.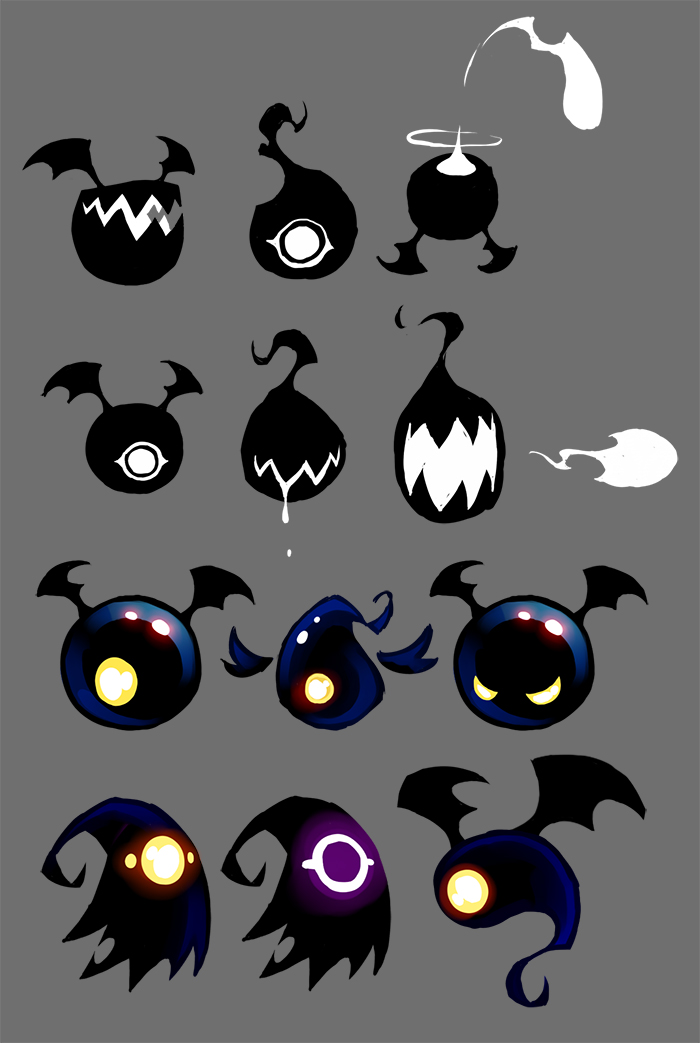 We came up with a design really close to a bat, with simple shape but highly recognizable.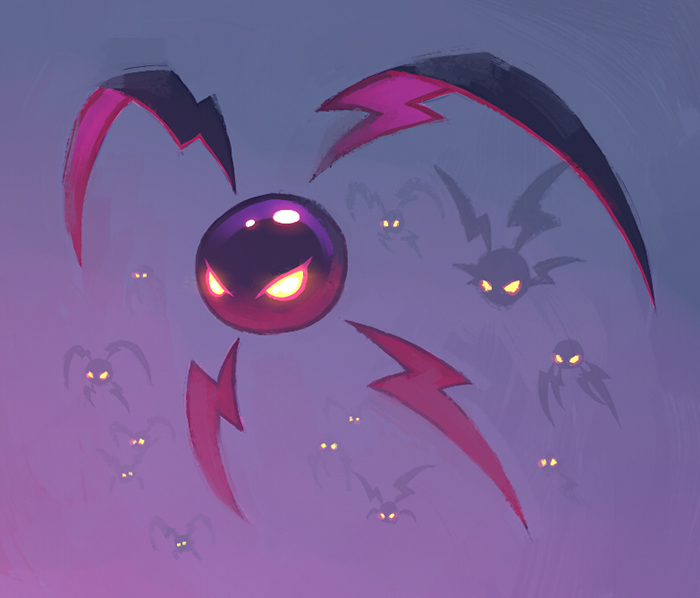 When the final concept is settled, I can start the research for the animation
2. Rough Animations
Even if we are doing animation by interpolation for obvious need of optimisation, I normally begin with a quick research frame by frame for every animations. In this way I can find the best movement without being limited by the software.

Idle Rough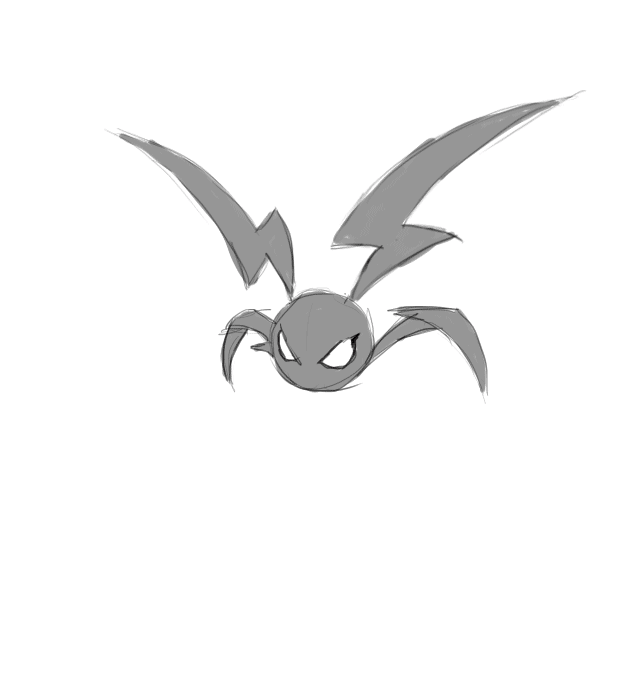 Attack Rough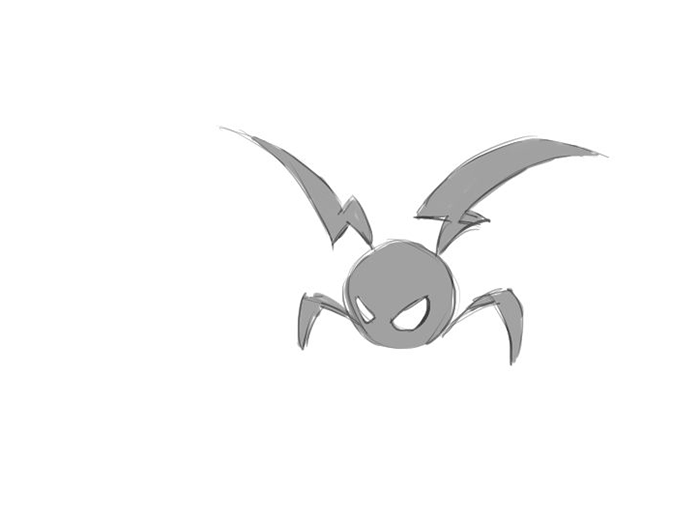 Death Rough
When all those researches are done, I can easily know, for exemple. how many shapes of wings I will need. So I can paint all the parts and import them into Spine, the animation software.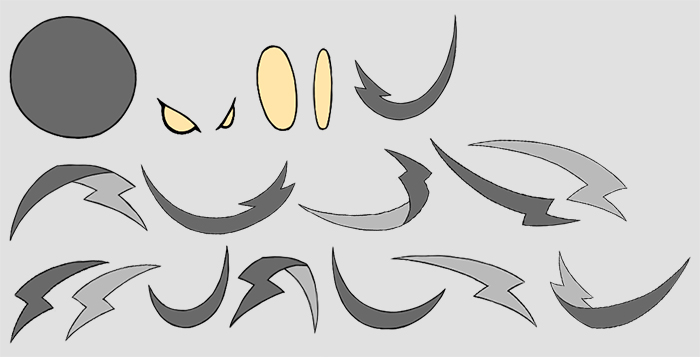 Sprite sheet Rough
3. Final animation and colors
I finalize every animation on Spine while keeping all the previous roughs as guides.
Spine is the software we are using to animate. It works by interpolation; we create a skeleton with bones (like you can see below) and we move all the different part (the wings in this case) like a puppet.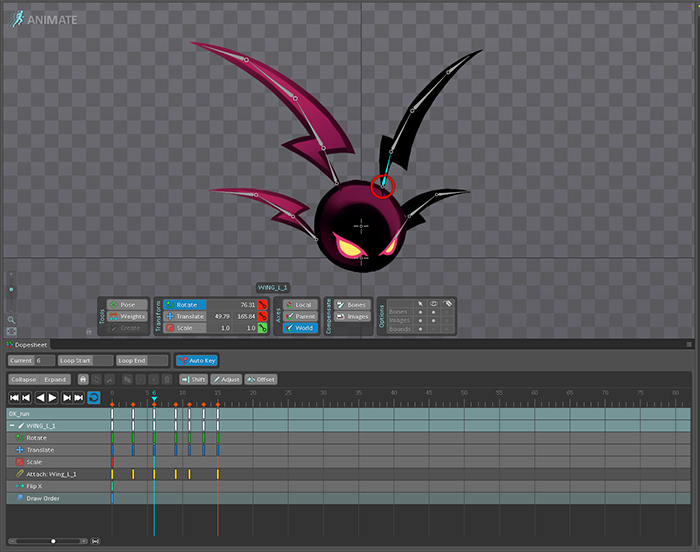 Upaki in Spine
After adding all the missing parts of the enemy I can finally paint them.
And here it is! The final animation of the Upaki ! ... Cute, isn't it? =D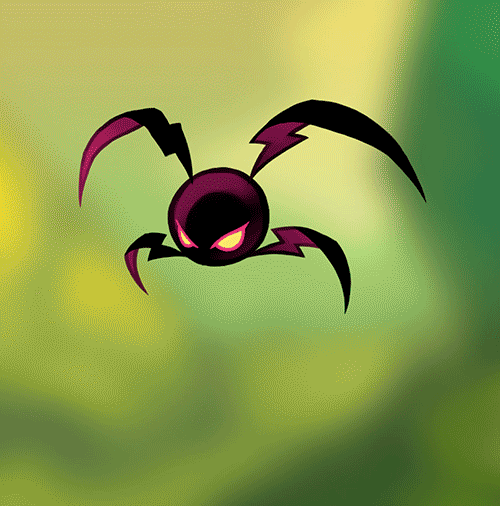 4. In Game
Now that we have a flying nightmare, Pankapu have to be prepare against him. Indeed, until now, Pankapu didn't have any air attacks, so we had to work on the air combo for all his Aegis.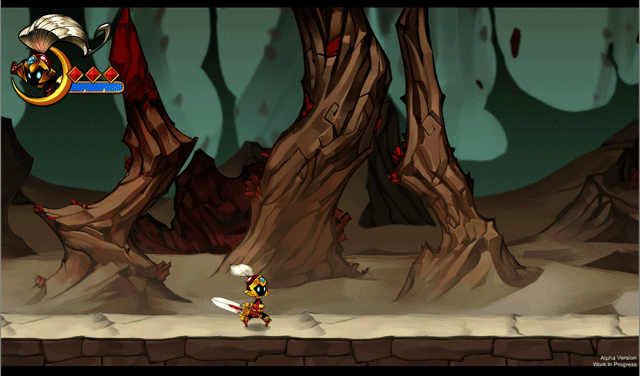 Bravery air attack

Ardor air attack
Now our dear Pankapu can fight the Upaki on equal footing; Enjoy the fight!



And that's all for this new enemy. We hope you like this update. Feel free to comment and tell us what you want to see more for the next update.
And that's all for this new enemy. We hope you like this update. The Omnia express is leaving and will be back next month, so stay tuned and we love you all!!!!
All the Too Kind Team