RUNOVER STUDIO's
Fight the Tentacle
Episode

The biggest addition from earlier versions is a more communicative interface
with mouseover, highlighting and visible targeting mechanics.

Control overview: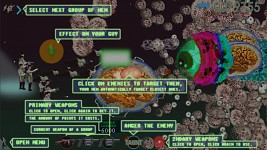 ( this is also included in the package )
The game can be fully controlled with the mouse and the graphical interface.
Left mouse button - Standard action key for buttons and moving your men
Right mouse button - Target enemy
Quick keys:
[Esc] - Pause/Resume
[Shift] or [Space] - Toggle between group of investigators

[1] - Equip left primary weapon
[2] - Equip right primary weapon
[3] - Use secondary attack 1
[4] - Use secondary attack 2
[T] - Taunt
Minigames use [Space] as action key.