Across the line by the skin of its teeth, it's the February Update for 8-Bit Adventures 2! I'm only just squeezing this in so it's a lot sparser than usual, but I wanted to keep up the trend of monthly updates. Today we're covering the 8-Bit Adventures 2 Website Overhaul, an upcoming Weeklong Sale, and some general progress updates from the past month!
Website Overhaul
One of the many things I've done this month is revamped the home page of the 8-Bit Adventures 2 website! Not the most exciting announcement I realise, but it's a lot more exciting to look at now haha. I tried to keep things concise, while also including a lot of screenshots/artwork and enough information to whet viewers' appetites. And yes, there are a few previously unseen things I slipped in there ;)

8bitadventures2.com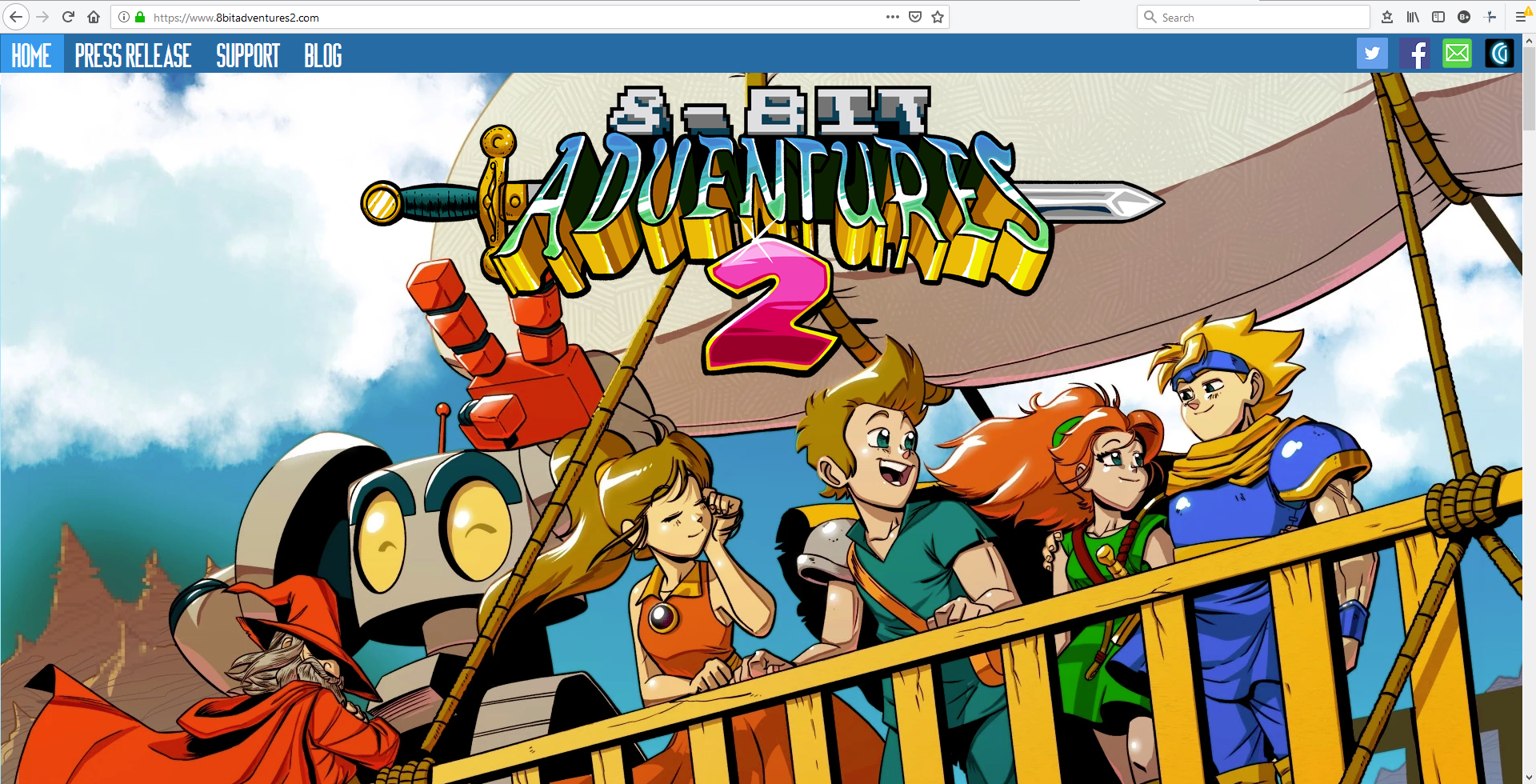 To get pretentious for a moment, I went with a theme of transitioning from day at the top of the page, to night at the bottom – ending on the game's title screen, which represents a new day dawning.

Overall, the website is still very much a work in progress (I don't have my final batch of screenshots selected yet so there are some placeholders, for example) but this revamp is an important step towards release and gives the game a more professional and appealing online presence – which will hopefully be a big help when the time comes.

As an example of what's coming, the 40 page instruction manual I've created will be uploaded there - sometime prior to release. It's filled with new information, artwork, and fun references (especially for those who know their 80s and 90s instructions manuals), so I'm really looking forward to releasing that one! =D
General Progress
February has been another month of heads down, working hard. Despite some personal challenges, I've been doing my best to get the game done as soon as possible. Not as fast as any of us would like, of course, but not a day goes by without solid progress being made. I'm actually starting development on the cutscenes in the final dungeon next week, so that should give you a pretty good idea of where I am overall =)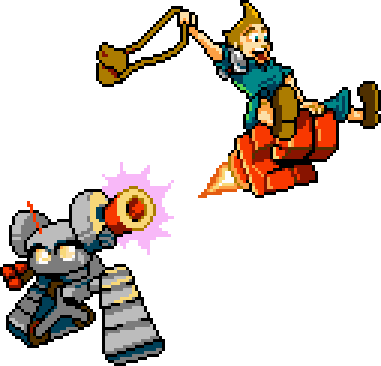 Sebastian (the composer) finished a wonderful new song which uses the NES-equivalent of vocals to emulate a woman singing. It was quite a challenge given the limitations we're working in, but I couldn't be happier with how it turned out! It's designed to accompany one of my favourite – and likely one of the most bizarre - scenes in the game. If you want to get a sense of what it's like, think of Jessica Rabbit's solo in Who Framed Roger Rabbit or Venus' Song in Earthbound...if they were robots =P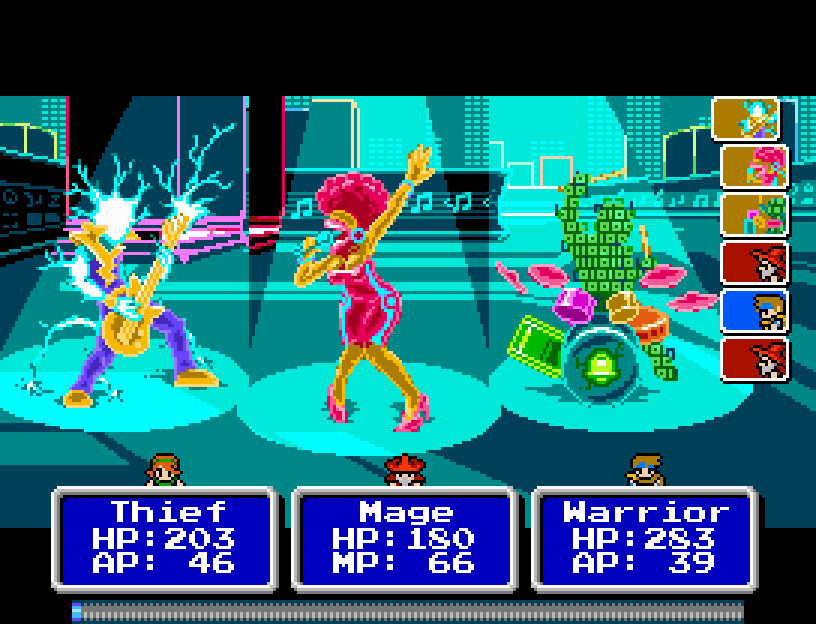 Sufyan (the programmer) also managed to squash a bug that had been plaguing me for months (and could occasionally soft-lock the game), so that was a massive relief haha. As a developer releasing your game to the public, there's nothing scarier than the thought of it randomly breaking for people like that XD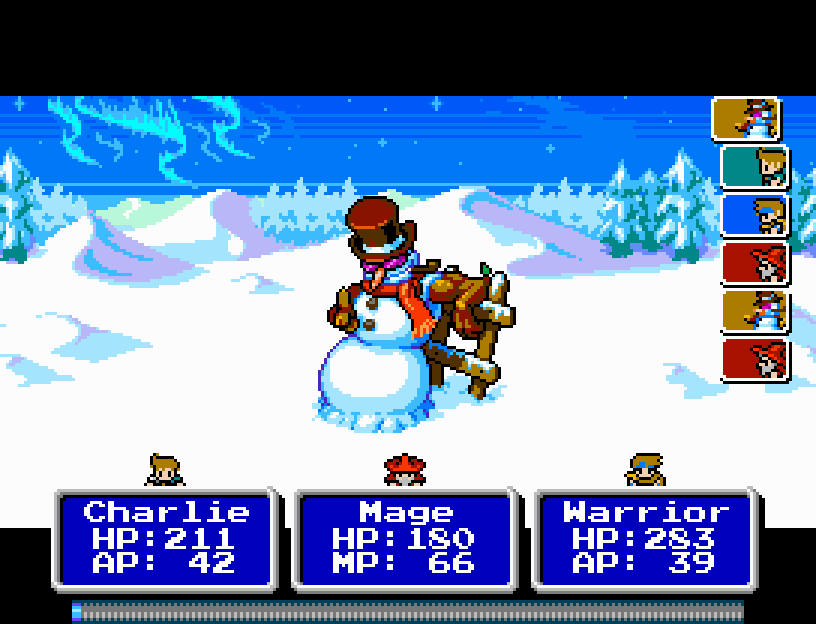 On a final note, I'd like to address the release date (as always). It probably feels like I'm just teasing it every month without any payoff, but the truth is that I simply don't know it. I've got an idea, but as I've learnt over the last few years, predicting the completion date is very tricky; especially when you take into account marketing considerations.

I'm hoping I can address this with a bit more certainty in next month's update, but I realise this must be getting very frustrating for long-time followers. I sincerely thank you for your immeasurable patience with me, and I'll try to be as transparent as possible going forward =)
March 4th Weeklong Sale Discounts
From March 4th (until 10:00 AM on March 11th Pacific Time), you can get 8-Bit Adventures at 60% off! That means you can own it for just $4 USD! You can also get the fantastic Remastered Soundtrack 30% off ($3.50 USD), or the Game + Soundtrack bundle 45% off (that's only $6.60 USD)!
Visit the 8-Bit Adventures Steam page here.
Additionally, my most recent game Tales Across Time is also participating in the sale, making an already cheap game even cheaper! You can now get it 20% off - that's just $2.39 USD!!
Visit the Tales Across Time Steam page here.
These discounts won't get any lower in the future, so get 'em while they're hot! ;)

And remember, every purchase goes towards 8-Bit Adventures 2's development. As many of you know, I am funding development myself, so any and all support is greatly appreciated!
That's All Folks!
Phew! I nearly messed up my 'one update post per month' plan. Whose idea was it to make February so short, anyway?!

As I've said the last couple of months, when my last game (Tales Across Time) was coming out, I did daily updates on Twitter for a few weeks until its launch, so I'm still considering bringing that back. I can really dig into the minutiae of the game's systems then!

To make sure you don't miss any news, I recommend following @CriticalGamesAU on Twitter, as that's the best way I've found to keep up-to-date on news!

You can also check out the 8-Bit Adventures 2 Website[www.8bitadventures2.com] for more info and screenshots, or check Facebook at: Facebook.com

And don't forget the newest addition - the Critical Games Creator Page: Store.steampowered.com
Follow that page or wishlist the game to be notified when 8-Bit Adventures 2 is finally released!

Thank you all so much for your continued support; it means a lot, even when I'm in mostly silent running! If you ever have any questions or want to get in touch, feel free to contact me on email (criticalgames@tpg.com.au), Twitter, or post in the comments section here or on one of my games' forums on Steam.

From the start, my goal has been to make a product with the soul of a classic RPG; a game for everyone who grew up with and loves the genre. And we're all doing our best to make that a reality =D

My legs may be tired, but this race has just a little more to run ;)
~Josh