Version: 0.5.30.162.
Download size: 55 MB.

We are pleased to present you the 26th update of the digital board game Fated Kingdom. We decided to pay attention to the visual part of the project and added five new character figurines. Previously, we used one for all guild, it was a temporary option, and now each player will have their own special miniature.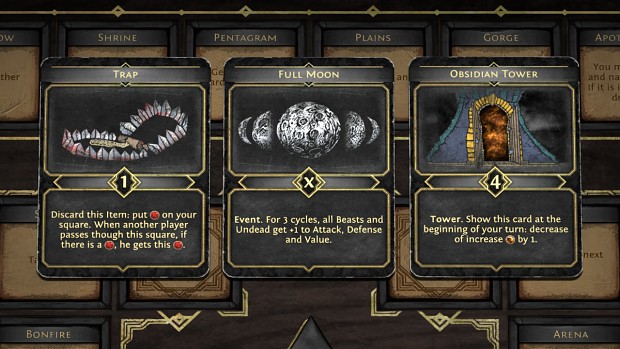 We also added new anti-aliasing. Previously, we used the built-in Unity solution that worked at an acceptable level. With the release of this update, SMAA anti-aliasing is used in the game. It is better and more efficient. We plan to continue improving the graphics by adding lighting and normal maps to most of the textures in the game.

Of course, we added three new cards. We also added a new square and some new flavors on the cards. We also fixed a rare bug with the choice of guilds and made the necessary corrections in the localization files. Work on the next major update is going according to plan. Release is coming!
3 cards: «Trap», «Full Moon» and «Obsidian Tower».
Square - «Wicked Strand» (Discard a card, draw 2 cards, and choose 1.).
Flavor text for 4 cards: «Ancestral Tower», «Gatherer of Skulls», «Undead Bull» and «Camping Flask».
5 character figurines, one for each guild in the game.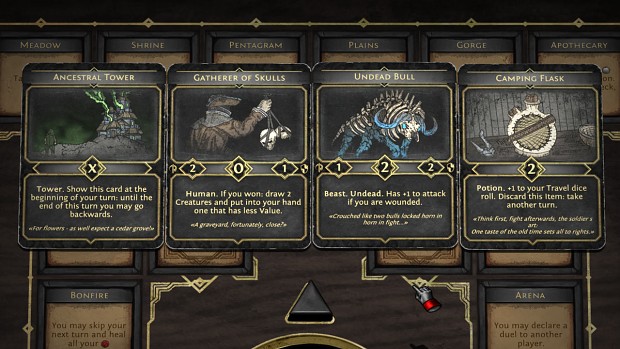 Other Changes:
Fixed errors and typos in descriptions of more than 10 cards.
Unity standard anti-aliasing has been replaced by more efficient SMAA.
The number of dice in the Heir's combat roll can no longer exceed 6.
Fixed a bug due to which two players sometimes could choose the same guild.
Minor text and localization fixes.
Thank you for playing Fated Kingdom!