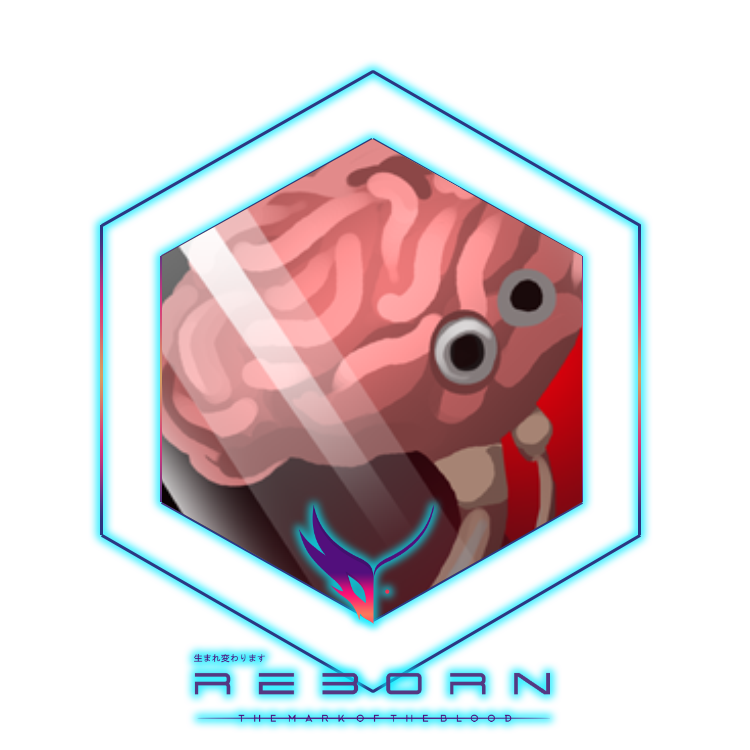 EVENTS IN GAME
In Reborn you will have the perception of playing in a pulsating and true world, in which hundreds and hundreds of random events are generated every day, which influence the behavior of the entire population of AIC (Artificial Character Intelligence).
There are 4 types of main events randomly generated by your system:
Social
Personal
Geopolitical
AutoDiscovery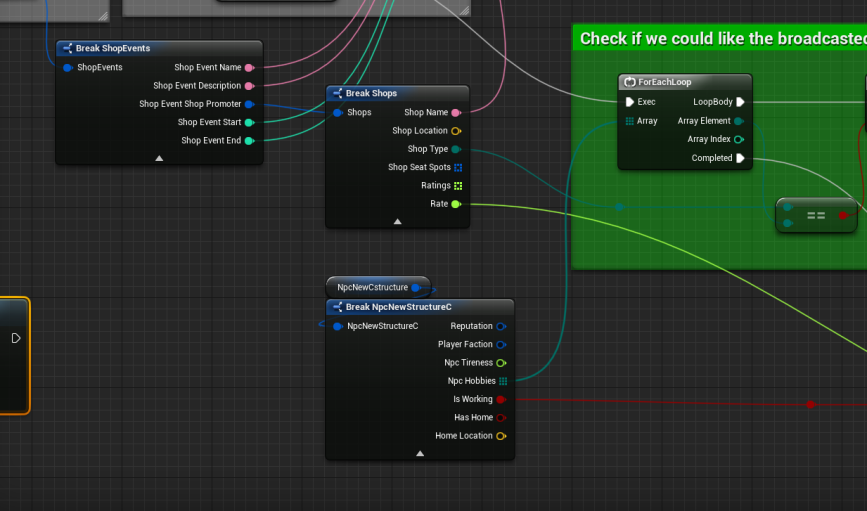 Social
In real life, every day in your city there are hundreds of events, such as the publication of a new book, the happy ours in your favorite bar, a new movie in the cinema, a conference on science, a sale of clothes, a demonstration in the square, etc ... this also exists in Reborn and will always be different from one computer to another.
What does this imply? Millions of different options.
Each AIC is generated by a random number created by the sum of the components of your Hardware, the AICs simulate human behavior:
Mood
Emotions
Hobbies
Wishes
Needs
Aspirations
Fears
Religious faith
These are some aspects of how an AIC evolves, generating its own lifestyle, for example:
Each AIC has a list of hobbies, which he likes to do, or which interests him more than others, and based on this list, he will react in an absolutely autonomous way to all events that fall within his interests.
Practical example:
Let's imagine that a concert hall in the game creates a rock event for the launch of a new musical group, how will the AIC react in the game?
Whenever any entity generates an event, be it a bar, a restaurant, a cinema, a theater, etc…, the event is notified to each AIC which compares whether the kind of event created falls within its hobbies list.
If it is not on the list, it is discarded and the AIC will continue to do what it was doing.
If it is in the list, it will proceed to process a series of data that will lead it or not to go to that event.
First he will evaluate his current level of fatigue given by work or everyday life, then he will evaluate the Rating given by other AICs who are at that event.
Each AIC will evaluate the performance of the event and give a rating from 1 to 5, if the vote will be higher than 3, AIC will compare the fatigue index with the quality of the event and the passion index he has for that particular hobby .
Later he will evaluate whether he is at work or not, if he is in his free time he will go to the event or not, but if he is at work, he will compare the index of will with the index of instinct.
If instinct prevails over morality and will, the AIC will run away from work to go to that event.
All this will have repercussions on the life of the AIC, losing your job, losing your home, getting divorced, living on the street, having no friends, etc...
AICs evolve autonomously, regardless of our actions that we will perform in the game.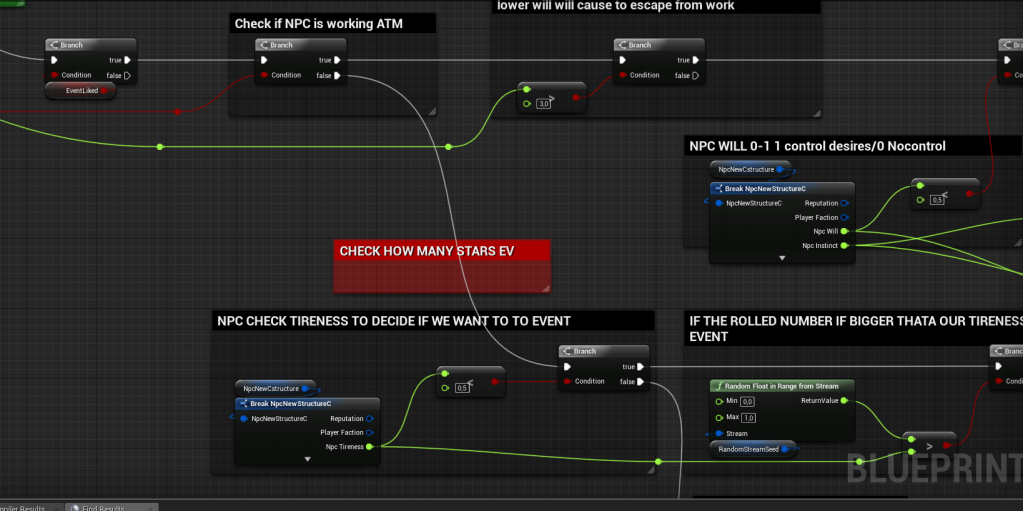 Personal
Each AIC at stake is like a newborn child exploring the environment and learning from his own actions, (the example above) once the AIC is fired from two different jobs for going to a event, he will learn (perhaps) that this is bad and therefore his sense of will will be strengthened and therefore his behavior will change towards society, or will further deteriorate. During the game, the AIC will create a circle of friends, elaborating the sympathy index in a different way between them.
For example: An AIC is happy because he has found a true friend and therefore at that moment he will be much more inclined to help you in the game, or that he has lost his girlfriend, and maybe he will go into depression and lose his job, maybe you will find him in one of the many night clubs of the game to party, because a free man has returned.
Geopolitical events, relating to the struggle between good and evil, will affect the behavior of AICs even more.
In the Reborn world there is a Television Network: DEMON BROADCAST TELEVISION, (like a national news program), which broadcasts all the events of the world 24/7.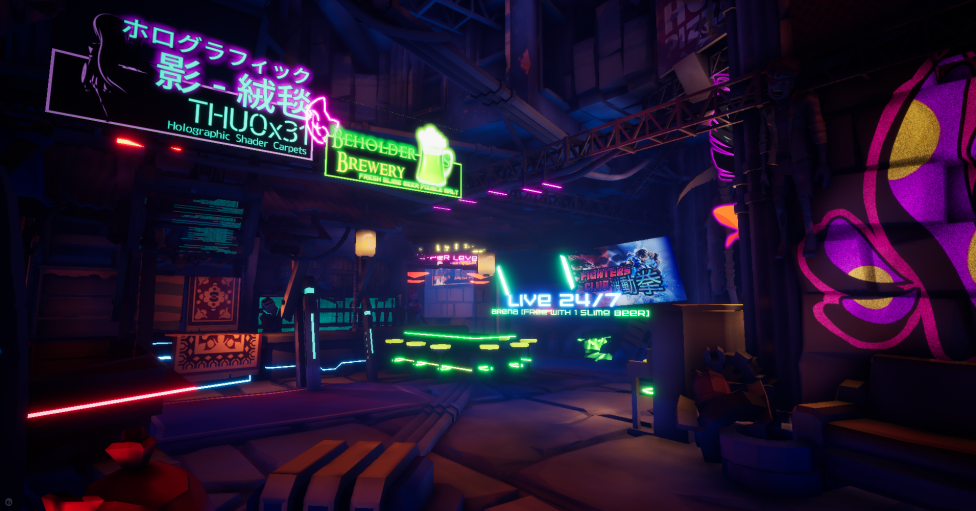 Imagine that there is a revolt in the Slums: The AICs who will not be pro-Rebellion will be scared and therefore will not come out of their homes, you could therefore find deserted streets and shops, and at the same time you will find AICs who will party and will be happy and will make you even discounts in their shops, or they will get drunk with the joy of the revolution.
At the beginning of the game the AICs will go in exploration, they do not know the city, the shops, the areas, the bars, the theaters, etc ..., when they walk around the city they will inspect all the places and memorize them, also memorizing the type of area and the services offered by that neighborhood.
Imagine that 3 Japanese restaurants are opened over time (AICs can start their own business), and that AIC has a passion for Japanese food, and will examine all three as they explore the city. Now our AIC not only likes Japanese food, but loves sashimi and only in one of the restaurants offers fresh and delicious sashimi, so, it will probably be easier to find our AIC at dinner in the restaurant serving his favorite food.
It must also be said that after any type of experience in the world, the AIC will give a vote to it, and the average will be used by other AICs to decide whether or not to attend a specific event or place.