Ultima Ratio Regum 0.3 is nearing release! All major new gameplay elements have been implemented, and we're now at the bug-fixing and tweaking point. I've developed The List (it deserves the capitals) of things to fix or tweak, and I've done a good 80% of those. There's too much new stuff to put in this one update, so I'm going to focus on graphics this time and post a gameplay update next week. A lot of new graphics have been developed for various contexts, always sticking to the ASCII/ANSI limitations (as best as possible!):
Staircases: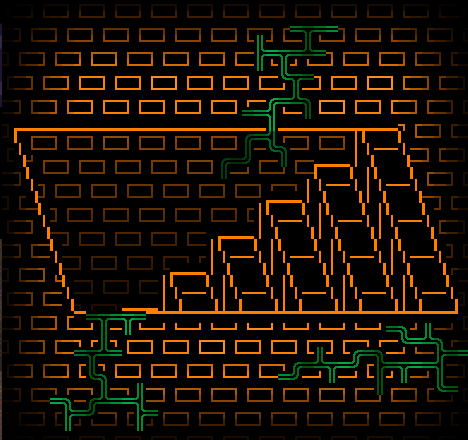 and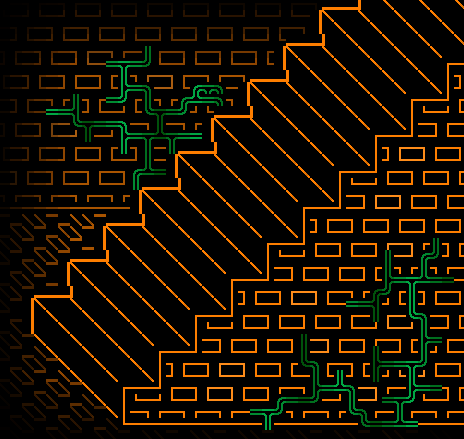 As with all graphics in the same, the colouring and vine layouts on each of these varies according to where they're found in the game, which is to say you will never encounter two identical-looking staircases. These are also only staircases for ziggurats - those for other dungeons or buildings will look different once added to the game (for example, pyramids will be constructed from much larger stone blocks instead of smaller bricks like these).
I've also implemented a basic form of languages, where the original version of the language shows up with a translation below it. For this version the player is capable of translating all languages, but in later versions the level of language knowledge a player has will be a mechanic in its own right. Here's an example of one of the sixteen language fonts designed just for the game:

Though I've chopped off the translation for now, as I don't want too much spoilers in this post. I've also made a change to how maps work. Lastly, a number of gameplay features have been significantly changed, especially how you navigate the world map, but I'll be updating on that next time. There's also a lot to say about the actual coding mechanics of generating puzzles and languages I'll talk about another time. Let me know what you think of the graphics, and in the mean time you can keep up to date on my devblog, Facebook page, or Twitter feed. The devblog is updated weekly or fortnightly generally on Mondays, Facebook a few times a week, and the Twitter roughly daily. Any thoughts, please leave them in the comments! Stay tuned...