What is and what is not "Elva the Eco Dragon".
"Elva the Eco Dragon" is a game to have a good time playing while showing the importance of cleaning the whole planet. Some people has told us that this is a political game because it works on the idea that the climate change is an opinion created by some political tendencies. We are not politicians; we are game developers, and we are not going to discuss that kind of things; we are going to encourage everyone to one idea: cleaning the planet, taking care of the planet, working for the planet, recycling, is an important task that everyone should embrace.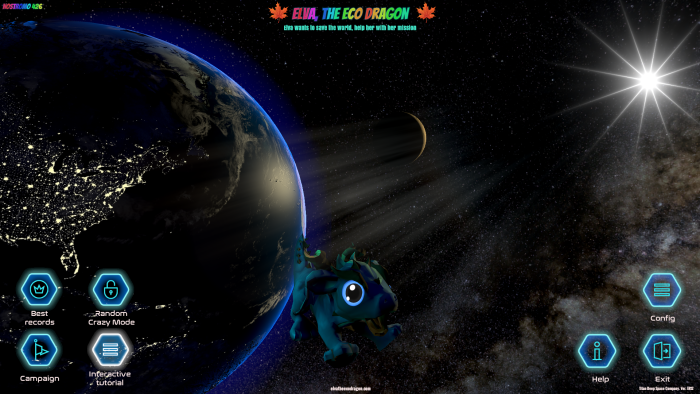 Recycling is important, and planting forests and recovering the oceans is important for the planet. We only follow scientific evidence and ecological works that shows the importance of taking care of the Earth.
That's the target for "Elva the Eco Dragon". And we'll be keeping with this project for children, young, and all the family.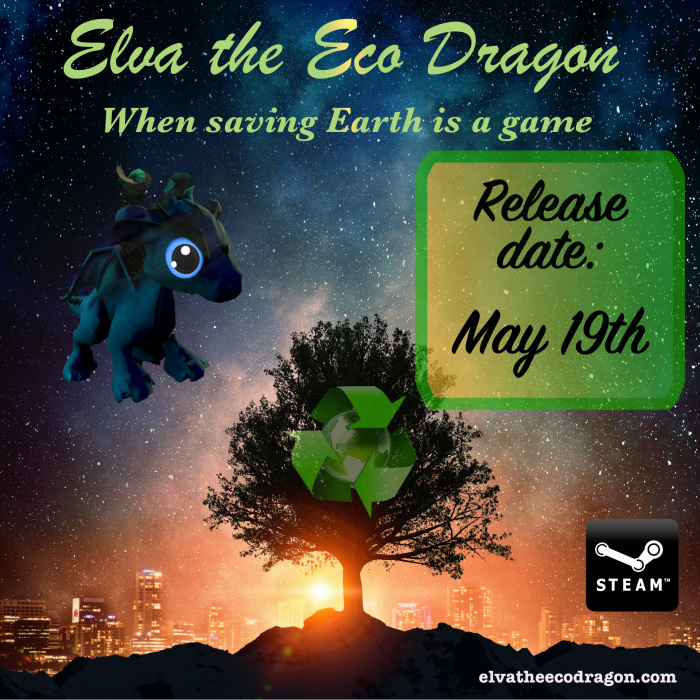 Early Release, or better, Advanced Early Release.
This is released as "Early Release" but not because the game is unfinished in many ways, but because we have many new features we want to add while listening to the players and their reactions and opinions. So we think we could establish this game as an "Advanced Early Release".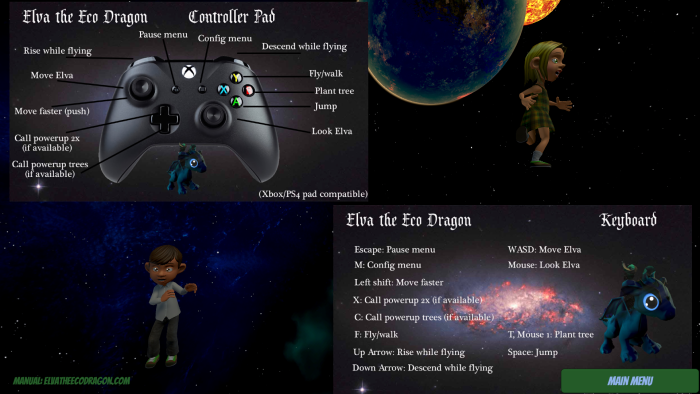 Sometimes ER means games that have some mechanics included and some basic features. We have tried to go far beyond that idea, respecting the work of our colleagues, but trying to present a game that is really an Early Release, but with many functions and behavior included in the first build.
All the features that are included are complete; they work as expected.
Four sceneries complete with all the features.
A fifth scenery is on the way a will be available before end of May.
Game can be controlled with mouse/keyboard and Xbox/PS4 pad at the same time in all the menus and sceneries.
Bugs have been detected, and while it's true there is no perfect game, we think it's quite stable and no crashes are happening in many hours of testing.
English and Spanish localization. We are working to add french and german soon.
Tutorial.
A tutorial is always useful in games that have some distinct elements that are not the typical of many games. This is a very easy game to learn, but a simple interactive tutorial helps understanding how the game is. So we have included it, and we recommend doing it before starting with the campaign. You can do it in just five minutes to learn the basics of the game.
Playability.
We all know the most important feature in a game is playability. We've seen visually impressive games that were accused of having a low playability. We have tried "Elva" to be fun, but, how can a game that show people how to recycle be fun? Well, that's the challenge. In fact we all know of many games that made activities that could be thought as boring and were really fun. We want to do the same with "Elva the Eco Dragon".
An important thing to think about "Elva" is that the game have been designed with children in mind. So, everybody is the target of the game, but children must have a good time with Elva. So that's the compromise. When we released "Math Classroom Challenge", a game for children to learn math, some people told us it was easy. Well, solving basic math is easy, but that's the point of that game. We included new features, but the game was a project to learn how to solve math in a funny way.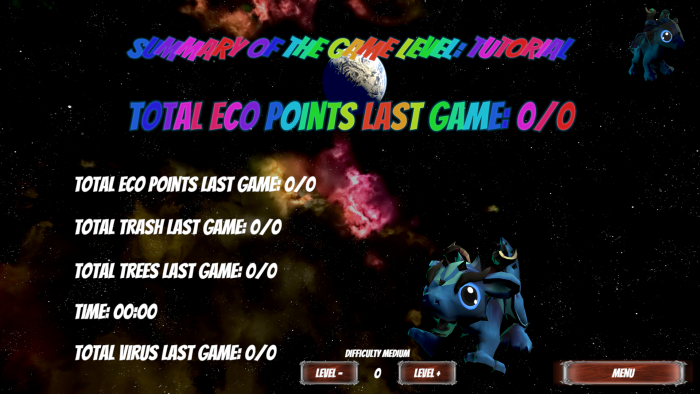 We've wanted to go far beyond of that with "Elva". The game is still for children and youth, but everybody can have a good time playing it. Of course this is not Flight Simulator o Civilization; this is a game to enjoy cleaning the planet while having a good time. So the main objective is to give a tool to fathers and teachers and everybody for their children when ecology is on the way. And we think we have something that can be fun for them, and with lots of playability.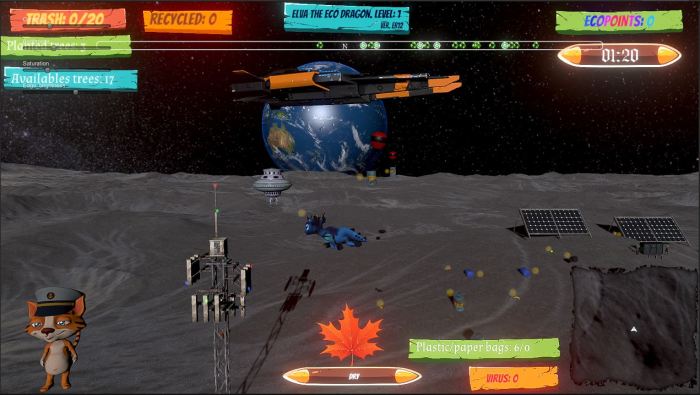 Steam Leaderboards.
Finally, leaderboards: there will be categories:
Best Ecopoint player.
Best Recycler player.
Best forest plant player.
Best virus cleaner.
These are the first leaderboards, we want to add new ones in a near future as the game progress with new features and elements.
This is all for now. See you on May 19! Thank you!