If you've been following Olvand for a longer time, you may remember that I dedided to change 'directions' with the achievement system completely some time ago: whereas achievements were mysterious riddles when they were introduced, I changed them to gameplay goals, clearly visible in-game, that act as tutorial at the same time. Whether it is the tutorial aspect or the goal aspect of this new approach, I don't know, but I can tell from the gameplay statistics it helped a lot: whereas almost nobody made any in-game progress in the early days, almost everbody plays through at least the basic stuff now. You can imagine I look a lot like [this guy] when I think about this.
However, since the last time I worked on the achievements, a lot of new stuff has arrived. If I want to keep using the achievements to tell people what there is to do, and how you can do it, these achievements need to be updated every now and then. That's exactly the final thing I'm going to add to the next update: eight new achievements, related to Olvand's latest features. Let me tell you more about them:

While there is an achievement for scooter races, there is nothing related to the other big minigame: fishing contests. With 'Hooked on fishing' I try to fix that. At the same time, this achievement is a first expression of where I eventually want to go with the achievements; whereas most of them are really friendly and helpful now, patting you on the back because you're playing the game as intended, I eventually want the biggest part of the achievements to represent that you accomplished something special. Catching four fish during the limited time of a fishing contest really is incredibly hard (even for me); I hope this achievement will encourage people to spend some time to master the art of fishing, and that actually getting this achievement will feel rewarding and satisfying.

I can see gun customization is going the right way, with more and more people trying it, but I figured it still needed some more support from my side. This achievement rewards people for the relatively simple act of linking an entrance to an exit.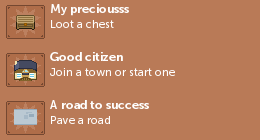 And of course, there are some new achievements related to towns, the latest big thing. 'Good citizen' is the most important one, of course, which I hope will encourage people to actually use the town feature. Note that I don't encourage creating towns; I'm just as happy (or probably even happier) if people join towns created by others. 'My preciousss' and 'Road to success' are encouragements to help expand your towns: in chests, you will find blueprints for things like pubs and statues, and roads of course make a town feel a lot more like a town.

And why not include the new thing of this very update as well? While I think creating paint is relatively easy (creating a bucket from wood with the tool, filling it with water, and mixing that with some of the ores found underground everywhere), it might take people more time to figure out you can also mix colors (so mixing a blue ore with a red ore creates purple, etc.), and that you can paint your roof with them. I included these two achievements to tell this to the people.

And finally, another 'hard' one to reward people for doing something special. 'The fool wanders, the wise man travels' requires finding an active server where a lot of people play, and then some exploration to actually find the towns they have build. I imagine people exploring and building so much that four towns can be visited in one playing session is rare, so I really want to reward people for that.
All of these are implemented already, just like all other main gameplay features. At the moment I'm going through my bug list, but once that is done, the new update will be released and 100 new people will be invited. And I'm thinking about inviting another 100 if all goes way, to make that waiting list a bit shorter.
If you want more development, see [twitter] or [facebook]. If you want to be a tester, you can subscribe on [olvand.com].