Today we're happy to announce that the fourth, largest-to-date Early Access update for Guntastic is now available on Steam! This update has been a long time coming and includes several features that we hope will help spark new interest in the game as we approach the final release on PC and Xbox.
A.I. Opponents
One of the main issues with Guntastic was that it didn't offer a single player mode. Since the game has unfortunately failed to attract a large online player base so far, this resulted in a lot of people being unable to play the game at all. To fix this issue we're now introducing A.I. opponents.
Bots can fill-up vacant slots in both local and online games and offer four difficulty levels: Easy, Normal, Hard and Ludicrous. This feature is still a work-in-progress and we're looking for feedback, just beware when playing at Ludicrous level as bots tend to become extremely cunning. ☠
Make sure to tune in on Steam or on our brand new Twitch channel as we'll be streaming CPU-only gameplay that we'll be using to fine tune AI design and behavior in the future.
Revamped Online Experience
Another problem that arises from having a small online player base is that finding a match can take way too much time. While this will always be an issue to a certain degree, we identified several flaws in the way we designed public matchmaking for Guntastic that made the problem sensibly worse:
No real indication of how many players and games were available. One could only press "Play with anybody" and cross his fingers.
Games could only be joined at lobby time. That's nice – provided you have an enormous amount of players and games available at any given time.
Public games couldn't be customized at all, leaving players stuck playing the same way over and over again.
In this version we introduced a handful of new features that should streamline the online multiplayer experience: from finding a game, to the lobby, to the game itself. When opening the Play Online section of the menu you'll now be welcomed by a redesigned interface: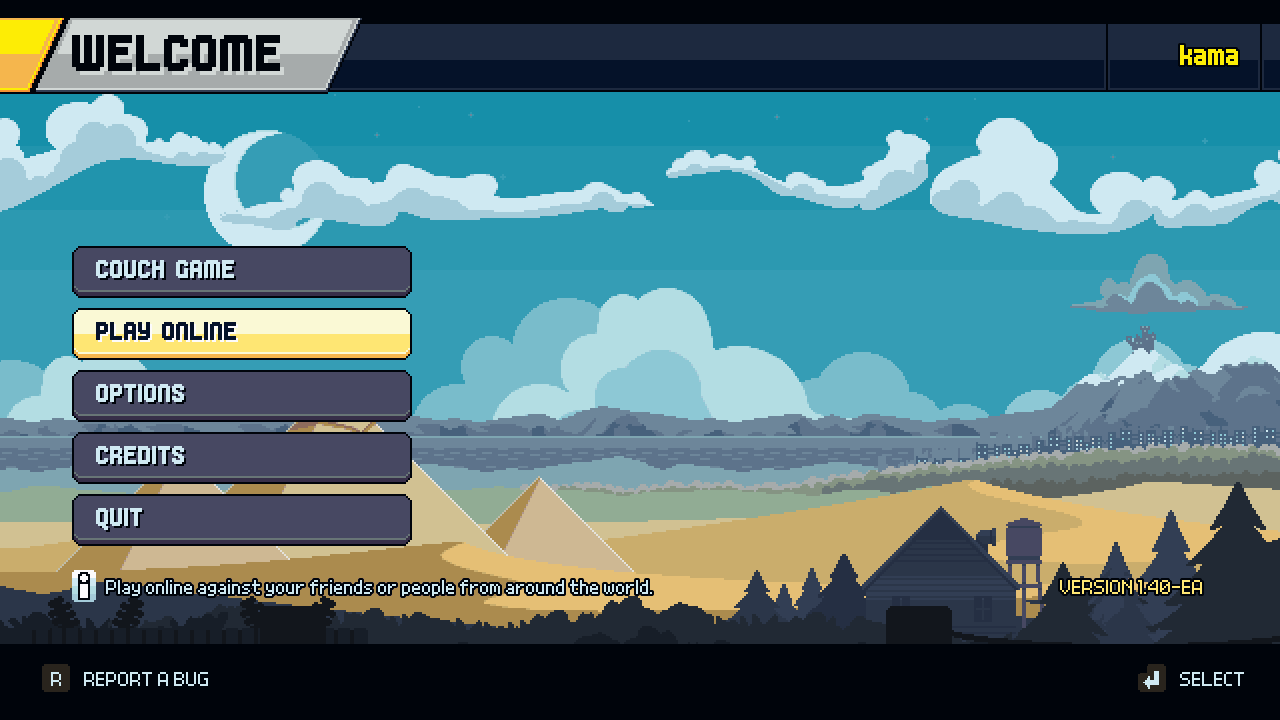 Here you can select a game to join directly, or ask the system to find the best one for you (just like it was already possible). In-progress games can now be joined as well, or you can explicitly decide to create a new one.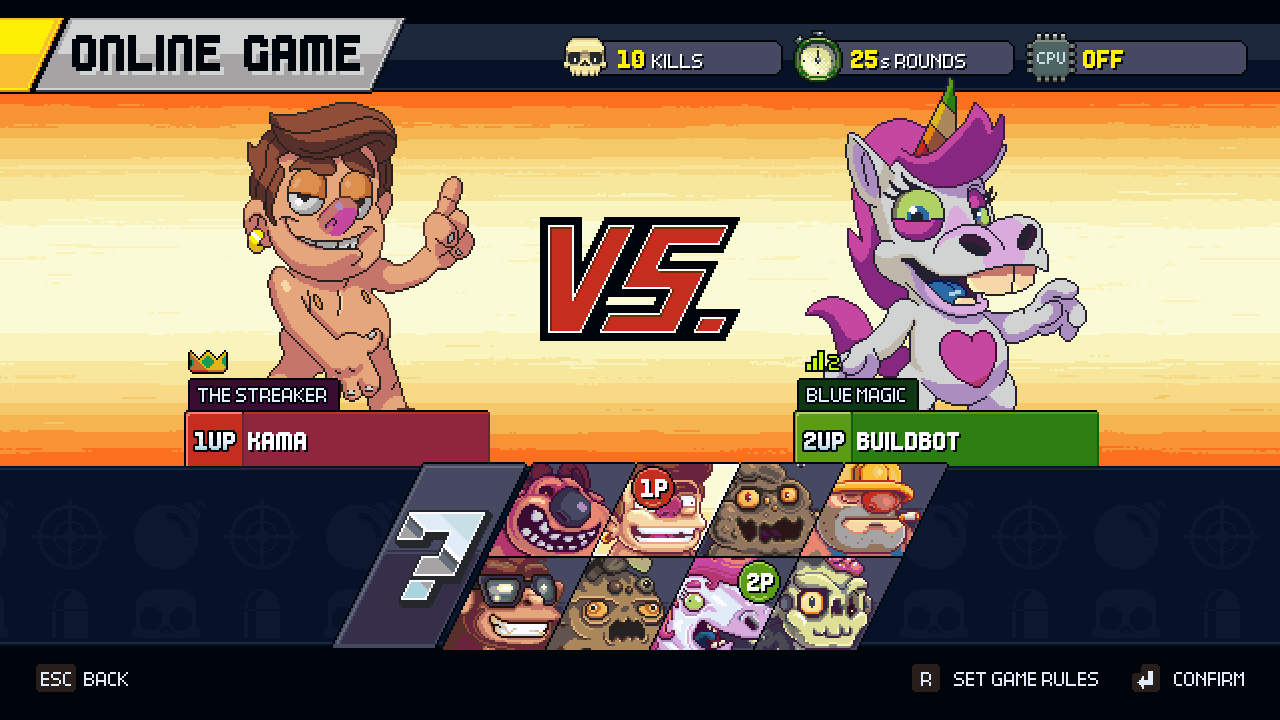 «From great power comes great responsibility.»
The lobby itself was updated to let you move back and forth between the character and level selection screens as you wish, reducing the number of steps required to start the game. Game Rules can now be customized in public multiplayer sessions and new rules are available to control CPU players and player count. Finally, the new player menu provides access to additional player information and moderation actions (kick).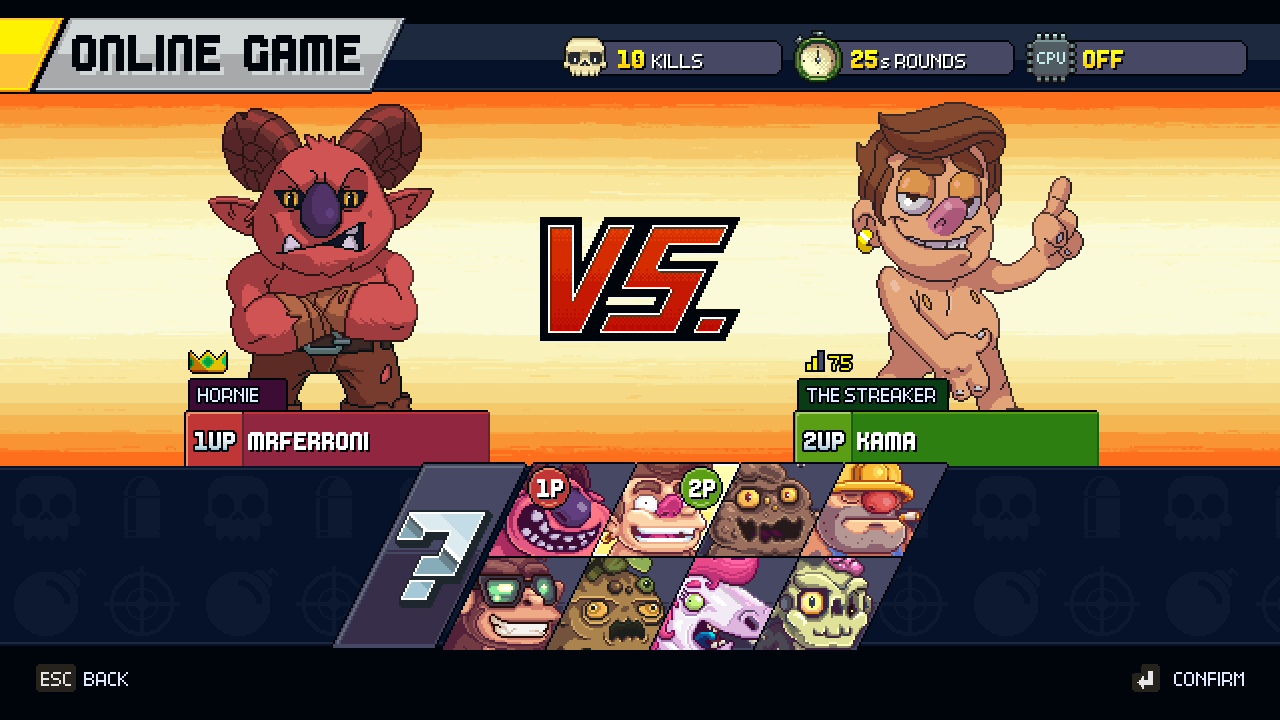 Ruthless 1 vs. 1 competitions are now possible.
New Scoreboard
Due to some specific Xbox requirements we had rethink the overall design of the scoreboard screen. The new version should be much cleaner to read and also provides a quick way to find out more about your opponents and eventually add them as friends for future games.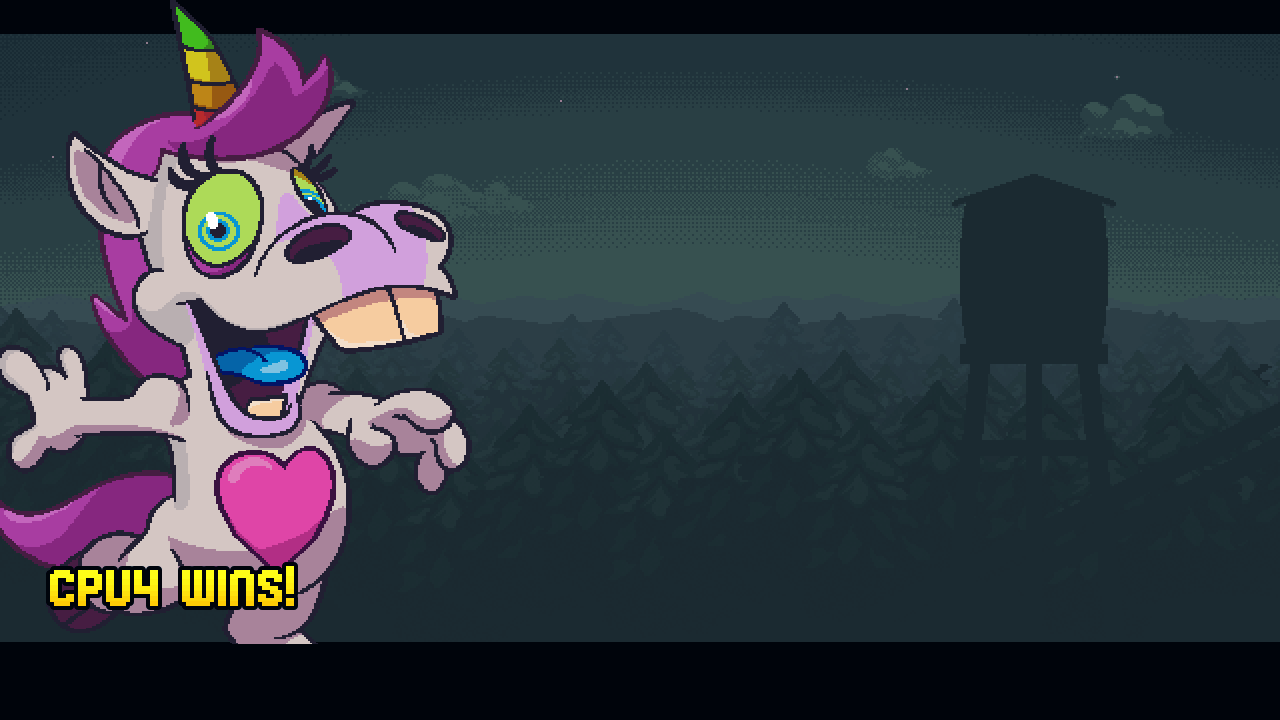 Additional Improvements
Notifications are now shown each time a player joins/leaves the lobby or an in-progress game.
New animated menu background, featuring all the locations available in the game.
Powerup bubble animations were given a final update and are now pixel-perfect like everything else in the game.
The Central Station stage received a final visuals update.
The background of the High Voltage stage was darkened to increase visual clarity and make game action easier to follow.
Buttons and levers were updated to match the surrounding level theme.
Effort sounds are now played when characters jump and land.
Fixed a network replication issue that made grenades jitter on remote clients.
Fixed available weapon not being randomized after a pickup was disabled by a generator in the High Voltage level.
Fixed edge case where kills performed with the sawmill lift immediately after activating it would be awarded to the wrong player.
Fixed application icon not being visible in the taskbar on Windows.
That's it for now! We hope you enjoy the new features. As always we look forward to hear your feedback here or on Discord!