Hello and welcome to our Devlog.

We would like to show you Dynasty Feud, a crazy 2D fighting game for 2-4 players, in which dynasties of different historical ages will fight until only one of them remains alive. What about a samurai jumping over a Viking ambushed by a cowboy? This idea came to our minds months ago and triggered this project we are now embarking on. Axes, bullets, katanas and anything you can imagine combined to bring fighting games to a new dimension!

Although the game was initially planned to be only local multiplayer, we extended it to be played also online, or we hope so…

These dynasties will be composed of up to 5 different members, and fighting skills, agility or size will vary drastically from one character to another, providing the game with a massive variety and ways of playing. There will also be ghosts, which will haunt players while waiting for the next character to appear. Vikings, cowboys, Japanese or Aztecs are some of the dynasties you may find in the game. We will know more about this in future posts.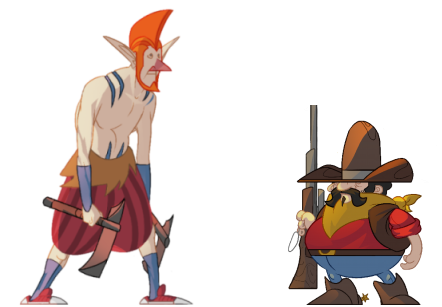 The gameplay consists of fast paced battles enhanced with some platformer mechanics. Each combat will be different; from archers to melee fighters, annoying snipers or fast characters are going to confront you in the battlefield.
Levels will be dynamic, and your fighting style should be too. Are you that ranged soldier that stays in the corner of the level, waiting for the perfect opportunity to appear? Your cover may blow up! Each level will bring its different behavior, and mastering them will surely bring an advantage to your side. Be a master, and every opponent will kneel before you!


Aitor "Falven" Gomez: Designer.
Jon Sanchez: Programmer.
Eneko Egiluz: Programmer, Manager, Marketing.
Juan Sampedro: Artist.
Aitor Tejedor: Programmer.