GAMEPLAY
- All circuit breakers are correctly set as containers.
- Renamed Inputs : "Log Switch" becomes "Log Toggle", "Mouse 1" becomes "Interact" and "Mouse 0" becomes "Transfer Object".
- You can return from New Game and Load Game menus by pressing escape.
GRAPHIC
- Updated lighting for all rooms and corridors (work still in progress)
- Decoration objects added to R30/R31/R56/R59.
- Changed visual of Body Scanners screen.
- Rescale some containers in storage bays.
- Save feedback (rotating wheel) will now correctly display on top of every other interfaces.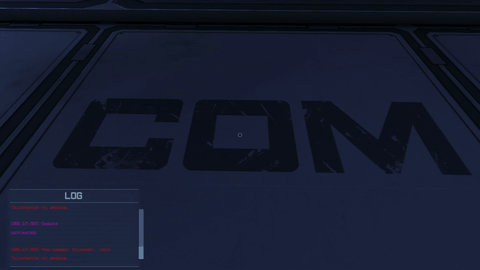 - Heat Effect optimized
- New planet+moon holograms in R54-Communication Room
- SplashScreen now displays correctly
AUDIO
- New voices tutos for many objects and for rooms with fire and/or acrycine (aim at an object and press T)
- Using food or drink will now shout a sound.
- Open and close inventory now have a sound.
- Sounds volume is now between 0-200%, instead of 0-100%. It was confusing to think that 50% was the normal volume.
- Sound of closing inventory will no longer be played when you try to display the room stats or when you remove acrycine.
FIX
- Inventory can no longer be opened before or during load.
- Bug of Heat effect hidding the inventory corrected.
- A Breach has been moved in R40 and another in R52 (was floating out of the wall)
- Corrected some breaches which had no acrycine fx.
- Debugged saving feedback animation which sometimes didn't played correctly.
- Debugged Diseases And Wounds load (thanks Avocyn for pointing that bug)
- Debugged volume of sound inventory open/close
- Debugged repair FX activation/desactivation
- Resolved graphic bug of dirty water in Water Recyclers
- Rebaked lighting for nearly all rooms (once again)
- Corrected the voice tuto for storage bay containers. Some references were not set correctly.
- Restart must now be confirmed. (its working, It just remains to add the graph)
- Save Integrity debugged. It will no longer be shared between different profiles.
- Saving will no longer make the game freeze. It will only lag (as little as possible) when it's writing the files.
- Save integrity will now correctly prevent player from saving when it reaches zero.
- Saves will have to be reset again because of a mistake made in the Saves Unique Identifiers. Sorry about that.