I don't like the small updates or updates which i love call like "updates of one stone" when some place into the world one piece of something (like a small stone on the pavement) and in all seriousness says - we have a very serious advance in the development of the world, especially pay attention to environment objects. Wow... it's a stone! Real, not very big, but so cute.
First goal of our adventure on the way to release is almost complete. I finish the basic animation circle for Drake. Animation need a little polishing, and after that only from speed of programmer will depend how quickly we can see Drake in action.
So today we'll take apart not only Drake. It's about the Queen, dwarfs and mechanists, about they part in the history of the kingdom, and of course at last, but not least about Drake controller animations.
About Queen and War
In previous news we diggin a little information about Hinters, oldest race of world of Hind. At this block we continue meeting with the creatures of Hind. Next on the line - dwarfs and mechanists.

Prior to joining Queen dwarf and mechanists waged a great and destructive war. On the lower Hind territory still kept marks of this conflict. Giant siege devices and cannons, abandoned towns full of eternal flame where lower levels so far filled suffocating acid and deadly traps. It's a been darkest time for world of Hind. It's been time before the queen light a fire in stone heavens of underground world.
Nobody can't remember why war is began. In the annals of the mechanists there is no mention about this. Silent on this and dwarfish book. Answers can be found In old towns of mechanists. They have survived worse, but the path to the gallery dwarfs too dangerous. Also and it's exactly right - information can be found in discussion with Hinters. But they cant speak. But they know. Maybe You find a way to speak with them and found answers? May be You can found solution to reach the ancient knowledge?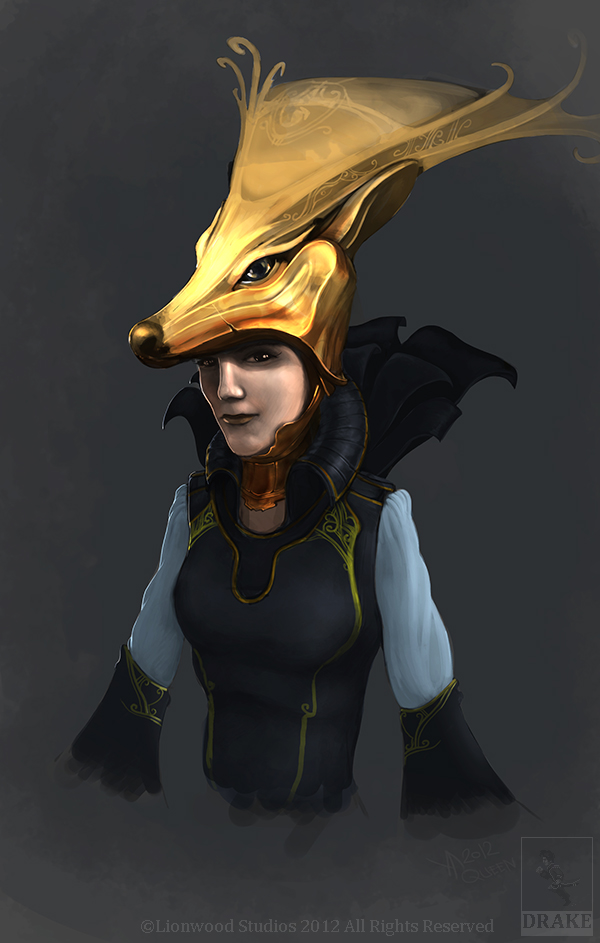 Queen's personal guard make quick stealth operation as a result of which they seized the ancient relics of dwarfs and mechanists. Queen issued an ultimatum - two ancient races stop meaningless war, or the relics of their ancestors will be destroyed. Respect for ancestors exceeded thirst of retribution, and happened amazing. The two old races rallied against the new "enemy." Mechanics and dwarfs declare war for Hindale.
But a wise queen was waiting for this and light fire of Golden Hind in the stone heavens. Creatures which never seen the light was blinded. Battle for Hindale is ended without any blood. After this queen send to troublemaker their flag-bearer. They proposed end the war, return the relics to owners and brought gifts to the proud people of the underground. It was a wise move. Queen proved to be a brilliant strategist and benevolent ruler.
Part of mechanists and dwarfs had grown a roots in Hindale. Another part of dwarfs return to the deep underground to repair a broken. And last part of mechanists disappeared in an unknown direction. No one knows what happened to them.
It happened a long time ago. Maybe seven hundred years ago, maybe more. More on this can be found in the Royal Library of Hindale city. If you can't - ask the Keepers of Knowledge. And prepare a handful of diamonds. Nowhere and nothing ever happens for free.
After defeat, dwarfs bring to queen gift - crown-helmet made like a Golden Hind which defeat them. Presented with the words "Your beauty can never be compared with our pathetic things."
In fact, everything was easier. After the end of this strange war dwarves saw that they had no more cities, blacksmith's and materials. In war, they somehow forgot about who they are. Underground cities full of wonders have been destroyed. They made this crown from what was at hand.
However, this crown is passed from generation to generation unchanged. Dwarves offered to make her better, but queen was adamant. Relic should remain primordial. Of the same that was obtained from the hands of the defeated on the battlefield.
Mechanists also had a hand in this crown. Eyes of the Golden Hind can burn fire at will of the queen. As well, according to rumors, they change color depending on the mood of the queen.
By the way. On the surface of the crown still visible notch. It's a signs of work of assassin. For someone war still is not over.
Drake Controller
Little more about Drake animation. I put in the text samples our new sequences. At this time we have more than 30 animations for Drake. Also roughly speaking 10 animations lie on my workbench in polishing process. Earlier i told about smooth controller where Drake always live. The same goes for movements and action phases. Why so long? Because each animation need additional sequences between two main animations that be movement be a more smooth.
When i began work - take as point of start base simple arcade controllers, BUT... it's a very easy to me and Drake. I want more actions to player. According to the number of actions Drake at this time remind me Flash Back. But without opportunity to hang on the ledge or roof.





Therefore, the controller will make a little bit longer than I had planned. I have to consider all the options of Drake movements and actions and test everything before i publish information. Never afraid to be funny - but it is not the case. Errors will be, but the radical errors i would not like.
I make the controller as if taught the movements themselves. I ask myself - if you're running can you shoot? Yes. And what happens? I will be aiming, get in a comfortable position, shoot, I'll slip out of inertia, and yes ... yes ... I want shot smoke. And smoke flew past me and disappeared behind my back - and I ran on.
It is concept on a words - i transform my words into the action. I love it. I want to do more actions. I would to be feel very comfortable. And i do it.
My first forty winners!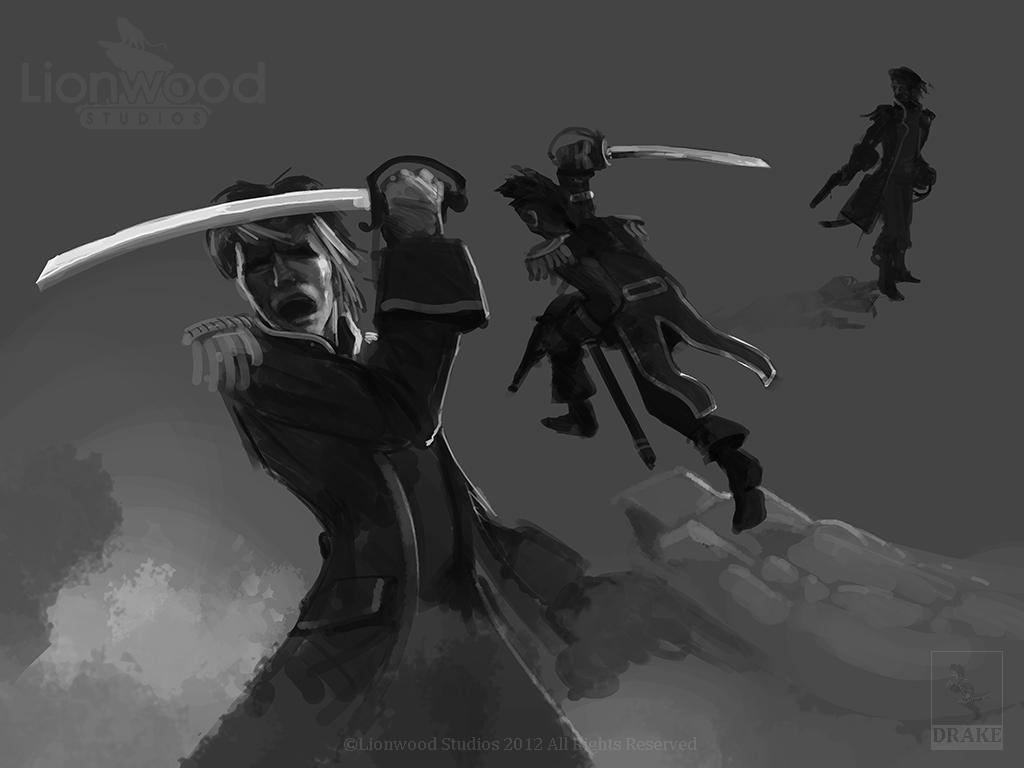 All always remember first 5th cents of Scrooge McDuck. This is a first coin which he earned. My first "coin" it's a people who spend their time on me and my game. I'll add these forty brave man to my personal watch-list. As soon we complete the Drake controller demo for our first video this guys can test the demo (If they want to).
For eyes only i hope. Because birth of a child it's a Sacrament. Only godparents can see that in a child so and what's not.
I do not have much time to work with the community, for this purpose there are special people, I work was almost alone. Nevertheless, I want to say thank you to these people. Maybe you will not believe in this game, but ... interested in it.
And of course this guys can recieve from us a little gift when we finish the Drake. DRM free version of game and specific item "gate-ring" which lead them in specially created for them game location.
Other gamers can find this place but it's be hard without "gate-ring", because this gamers themselves must find way to this game location and solve puzzles in process of search.
Who say that life's not a game? Never know where we're lucky.

My apologies
My friend and musician of Drake ask me "You have the audacity to speak via your language of scrap with other people?"
Yes. I have. I have the audacity. What do I do? Friday, too, did not know how to speak English while Robinson Crusoe was not teach him. My Robinson is network. You. Movies and games. Excuse me-e-e please for my scrap language. But I have to tell you everything. Otherwise my head will blow.
What's next?
When we see each other next time - I'll tell you about dwarfs (w.i.p. concept you can see under this text) and mechanists. I'm physically do not have the time to make a presentation of animation, but there is time to do my work. In my opinion is better be a silent and do it something than speak-speak-speak, and not a damn thing to do.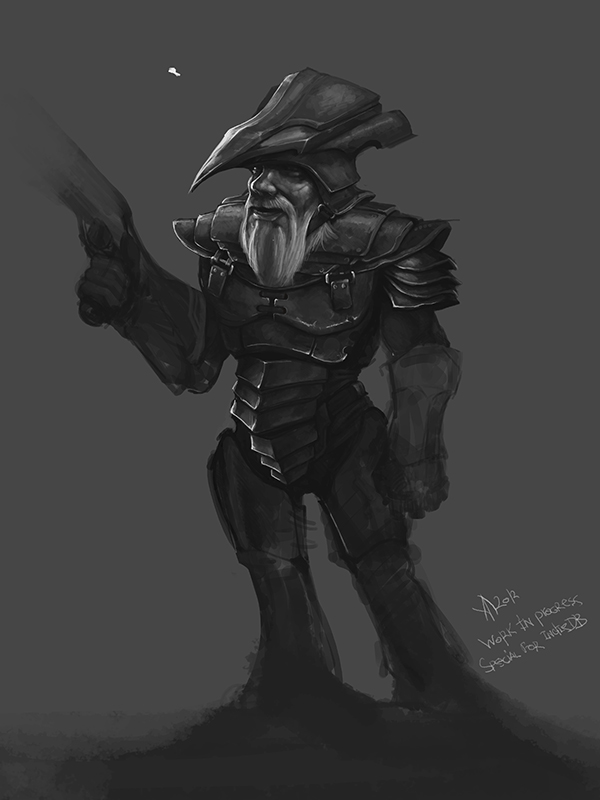 See you then!