Draft of Darkness is a horror themed roguelike deckbuilder that's inspired by games like Slay The Spire and Darkest Dungeon. It's a dungeon crawler with card combat; set in a post-apocalyptic world, where you recruit party members and try to survive against the infected creatures and corrupted robots. Draft of Darkness has meta-progression in both content and story; meaning that you can unlock new cards even if you fail completing a run, and decisions made in your previous run may sometimes have an effect on the next one.
Draft of Darkness is now in the Private Alpha phase with the release of v0.4.0 patch. If you'd like to help test the game and keep playing it with the most recent content, you can join our Discord server and request access!
New Hero: Pavel
In the full game, Pavel will be an optional unlockable character. If you played the Steam demo, you may have clues about how you can unlock him (or maybe you've already completed the questline). In this patch, Pavel is added to the game and he's unlocked during the Alpha for everybody.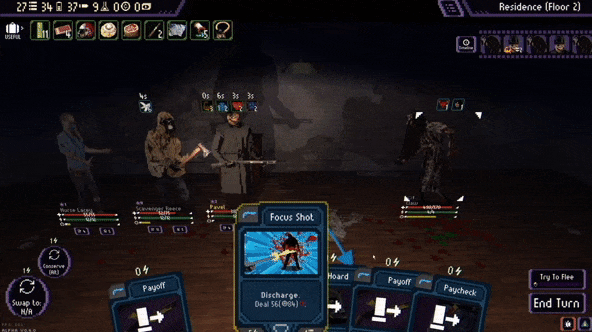 Pavel can use the new Shotgun and Axe weapons, coming with a total of 40 new cards! Shotgun is Pavel's main weapon; it's very hard hitting, as can be expected, but it's ammo is relatively scarce and building an effective deck requires careful planning due to the Discharge / Pump Action mechanics of the shotgun cards.
Axes are heavy, bleed inflicting weapons that require you to build up a new condition called "Brace" on your character. Building up more Brace will make cards stronger and more effective. The defence buff coming from the Brace effect will let you take more damage during battle, and taking damage will let you "Rampage", getting faster and stronger to obliterate foes. If that doesn't work out, you can always use the new "Leech" ability to get your health back by inflicting damage to your enemies.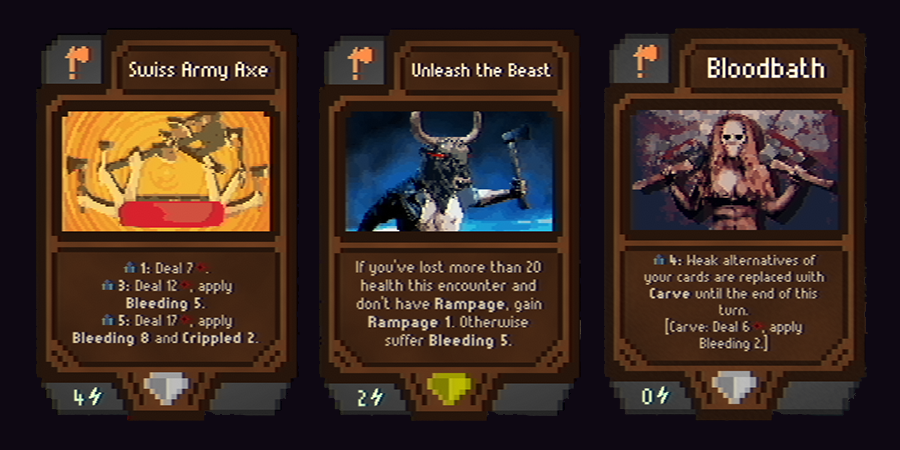 New Companion: Scavenger
Scavengers are part of a leaderless group, trying to survive by taking on whatever dirty job they can find, clearing out swarmed areas and looting resources. You can now recruit scavengers you come across as companions, just like officers and nurses.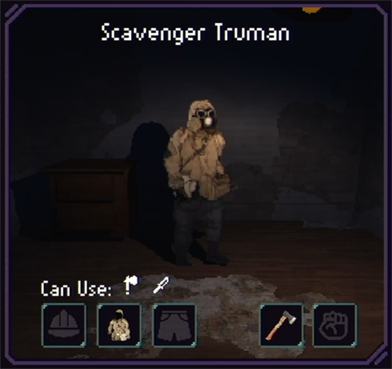 Scavengers can use axes and knives, allowing for a powerful Bleeding synergy. Scavengers can also use the axe cards to serve as a tanky character in the party, taunting enemies and showing their true strength when they absorb enough damage.
Turbo Mode
Two new settings are added to Draft of Darkness: "turbo encounter animations" and "time bar animation skip". Enabling these options will make encounter animations faster and remove the slow time bar filling delay between turns.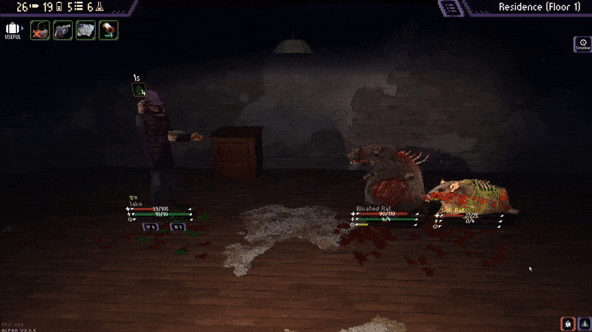 Balance Changes and The Conservation Mode
There has been a big number of balance tweaks after the feedback I got from people trying the Steam demo. One of the big issues were that the game was too easy, as you could get high damage with a correct setup, without any risk. Some of the cards were very overpowered, basically guaranteeing you the win. The second issue was that the resources in the game were too randomised, sometimes making you run out of ammo with no way to recover, other times you would swim in resources.
Two weeks ago, I released an experimental balance patch in the Discord server, making many changes and adding the new "Conservation Mode". The Conservation Mode is enabled by pressing a new button and paying 1 energy in the encounter phase. This turns your resource costing cards into "Weak" cards, which won't cost any resources. This gives you a bigger control on conserving your ammo; you can finish off enemies with weaker cards, for example. In addition, running out of resources won't make you completely helpless as well, you can always use the weak cards!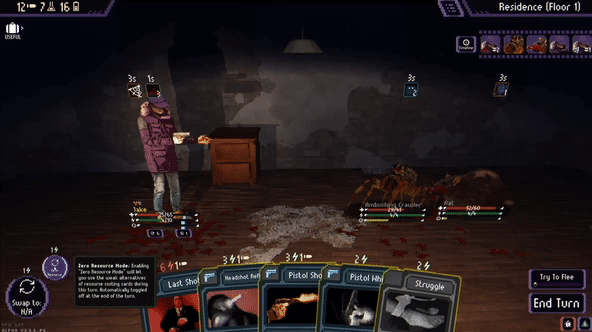 To help with the resource balance even more, shops will now have bigger stocks of ammo and will always have the main resources available to buy. If you run low on pistol bullets, you can sell your extra batteries to trade with the bullets, or vice versa.
As I've mentioned before, there has been many tweaks to enemies and cards, to make the game more challenging with a better difficulty curve. The biggest changes were focused on knife cards, which were overpowered because of the infinite draw possibilities with "Dash" and "Fake Out" cards. The carrying condition effects such as "Blinded" and "Stealth" also got tweaks that will eliminate crowd control chains and infinite invisibility they were giving.
Private Alpha Plans
The game will stay in Private Alpha until the Early Access release, which is currently planned for May. There will be 3 major patches coming in the Private Alpha, which will add more content and mechanics, making the game ready for the EA release. At this time, the Steam demo won't be updated except from possible bug fixes. If you want to try the newest patches coming for the game, you can join the Discord Server and request access to the Private Alpha!
Take care!