You can check out the latest web version of Domino Arena here! If it doesn't read 0.82, then please refresh or clear your browser cache.
Since the previous version, I added an online leaderboard which looks like: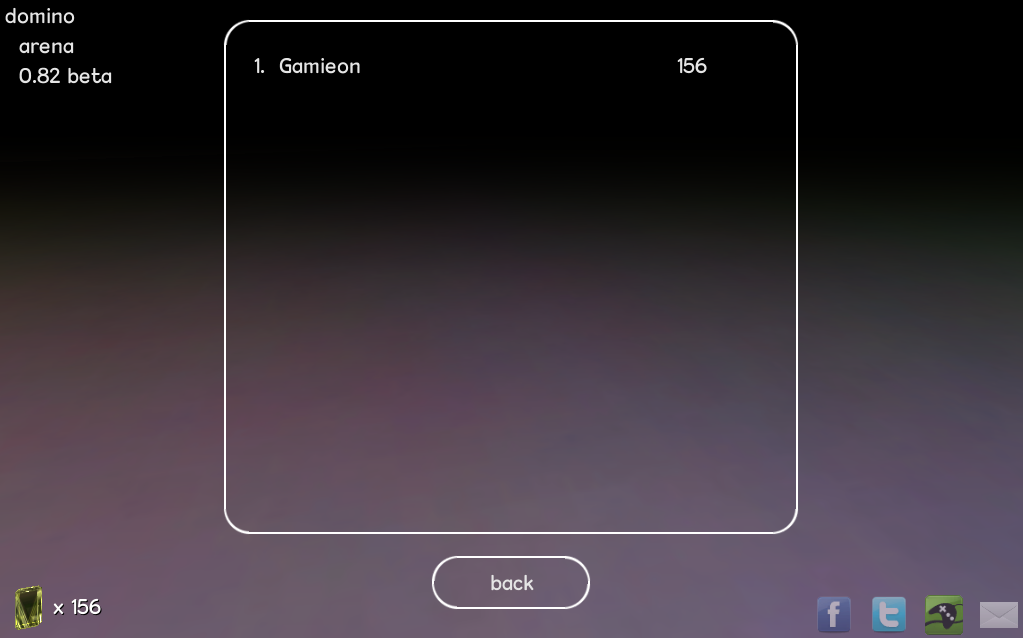 Not much to see since I'm the only person on it right now. The way it works is when you go to the main menu, if you have a non-zero score, Domino Arena will quietly post your name and score to the Gamieon website. I'll should probably do it at the end of each level, but I'm not sure I want to just yet as it seems a bit much.
When you go to the scores menu, the game queries the website for the top 100 scores in order of rank.
Bug fixes since the 0.8 beta release include:
You would progress to the next level even if you lost (I don't know how this never came up!)
In some cases the level selection may have been ignored in online mode.
Problems with a third or fourth player joining a game have been fixed.
Fixed the timer staying on the screen when the game ended.
Tablet Version News
Also some news for the mobile gaming crowd: My main concern about porting Domino Arena to tablets and iPads is the rendering of the dominoes. Some devices may not cut it; but I thought hey, why not give it a shot? So I deployed a build to my Droid Razr Maxx...worked the first time but was pretty choppy. After removing the reflection layer and the glowing domino effect however, it got up to almost 60 fps. That's a good sign of things to come, but I still don't have a deployment plan just yet. As for monetization, I'm thinking a simple "name your own price" upgrade button that gives you "tabletop multiplayer" and some bonus dominoes to boost your ranking. I never was good at monetizing but I always have simple ideas.
As for iPads...I haven't tried building anything since the newest iOS and XCode versions came out. I hope I can still cut it with Unity 3.x; I want to run it into the ground before I give up and upgrade.