Hello everybody!
This is my first dev log here, and it's for a small/medium project I've been working on for the last month. It's a 2D aircraft shooter called Six O'Clock High, and here it is (so far) in action!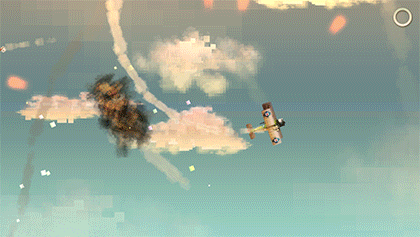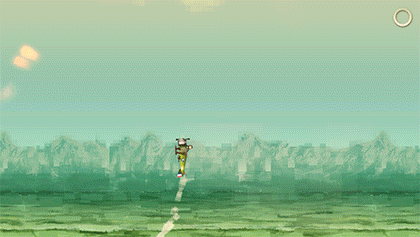 Gameplay
So you should be able to get the jist of it from those gifs. It's an arcade-y action packed kinda game. I wanted to make something super simple and easy to play, and in theory that was also going to be super easy to make. That part was only kinda true. But I've been working on it a lot, and there's actually not a lot left to do.

The gameplay is survival/wave-based. After each wave you get an upgrade point which you can spend on a variety of 14 different upgrades/perks for your aircraft. These range from rockets to perks such as an increased % chance that enemy bullets will ricochet off your armour. Once spent, the perk will be persistent for the rest of your survival run.
Controls
I'm designing this with touch screens in mind. One thing I definitely wanted to avoid was on-screen buttons. I've never found them appealing as a control mechanic, as it always feels like I am playing something that would work better on a controller which bugs me. So for this I had to come up with a control scheme that made sense without traditional controls.
What I came up with was a system that turns the plane around your touch relative to the aircraft's position. To turn upwards simply touch above the plane, or down below the plane. While this scheme takes a little getting used to, it soon feels quite natural to me. I hope others will find it easy and accessible too. Another thing to note is that there isn't a fire button- your forward guns will fire if there is an enemy infront of you, and your gunner will fire if there's an enemy within their field of view. I didn't want to have to make the player fiddle around with fire triggers, in this game it's all about the flying.
I'm planning to release on PC & XBLIG too, so I'll change controls to something more suitable for those releases. The current touch-oriented controls actually translate really well to mouse control.
Graphics
I'm going with something new here. Specifically a painted/pixel art combination. I love the look of pixel art, but I've always enjoyed creating art in a painterly style much more, so here I'm attempting to walk the line. It's mostly painted with some lumps of pixel art mashed in.
The game is all 2D (I'm using Multimedia Fusion 2) but the aircraft were created in 3D so I could get those barrel roles going!
TaDa!
Anyways, I'll post more on this as I go. Aiming for release at the end of the month. There's some still screenshots over at my website.