Happy weekend, everyone!
This week's update is coming a little late as I was traveling to visit family the past couple of days, so thank you for your patience and understanding.I was hoping to and was planning on releasing more information this week, but unfortunately CryTek had an issue with their authentication service for the FreeSDK which prevented anyone on the team from loading our map for almost 5 days this past week, including the weekend which is when we make the most progress usually. As a result, I'll just be releasing a couple of new concept art images this week and describe the current state of the game.
A lot of work has been done on the main menu for the game lately and we now have the main menu fully functioning (except graphics and sound options) when you launch the game. Our Flash developer took the UI design that was made by the Flash designer and has now implemented it - previously it was a ugly, boring interface that I threw together just for testing the backend services mainly and, while functional, still needed quite a bit of improvements to it. I'm really excited for the UI design and it's great to see it finally all working with the new look.
In a future update, we'll release a video of the main menu and show you what it looks like. The Flash designer has also been working on some video intros for the Entrada Interactive company logo we can use on both YouTube and when launching the game.
In a prior update I released some images of the pig and the mutated pig, which are just some of the animals that will be in the game. Since that update, the same modeler has also completed a dog, mutated dog, and a deer which we'll be using to further populate the game world with. We don't have the new animal models exported for use in CryEngine yet to show you in-game images of them, but I'm including a concept art image of the mutated dog this week so you can see what it will roughly look like. And, yes, you will be able to kill any of them for food if you'd like.
We've had a few discussions as a team over the past months concerning what to do with electricity in the game - or the lack thereof. We've decided that will be adhering to the original game idea that the world doesn't have any centralized source of electricity, but we are going to allow for very specific and isolated cases where some power will still exist. This will allow us to create some more diverse environments where we can have some buildings that may have flickering lights or special areas that still have power, or that need to be powered somehow. A lot of that power will come from some sort of solar electricity grid. We are also toying with the idea of having the players be able to build makeshift power sources using a solar array. I've included a concept art drawing of what one of those may look like with this week's update.
We are continuing to make progress on the buildings and props for the game, but these are probably the things delaying the release of an alpha version the most at this time just because of the pure amount of work that's needed to make all of them. This is one of the things I really wanted to release some images of this week, but we were not able to make enough progress this last week to release in-game images yet. As soon as it's ready, we'd love to show it to all of you though.
As some of you may know we are using the CryEngine 3 FreeSDK to implement the game. With the FreeSDK we don't have the source code to the entire game engine, so there are some areas we are limited in what we can do because of that. We were really hoping to be able to leave a dead player's body on the ground after you've killed them and allow the players to directly loot the corpse (this is what DayZ does), but we haven't been able to find a way to do that yet, although it's something we'll continue to look into. So, at this time, we will probably have something appear in the game world when a player dies that you can interact with and all of the dead player's items will be located in it instead. We also considered doing a pinata style explosion where all of the dead player's items get thrown randomly into the world (like what The War Z does), but we'd like to keep them all combined in one spot instead.
I'm also including a concept art image of what a player constructed tower may look like when built using the construction system in the game.
Constructed Watch Tower (concept art):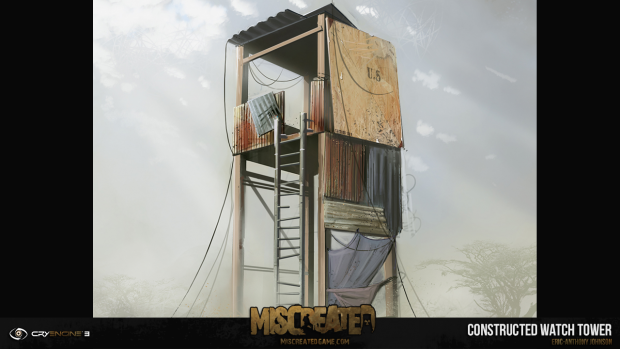 Constructed Solar Array (concept art):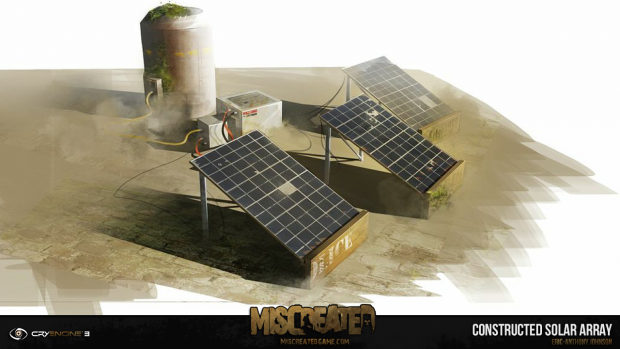 Mutated Dog (concept art):