Hi all,
Today we have a real treat for you, it's our first Developer Diary. We have been focusing a lot on characters in the game as well as body types, so enjoy the detailed video on that below. We have had a few issues with synchronizing the audio in some places, but we decided to go ahead anyway as we know you want news news news :)
For those who want to explore the pictures used in the video further we've added most of the concepts below:
A screenshot of the latest lineup: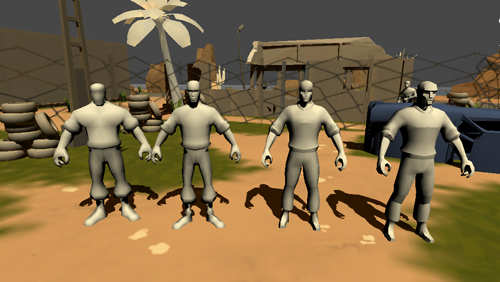 Forum
Our new forum is up and running and we're looking to improve it along the way where possible. e.g. showing more latest post and dividing them into general and behind the scenes as well as also adding a notification system. We just got the slacker backer shop up and running where you're able to buy a digital copy, a physical copy and a collector's edition of the game. Humble bundle takes care of the digital, while we'll handle the physical ourselves. We've decided not to allow any add-ons as it's too much manual administration on our end.
We've been getting a lot of feedback and suggestions, which is great as inspiration to improve the game, keep it coming. We may not reply to every single post, but we read everything. Sometimes it's also too early for us to give anymore than a general comment on a question as the topic raised hasn't been fully discussed within the team yet. Jagged Alliance is a fairly complex game with many subsystems, making it harder to make fast decisions, hence a general question to e.g. the tactical layer can actually be tricky to reply to.
What's Next?
We're currently taking a closer look at the cover and Line of Sight (LoS) system, as well as discussing what the stat system should look like. We'll be releasing more on that on the forums within the next few weeks and covering certain elements in detail in the next update.
Until next time! The Full Control JAF Team