Hello!
A couple of weeks ago, we hosted a closed beta test for Rip Them Off. If you were one of the many who took part, thank you! The feedback we received was immeasurably helpful, and it was just amazing to finally get our game into people's hands, if only for a little while.

Today, we thought we'd give you all a little development update so you can see what we learnt from running the beta test, and what changes have now been implemented based on our testers wonderful feedback. We used our Discord server to chat with our beta testers, and share screenshots and videos, it was really useful. Please do join our little community: Discord.gg

So, what did we learn from the beta test, and what changes are we making based on the beta feedback?
Firstly, we were stunned to read that absolutely everyone said they loved the art style, the original concept, and the humour of the game. We also received loads of positive feedback about our original music, and testers were impressed by the level of polish of the game. This was great to hear!

The number of bug reports was also very low. The reported bugs were very specific to some configurations, and were fixed during the beta. We're now confident in the stability and quality of the game for the release on September 24th.

One point of feedback we received is that some players wanted more guidance, to better understand what is under the hood. However, this was not the case for everyone, so we've implemented an optional in-game manual, called "Retail Entrapment 101". This manual explains, with texts and graphs, how things work for the Dupes' entrances, the differences between shops, and also provides some tips to help players perform better. As it's written by Rik, the writer of Rip Them Off, the tone remains as humorous and satirical as the rest of the game. Reading it is optional, as it slightly spoils some of the mysteries of the game, so players who'd like to discover those by themselves may want to keep that in mind!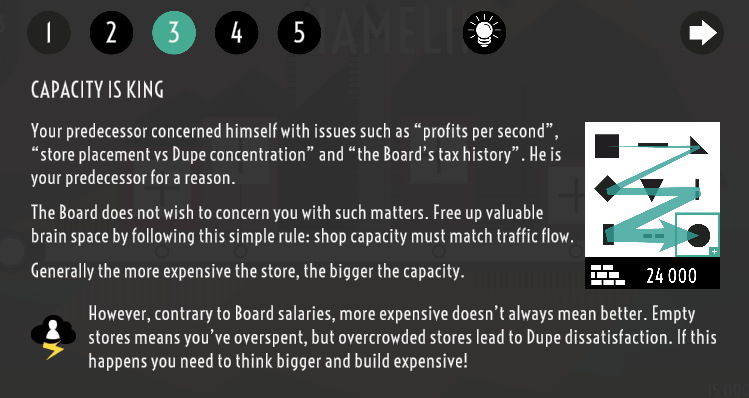 Staying on the theme of guidance, we received feedback from the beta suggesting that the difficulty ramps up too early, so we added a few steps to the tutorial for a smoother learning curve. First one shop, then two, then two streets, three shops etc. These now appear one by one during the tutorial phase.

One of the questions we needed answering with the beta was "how should we divide the levels?". We implemented two options for our testers:
Subdivision per "Objective": Each Milestone progressively increases the Number of Days and the Money Goal, each milestone being played on the exact same map as the Final Milestone Map.
Subdivision per "District": Each Milestone progressively increases the Number of Shops and the number of Dupe Entrances, each milestone being played on a sub-section of the Final Milestone Map.

To see what players preference was, we set different subdivisions for each level and asked them what they preferred. And to our surprise the majority of answers was...both! So we've decided to keep both systems, some maps having the subdivision per objective while other the subdivision per district.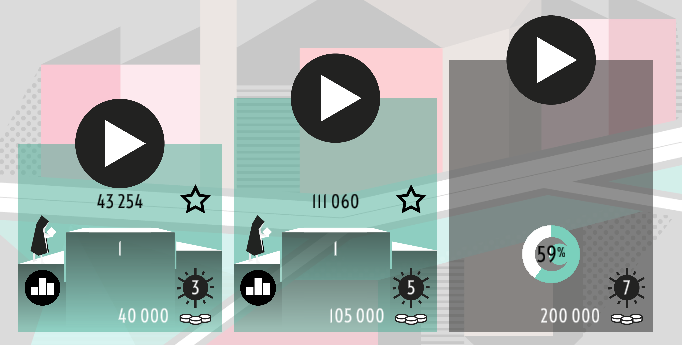 We've changed/added a whole bunch of other new things too, all based on the feedback we received in the beta:
We've improved the menus: beta testers suggested navigating by a simple click on the left or the right side of the selected item. It was a great suggestion, so we implemented it and now it's so much quicker to change level or your save game.
We've added handy visual indicators on the Dupes' entrances with their colour-coded frequencies and their daily progress.
We received remarks from players that they'd like to know what their planned action is for as long as it's waiting to be executed, so we've added indicators at the bottom right of the screen that show the cost of the planned action, the type of shop you're going to buy, and whether or not it's an upgrade.
Oh and while we were at it, we also improved the Dupes animation, we hope you like it!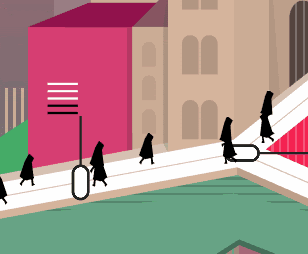 So there you have it! Our beta test was a huge success, and has set us up nicely for Rip Them Off's launch on September 24th! Thank you once again to our lovely testers for your time, patience, and excellent feedback. :D

If you haven't already, we'd love it if you could please hit the big 'Wishlist' button on our Steam page, so that you can be notified of when Rip Them Off is released, but also of further updates like this one as we head towards launch.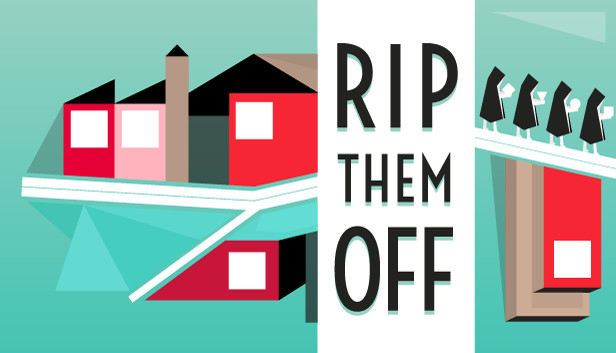 Stay safe,

Ava & Mat x

Be sure to follow us on your favourite social media platforms to stay up-to-date on everything Rip Them Off as we approach the exciting launch on September 24th:

Twitter: Twitter.com
Facebook: Facebook.com
Instagram: Instagram.com
Imgur: Imgur.com

...and please do join us on Discord so that we can chat directly: Discord.gg

Wishlist Rip Them Off!