New this week we have added in slime creep to the blob houses. This slime grows over time and spreads out from each captured house. The effects of the slime will be to scare the humans, slow them down, and speed up the blobs that move on it.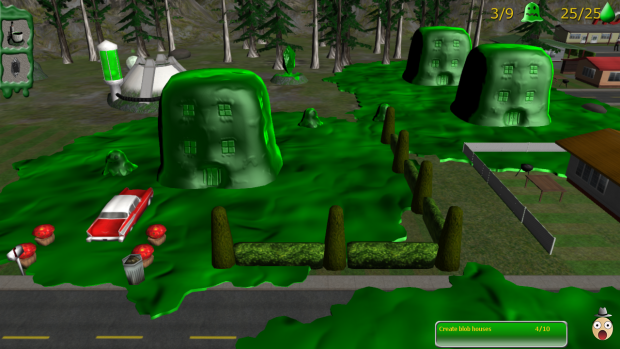 It was created by using a 'marching squares' algorithm. Each blob house is read when it is created and this adds to a list of already created blob houses. The algorithm then uses these points (the houses) and the time they were built to determine how large a circle the slime will be. This information is added to a grid on the map simply stating if it is slimed or not on each square. Then, the marching algorithm kicks in and builds the polygons.
The mesh has several animations. The first is a wobble animation in the vertex deform shader. This gives the mesh the feel that it is growing, wobbling, warping, and alive. The second animation is in the fragment shader that displays some green noise on the slime to give it a bit of a glowing and moving effect. This helps make it feel more toxic and that it should be avoided.
That's all for this week. Next week a cool new building and and a sweet game mechanic that has been on the drawing board for a while is being added.