Greetings Arms Traders!
Today we would like to give sneak peek on Research and how it is implemented in the game!
At the moment, you will be able to conduct the research in 6 distinct directions for every era represented in the game. Each research direction has a classical tree like look and present the player with multiple available technologies to choose. The technologies also come in different flavours, some rewards the player with base building blocks of the tank – components. Other technologies grant access to smaller components, modifications, that can be combined with the base ones to create unique combinations. Finally, third type of technologies can be used during the Engineering stage to fuse components and modification together!
The structural elements are found in the "Hull" and "Turret" trees. As the name indicates, these technologies open access to various types of hulls, turrets, and their corresponding modifications.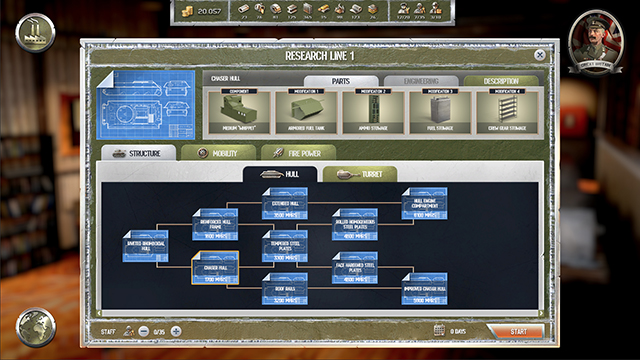 Hull is the most important component in your tank design. It governs what other components can be mounted, defines base protection level, crew conditions, contributes to certain mobility stats and, in some cases, even defines what weapons can be mounted.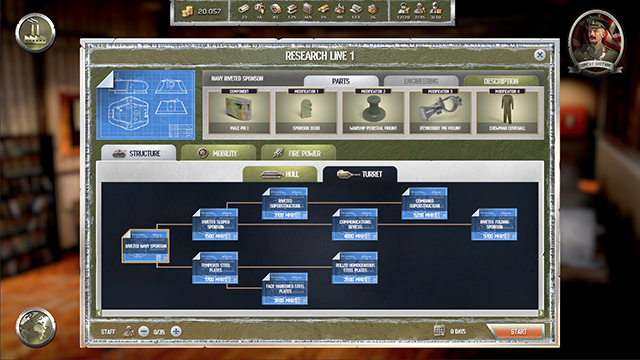 Next in the line, is the "Turret" research tree. Turret is the second structure component, and, like hull, it contributes to protection level, crew conditions and, most importantly, turret defines what weapon systems can be installed.
All mobility elements are found in the "Power unit" and "Running gear" trees.
As the name indicates, "Power unit" technologies open access to various tank components corresponding to power generation and it's transmission. Engines, carburettors, gearboxes, side gearboxes and even turning mechanisms reside in this tree. Together, these parts define multiple mobility stats, like road speed and range, and even stretching all the way to crew comfort and safety.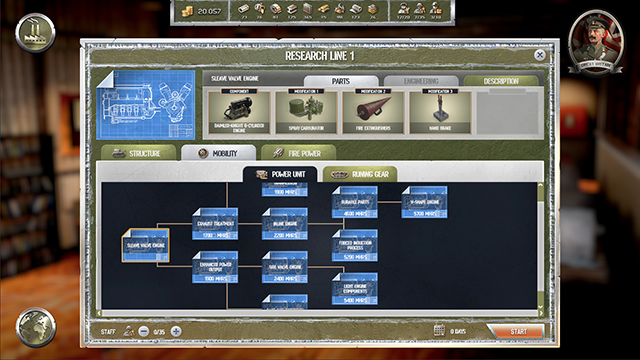 Equally important are the technologies that are found in the second mobility tree - "Running gear". Various tracks, rollers and suspension systems constitute the bulk of this tank components. Together they yield tank's off-road stats, define obstacle performance capabilities, and contribute to crew conditions.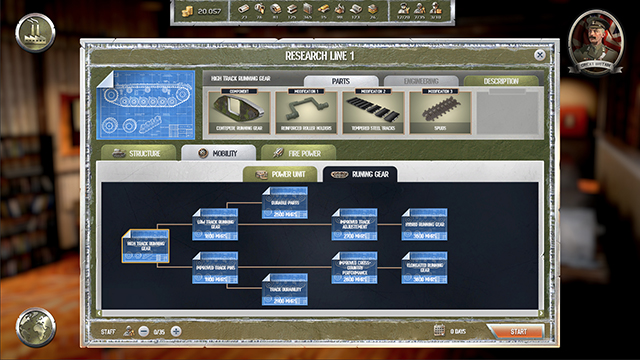 When it comes to firepower, player has a choice to focus either on primary or secondary weapons.
Primary weapons tree opens access to various guns, corresponding modifications, and different types of ammunition. Primary weapons are the main choice when engaging armoured opponents. As such, these weapons define armour penetration, anti-ricochet and damage capability of your tanks.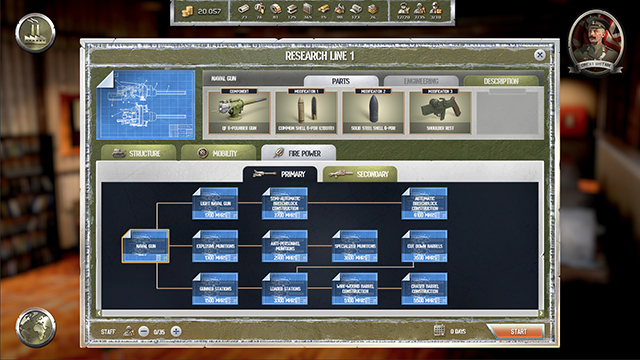 For non/lightly armoured targets, player should turn to "Secondary" weapon tree that consists of various machine guns, its subparts, and other, less frequent weapons such as flamethrowers and even mortars.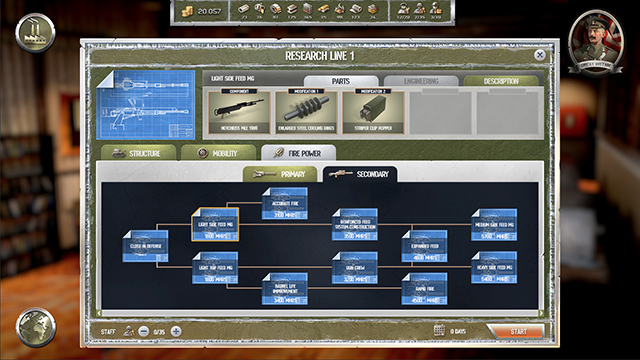 For most recent news about the game, please join our Discord channel: Discordapp.com!