The Mark I tank was the first in the series of the rhomboidal tanks, stretching all the way to 1918 and culminating with Mark VIII Liberty. This tank was designed to encompass all the hard lessons learned from the very first British tank, Little Willie.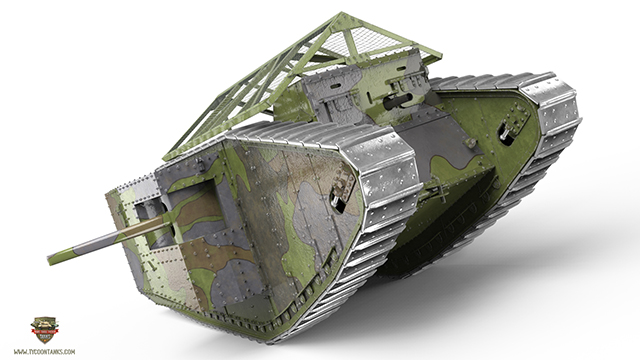 Mark I had no turret and carried most of the armament in the side structures called sponsons (adaptation from the navy). As a member of the rhomboidal family, it had tracks that surrounded the complete tank hull.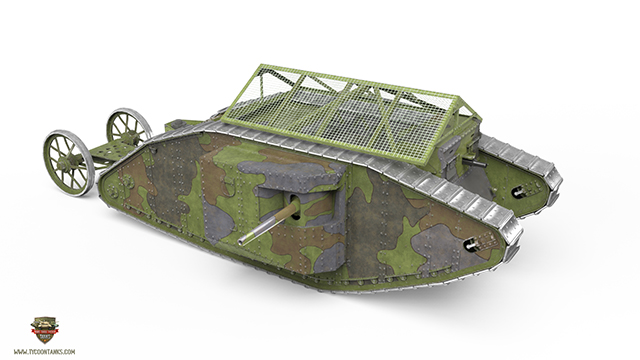 Mark 1 is commonly depicted with "Tail wheel" and "Roof net" attachments. The "tail wheel" device was expected to improve trench crossing capability and the "roof net" (or chicken wire) to provide additional protection from incoming grenades. Both devices were soon abandoned as their effectivity proved to be extremely low.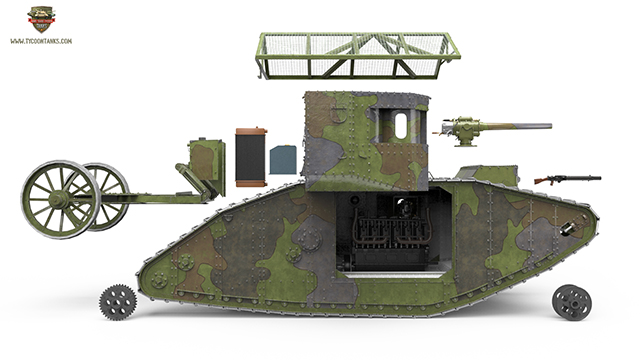 Power was provided by a single, six-cylinder petrol, Daimler engine producing a total of 105 horsepowers. The engine was placed in the middle of the tank to allow crew members an easy access. This was considered an advantage at first, as the engine was very unreliable and required easy access for repairs and maintenance. Fairly quickly this configuration was judged unacceptable as the engine produced noise and fumes intoxicating the crew.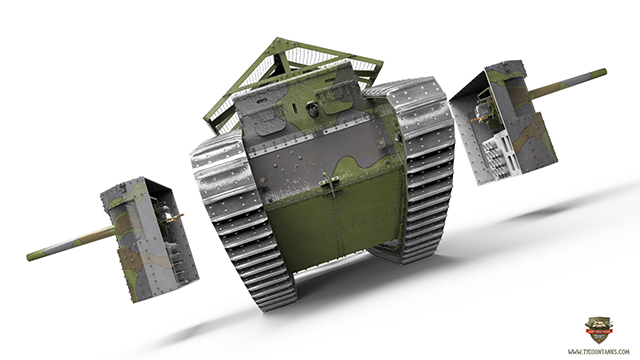 Tanks armament consisted of two 6-pounder naval guns and three Hotchkiss machine guns. Due to the shortage of 6-pounder guns, only half of the Mark I tanks were armed. These ones were nicknamed "Male" tanks, while the other half, that were equipped only with machine guns, were called "Female".
No less than 150 Mark I tanks were produced at William Foster & Co. of the Lincoln Metropolitan Carriage and Metropolitan Carriage, Wagon & Finance Co. at Wednesbury.