Hello There,
My name is Matt and I am the lead developer for Game Of Engines. For those of you who do not know; GoE is a simple Game Development Toolkit designed to help you create awesome games with a few clicks of your mouse. This week's article will be about... who am I kidding here? There's so much to talk about this week, it would be impossible to talk about them all!
1. Welcome
First of all, thanks to those of you who have supported the toolkit and continue to show your support. I really appreciate the comments, likes, ext and it helps to develop at a faster pace. There is a lot to talk about this week including the Toolkit's Alpha Release.
2. Release
Game Of Engines has reached 40 Watchers and we all know what that means... Alpha Release.
Game Of Engines is now entering it's Alpha Phase, this means that you can test out the toolkit before it is even completed. Due to the Toolkit being in Alpha, you will receive all software updates for free and will receive support via our Forums.
At the moment, the Toolkit will only be released for Windows - This is because we are following a reward scheme. For every 10 users that Watch/Follow this page, we will give you free rewards:
Upon Reaching 50 Followers You Will Receive: GAME OF ENGINES FOR MAC
Upon Reaching 60 Followers You Will Receive: GAME OF ENGINES FOR LINUX
I will not go too into detail on Release at the moment because I am planning to send everybody a detailed document explaining things such as:
How you will receive the Toolkit.
How you use it.
How to stay updated.
How to install.
3. Release Date
Although there is no set Release Date for the Toolkit's Alpha Release - It will be this weekend; Wednesday at the latest.
4. Notices
REMEMBER: THE TOOLKIT IS IN ALPHA, NOT COMPLETED!
REMEMBER: 'RELEASE' REFERS TO THE ALPHA RELEASE!
5. Lua Core Completed
I have completed the legendary Lua Core and it is ready to be released in the next version of the Toolkit. The Lua Core is a way of linking the Toolkit to the Engine in a way like never before - It reduces your call to the Toolkit via Lua by 90%.
6. Tile Config
I once again had the hard task of recalibrating the Tile Drawing Integers yesterday and after a full 10+ Hours of work I have managed to fix the bleeding problem once and for all. From now on, you will almost NEVER have to mess with tile calibration in the Toolkit ever again. I would like to thank the Elysian Shadows Development Team and Hawk58 for helping me with this problem.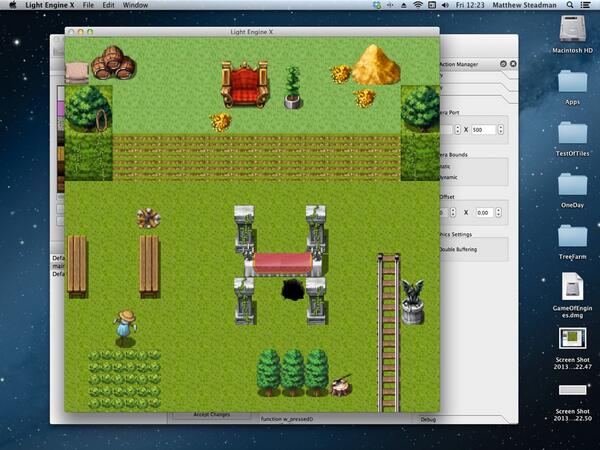 7. Share
I would once again like to thank you all for supporting the Toolkit. If you would like to see the Toolkit reach a bigger audience then please continue to share the love. If you know anyone who would be interested in developing their own video games for PC, Mac, Linux, DS, Dreamcast or the PS Vita then please send them this way :)
8. Thanks
I would once again like to thank you all for following the Toolkit. I will send you all a message regarding the Toolkit as soon as it has been completed. So, if you wish to participate in the Alpha Testing of the Toolkit then please leave a comment or message me so I can add you to the mailing and distribution list.
Thanks For Reading,
Matt