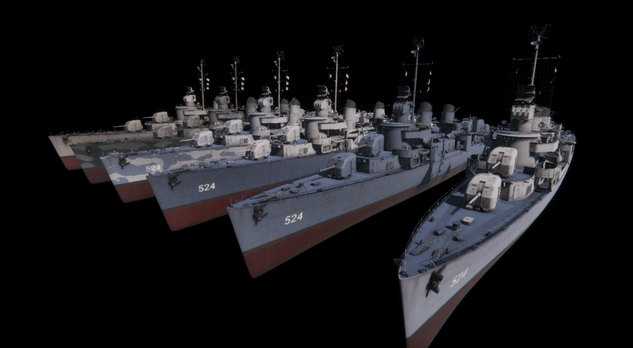 Can you tell which ones here are our early, failed experiments? Hint: working with black & white photos wasn't such a good idea after all :p
Our destroyer is moving closer and closer towards its christening and initial testing! As you already know, we went all the way from Poland to Baton Rouge in Louisiana to expand our knowledge of the Fletcher-class and get a feel of how it was to serve on a USN destroyer in the 1940s. Now, following further research, our 3D model is nearing its final configuration, and we will soon be able to take it for a spin!
As you may remember, we have chosen the beautifully restored USS KIDD as our reference and time after time it has proved to be a great choice. However, the KIDD represents the 1945 configuration, whereas our game will be taking place a few years earlier, i.e. in 1942. Therefore, we had to keep that in mind at all times and make the necessary adjustments for our configuration to suit the exact time period that we wished to portray.

Ocean Gray System - Measure 14
First of all, we had to downgrade the anti-air capability to match the early Fletchers, some of which served in the Atlantic. The Pacific theatre, of course, called for a more potent AA capability, but early-production Fletchers did not have such a strong AA setup, and so we had to strip some of the guns and platforms, also downsizing most of the batteries from quad to twin, and from twin to single mounts. As always, it was great to be able to receive some much-needed help from our contacts in the United States, and, thanks to that input, we hope that our current configuration is as close to the 1942 setup as possible.
We have also been working on various paint schemes, and the fact that there are almost no full color photographs of early Fletchers did not make things any easier ;) Thankfully, our experts again gave us a helping hand, both in terms of pointing us towards the best resources and advising which patterns would be most suitable for the time period and theatre of operations in question.

Graded System - Measure 12 (modified)
What is best, however (at least in my humble opinion), is that you will be able to choose the camo pattern yourself! While there is still some work to be done (e.g. certain details and colors still need improving), we think that you will be happy to have that choice and that this little detail will add a smile to your face whenever you see your vessel proudly exhibit the camo pattern of your very own choice.

Navy Blue System - Measure 21
Last, but not least, please let us know what you think! Which pattern do you like the most? Can you tell which two are NOT historically correct (in the first screenshot with six different versions) and are nothing more than our failed experiments? ;) Is our 3D model missing anything? What do you think we can do to improve it? As always, we are very interested in what you think and we will do everything we can to make our game look, feel, and play as good as it can.