Hello, I am Jan from the Czech Republic, 27 years old and Concept Artist who turned Level Designer for Jackboot Games. I always enjoyed playing maps that are based on real locations (for example DH-stavelot is my favorite) and as we want to have high level of realism of weapons, vehicles and sounds, I want to keep the same level of realism for the game's maps. So at some point I started messing around with the CryEngine SDK – and let me just say that I was really impressed by how easy to learn and generally user friendly the CryEngine and its Editor are – and soon found out, that I could really get things done with it!
Concept images are the first thing that is made before we start modeling the actual map. It all starts with team discussion using what we call a "moodboard", after we agree on a certain feeling that we want, we start creating quick concepts. All of our maps are exact copies of real locations in 1:1 scale. To achieve this, we use everything we can find: satellite images, terrain heightmaps and aerial reconnaissance photos. With all that data, we can be as detailed as never before and include trenches, roadblocks, MG nests or hedgerow gaps in the same locations as they were during the battle. For the reference we also use WW2 era photos, old postcards of the area and tons of books which are usually the most important pieces to our "puzzle".
On the left image (black and white) you can see how a heightmap looks like, which when imported into the CryEngine forms the terrain accordingly. On the right image the modified terrain is covered with a texture made from aerial pictures, in this case Google Earth.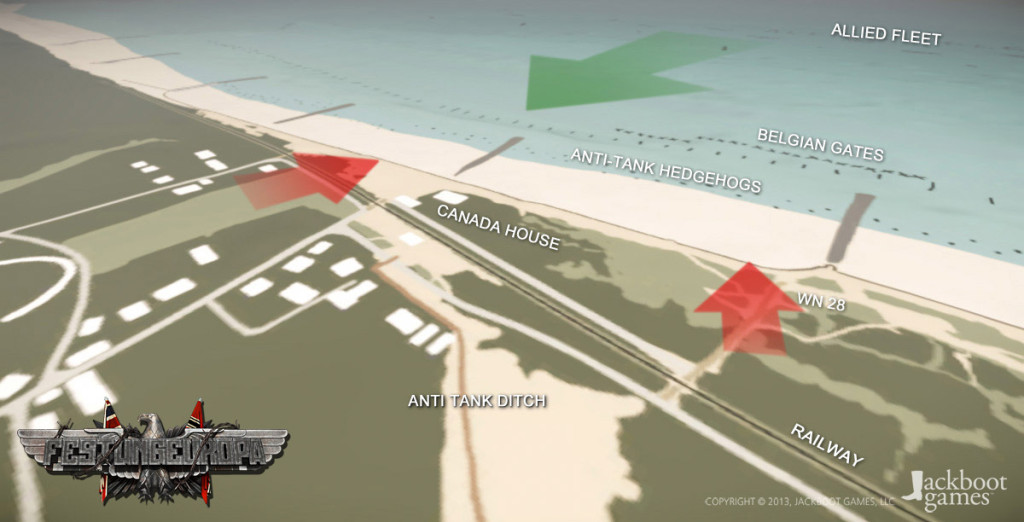 This image taken in CryEngine shows modeled terrain with custom made placeholder texture – the map is in 1:1 scale. Now I know where I have to place buildings, roads, defence works etc. I can place solids as temporary objects and test how it would feel to play on that map. Of course, we can be only as accurate as our materials that we have, so there are still some locations that aren't covered with photographs – we have to use our creative intuition to imagine what might have been for those places. A lot of research goes into creating signature landmarks, like the famous Canada House.
Picking the right maps for the game
When I'm picking the right map, I always look for battles that:
1. Have an interesting historical background – the famous battles and the names attached to them are what define our memories of this conflict up to this day and thus will define what Festung Europa will ultimatly feel and look like.
2. Have interesting and diverse terrain that won't be boring for players – since we focus on combined arms, we want to have interesting environment. For example: hilly terrain with some orchards, rivers and ditches where you can take some cover.
3. Have decent historic documentation for the historically based maps – I want to be as accurate as possible so we also need battles that are covered in detail by books, aerial photos and so on.
4. Have good potential for re-playability – I want maps that will be fun even after 10th round, so there are usually more ways of attack etc.
Thanks for reading this far!
~Jan
Check out Jan's Deviantart Gallery here!
Let us emphasise what was said in this diary: With the capability of the CryENGINE to render large open environments and the accessibility of the Level Editor, we are able to create 1:1 maps of the historical locations. Bocages, roads, individual houses, defence works – all will be in place where they were at the time of battle in the fateful summer of 1944. If you are facing difficult terrain, a line of hedgerows is giving you particular trouble or the defending force is favoured by an open field of fire – chances are these obstacles and challenges are exactly what the Allied and German soldiers had to face. Now it will be our job to give you the necessary tools of war and communication, and your job will be to put them to good use and reach the objective! The only real limitations here from a level design perspective are the wealth or lack of sources and reference materials, which has not been a problem so far. We also use other sources and techniques, that have not been disclosed in this diary, to create the most realistic and historical World War 2 Normandy experience we can.
If you wish to contribute your knowledge or share some additional information or images to help us create a more authentic experience, then head over to our forums and join in on the discussion!
This concludes our Mapping Normandy dev diary, the first in a series bringing you closer to Festung Europa's level creation – hope you enjoyed it!
Please help us spread the word – by Following, Liking, Retweeting, Sharing our messages and Talking about Festung Europa on the forum!
We are recruiting – take a look at our Jobs Section and contact us!
www.jackbootgames.com/jobs