Demon House is now available for the Xbox! Please click on the image above to go to the Xbox marketplace.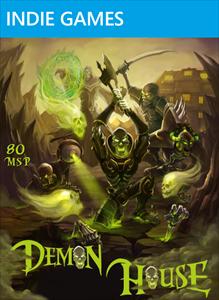 Demon House is an intense first person shooter set in a steam-punk universe. An evil alchemist has discovered how to imbue steam powered machines with the souls of the dead. Using this power he is creating an invincible army to unleash upon the world.
Armed with weapons utilizing a newly-discovered anti-spectral energy, you must delve deep into his dark abode to challenge the forces within.
Various steam punk weapons to find and upgrade.
Lots of monsters to battle as you descend deep into the enemies lair.
Complex AI with enemies that hide and flank.
Puzzles to solve.
Final boss monster fight with the fate of the world in the balance.
Demon House includes a local coop arena mode. Battle endless hordes of enemies with a friend! See how long you can last against increasingly numerous and powerful enemies.
Demon House also includes achievements to unlock in both campaign and arena mode! The PC version includes arena mode leaderboards!