We're glad to announce that our Viking themed survival management sim Dead in Vinland will be coming to Nintendo Switch on July 11! Dead in Vinland: True Viking Edition will include all of the DLC released for the PC version of the game. You can already preorder the full game on Nintendo Switch right now:

Preorder on Nintendo Switch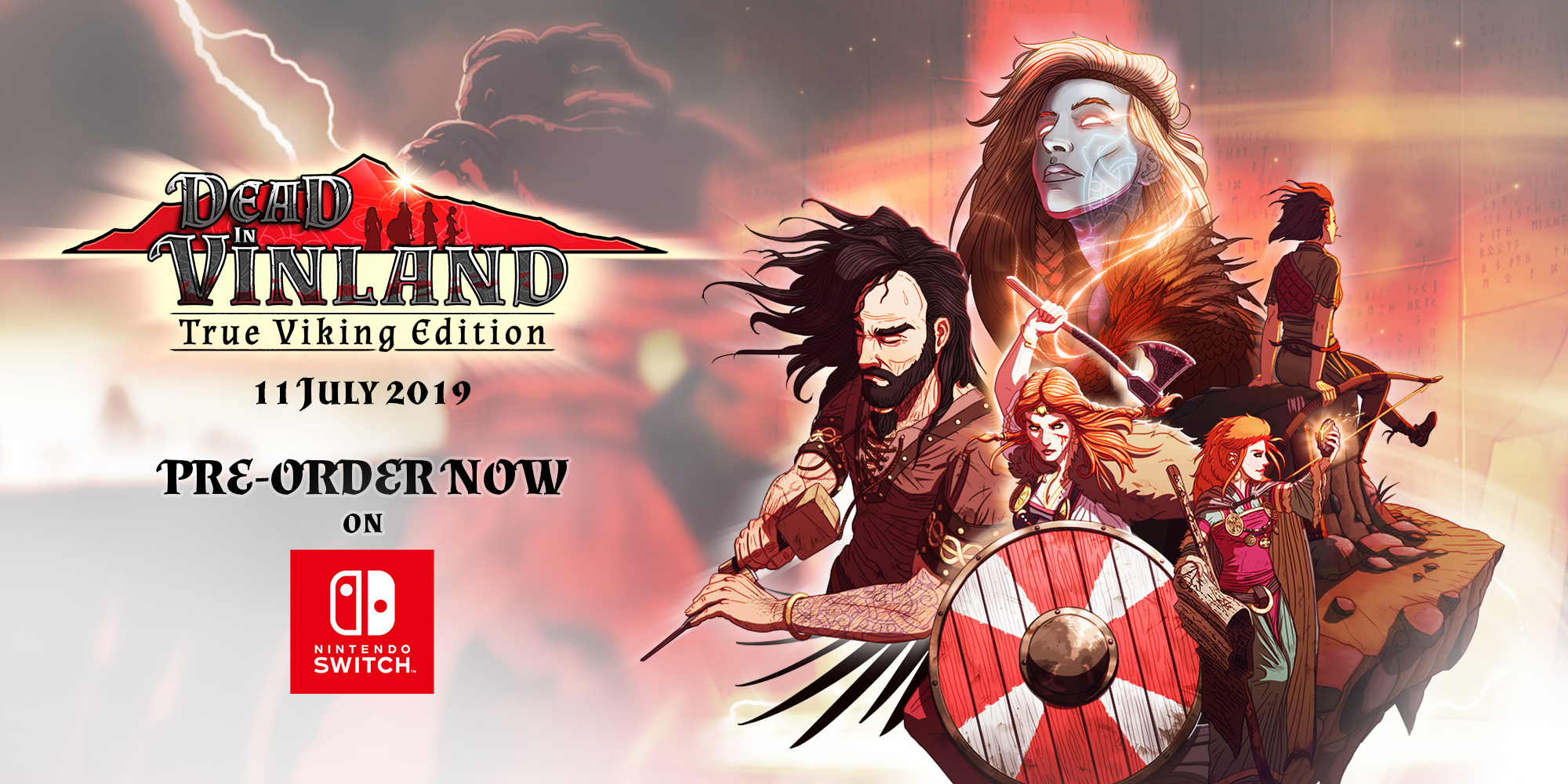 If you're new to Dead in Vinland, here's what you need to know. Dead in Vinland is a survival management sim that centers around a family, exiled and stranded on a mysterious island they are forced to work together, tame the land and fight for their survival.
You're in charge of a community that you need to learn to understand. Each character in the game has their own physical and mental health that you need to maintain, as well as helping them defend themselves in tactical turn-based combat.
Explore the island and the characters with meaningful choices that will lead the heroes through desperation, joy and maybe even romance.
For the True Viking Edition, the interface was totally readapted to offer the perfect gaming experience on Nintendo Switch™ and enables players to take Erik's family everywhere!
Features:
Deep survival management sim: To survive the harsh lands of Vinland you will have to carefully balance the wants and needs of your growing community with the constant struggle for resources and safety. Dead in Vinland offers a satisfyingly deep survival management experience with tasks including gathering building materials, securing a supply of food, taking care of the mental and physical health of your characters, fighting diseases and wounds, rationing water supplies and enduring the rough and merciless seasons.


Challenging strategic battles: Keeping your community safe means facing nerve-wracking turn-based battles in epic encounters. You'll have to be able to take on the challenge in your own way, forming a perfect team with a mix of offence, defence and support chosen from over 600 character traits.


Build your base and manage your community: The island community will grow to groups of up to 14 playable characters, each with their own strengths, flaws and stories. The only way to survive is to expand the shelter with a choice of more than 130 upgrades.


Shape the tale of the heroes: Dead in Vinland offers a vast storyline with over 70 non-linear quests, each choice will decide the fate of the community. Relationships evolve with meaningful dialogue choices, giving you the chance to get to know the heroes as they experience joy, desperation and even romance.
To stay up to date on the latest for Dead in Vinland, please subscribe to our Switch news channel but also find us on Facebook, Twitter & Discord!

For more informations bout Dead in Vinland, you can also follow our publisher Dear Villagers on Twitter, Facebook & Instagram!