Happy almost Thanksgiving everyone!
The last few weeks we've been working hard on the update, and working on getting our new members in Level Design and Animation integrated with the Unreal 4 engine. This involves a bit of boring logins, setups, and other things that you would do at an office job.
So without any delay, here's what else has been going on.
CONCEPT ART
This is Amber Kingsley, the main protagonist in Dark Storm Ascension.
The task was given to finalize her overall design. This design isn't quite finished yet, but it's the general concept. This is her attire for the start of the game, later on her look will change as the story progresses and as she acquires different gear, there will be physical changes to her appearance as she takes damage throughout the story line.
Description of Amber:

Amber was born in Boulder Colorado before moving to Denver at age fifteen. It was in her high school years that Amber would meet Jill Haley and spark a longtime friendship – a friendship that would shape both of their destinies.

Amber was always a tomboy: athletic, strongly built, yet was very pretty. She liked to play hard, never afraid to get into fights – always refusing to back down even when she was in a fight she couldn't possibly win. Because of this Amber was in trouble a lot as a young woman, always in and out of the principal's office, resulting in her being kicked out of several school. When Amber met Jill, a girl who 10 she first thought was a geek and unworthy to spend her time with, Amber began to find her focus with Jill's guidance. The two young woman complimented one another: Jill determined, excellent student, and book smart, while Amber: street tough, un-shy about boys or her beauty, and a woman of strong personal convictions, allowed the girls to become fast friends – and friends for life.
---
Meet Sya! One of the more interesting supporting characters in Dark Storm.. Sya is an AI that is integrated within the game. Besides being heavily integrated with the story, she is also a part of gameplay.
Description of Sya:

Sya is the world's most advanced computer intelligence, or AI, and while she isn't the first or only AI in the world, in only three years she has shown greater levels of development, cognitive thinking, and social abilities that mirror a human more so than any dozen AI's current in service. However, Sya is primary kept a secret at the time of Dark Storm: Ascension, as she is still considered to be in the prototype phase of her development.

While a great many hands have been involved in Sya's development over the past decade – as she is only one of many that Irving Dynamics has created over twenty years, the bulk of her creations came into existence because of Jill Haley who, while still in college created a revolutionary algorithm that would lay the groundwork for what would become Sya's primary code. As a result much of Sya's own personality and mannerism are modeled on Jill, although she has been giving the opportunity to grow and expand completely on her own, resulting in a unique new form of computer lifeform.
---
And finally, we have Jill. Another main supporting character that intertwines throughout Dark Storm and Amber's overall life.
Description of Jill:

Jill was born in Boston, Massachusetts. Shortly after her mother divorced Jill moved to Colorado when she was eight and would remain in Denver until she finished high school. Jill was always a very bright child, showing and demonstrating intelligence years beyond her true age. At ten she was enrolled in Mensa and took particular interest in advance computer science and computer AI. As a result even before Jill was in high school she knew what life she wanted for herself and never strayed from her path. However, this did make Jill a bit of a social outcast. When her mother fell on hard times she was forced to attend a public high school where fitting into a new social structure that wasn't based on academic prowess, Jill found her early high school years anti-productive. That would all change when she met Amber Kingsley, a tough, popular but troubled student.

At first Jill saw Amber more of a means-to-an-end – a bodyguard as it were. However, the two girls soon became fast friends as Jill offered to Amber qualities that she was lacking in herself, and vice versa. Because of this, what could have been some of the most difficult times in Jill's life turned to be among her most exciting; for the first time she learned what it was to live and have fun – to be a girl, go on dates, flirt and have adventures. Nevertheless, she never strayed too far from her goals.
LEVEL DESIGN
This week we are going to show a bit more of the new VR environment we are developing.
With the new VR missions being done in UE4 it was important to make sure every aspect of the game offered something interesting and fun to play mechanically. This stems off into the tutorial missions as well as every other aspect of the game.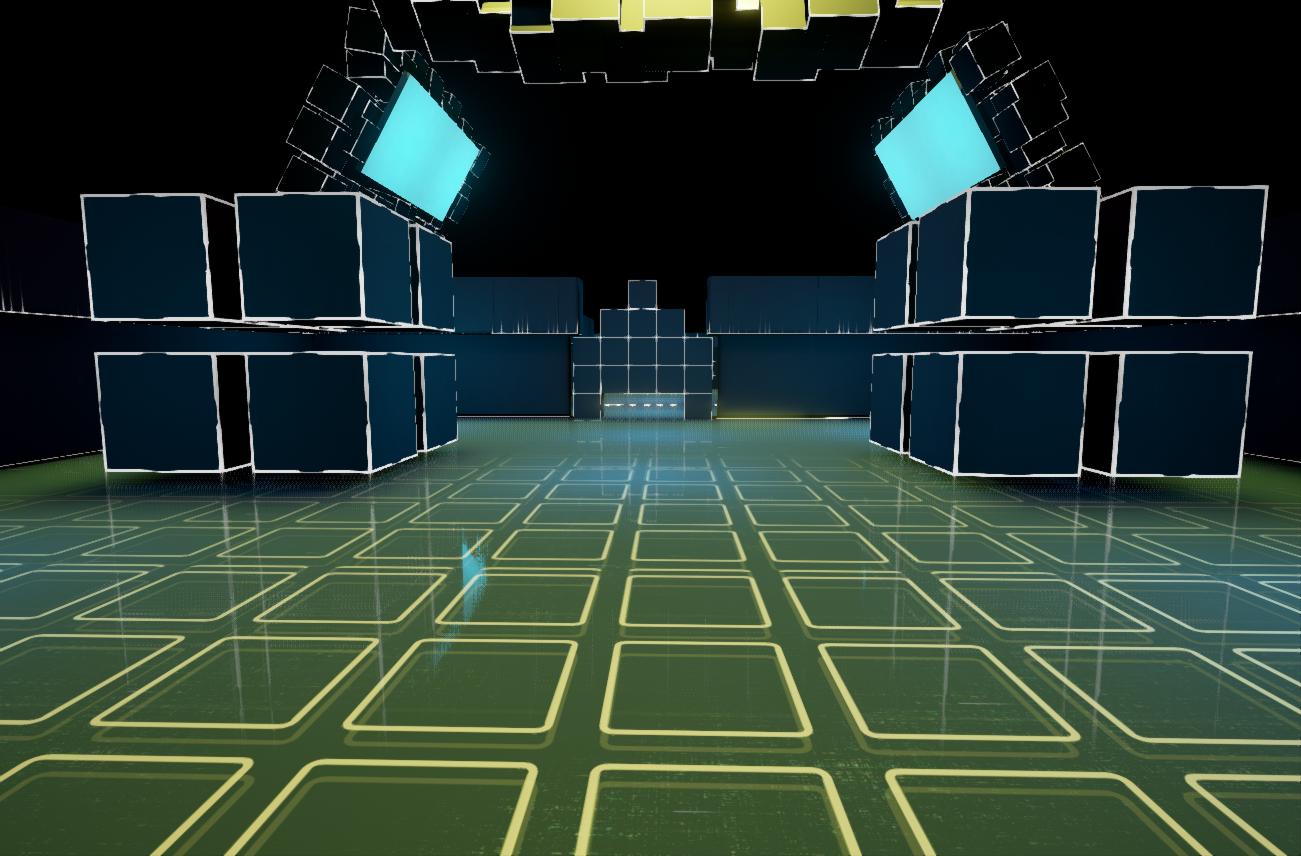 The tutorial missions in Dark Storm VR Missions will now guide the player through each gameplay tactic in a meaningful way that progressively gets the player used to the control scheme and tactics. The game offers the player a varying degree of challenges and replayability.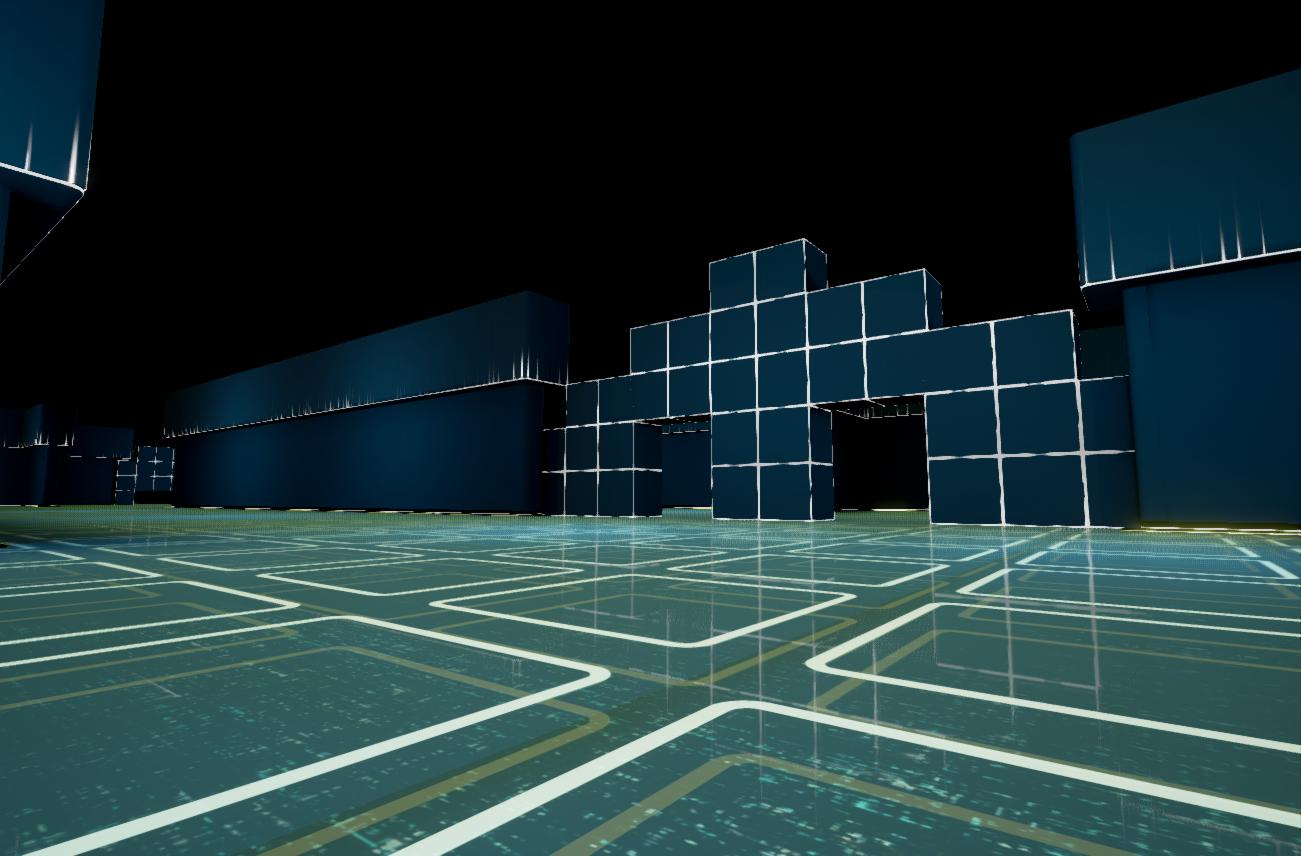 If the player needs to refresh their skills, they can play with a variety of different styles and experiences while still learning the core mechanics.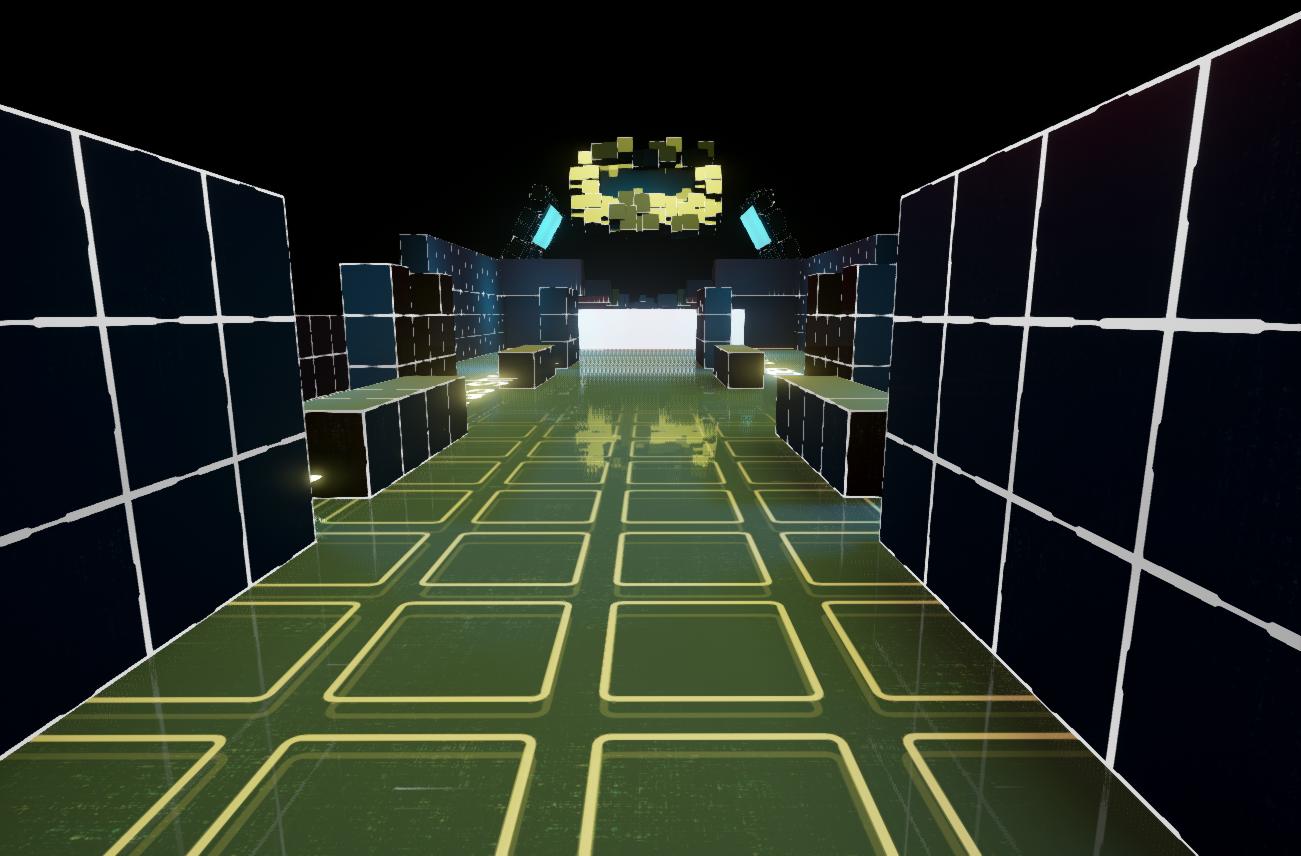 Lastly, continuing the VR aesthetic, we're making use of various design features allowed in UE4. Currently by integrating new dynamic world pieces to expand on the experience that really hones in on the VR aesthetic.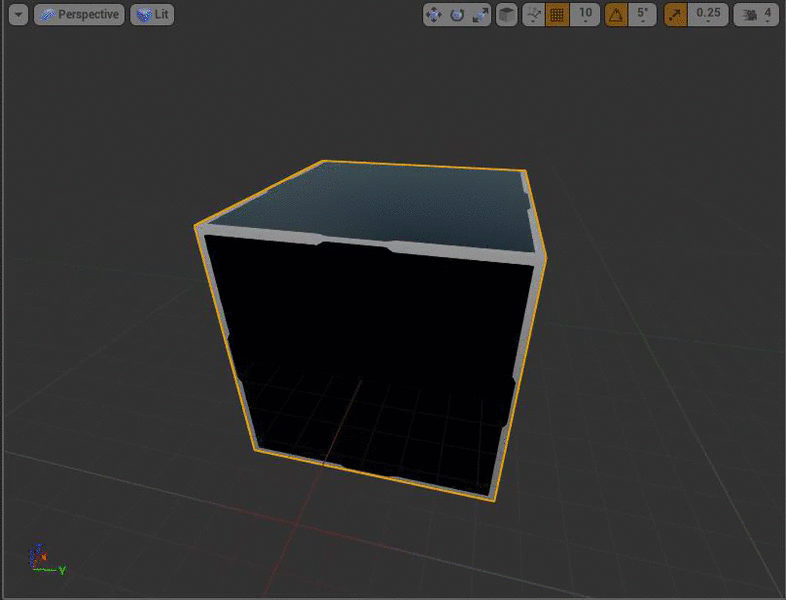 In various sections of the VR the voxel based cubes may appear to open new segments of the level or disintegrate to reveal a new path or hidden area.
The goal is to expand on this along with several other design concepts and integrate it with the environment to allow for more dynamic play styles and levels.
WEAPON DESIGN
And now for the good stuff. Boom sticks!
But first...a description about the maker of these fine weapons:
Kronus Advanced Weaponry

In 1966, Kronus Advanced Weaponry was the first subsidiary company that Irving Dynamics would create. Primarily designed to fund Irving's advanced aviation departments through the manufacturing of firearms, the company took off as the war in Vietnam drew on more and more resources back home, namely weapons the government hoped would end the war. As the decades past new wars always seemed on the horizon, Kronus 38

would, like its parent company quickly become the leader in advanced weaponry, mostly on a large scale such as: missile systems, naval weaponry, space-based weapons, and experimental ammunition, and high concepts such as magnetic accelerators and chemical lasers. Today, Kronus is the primary manufacturing arm of U.S. armed forces and NATO allies, and as expected is the second most profitable company outside of Irving Dynamics itself.
Kronus Z820 "Devistator" Single-Barrel Pump Action Shotgun*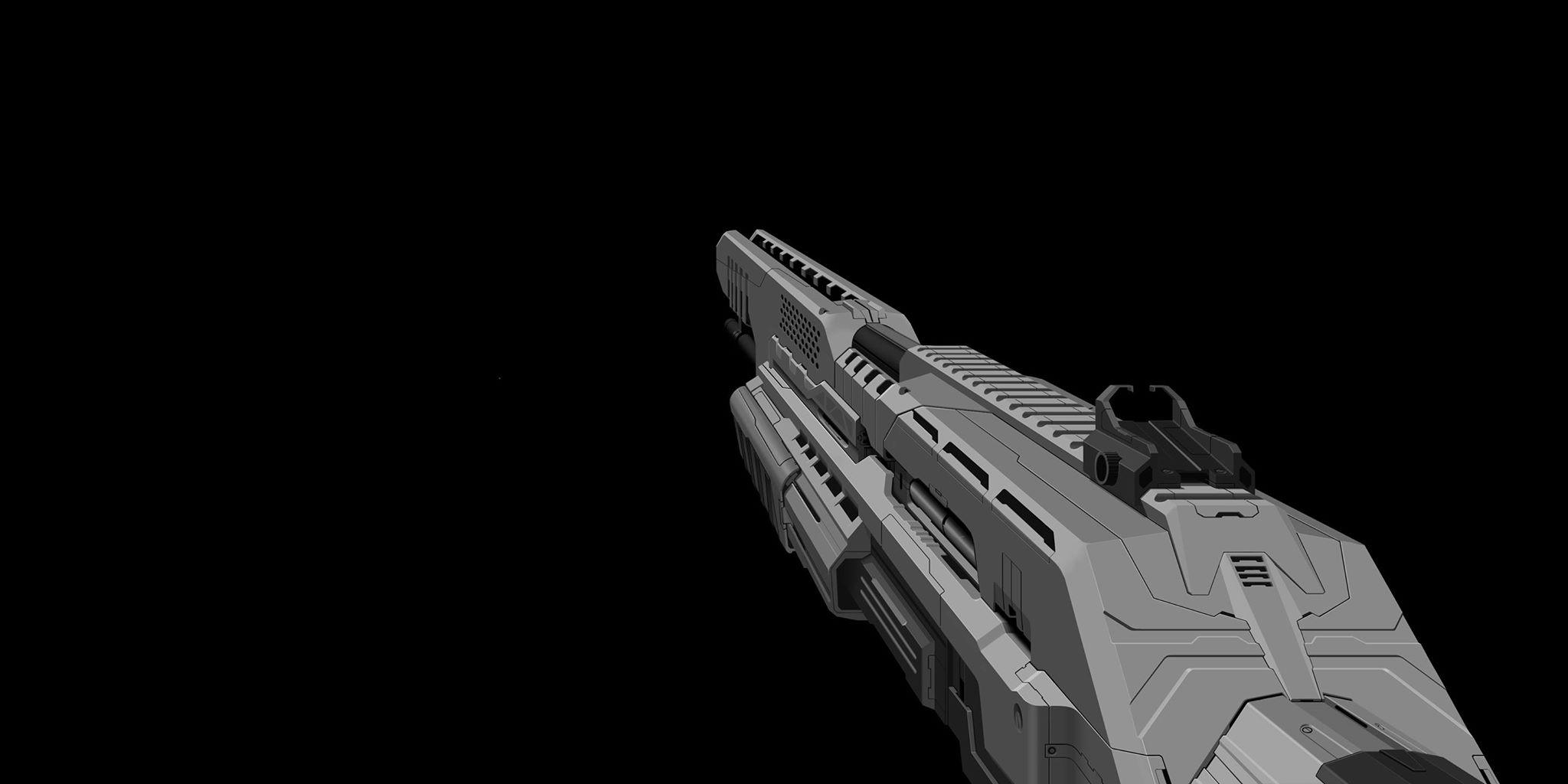 Kronus Z760 Personal Security Handgun Suite*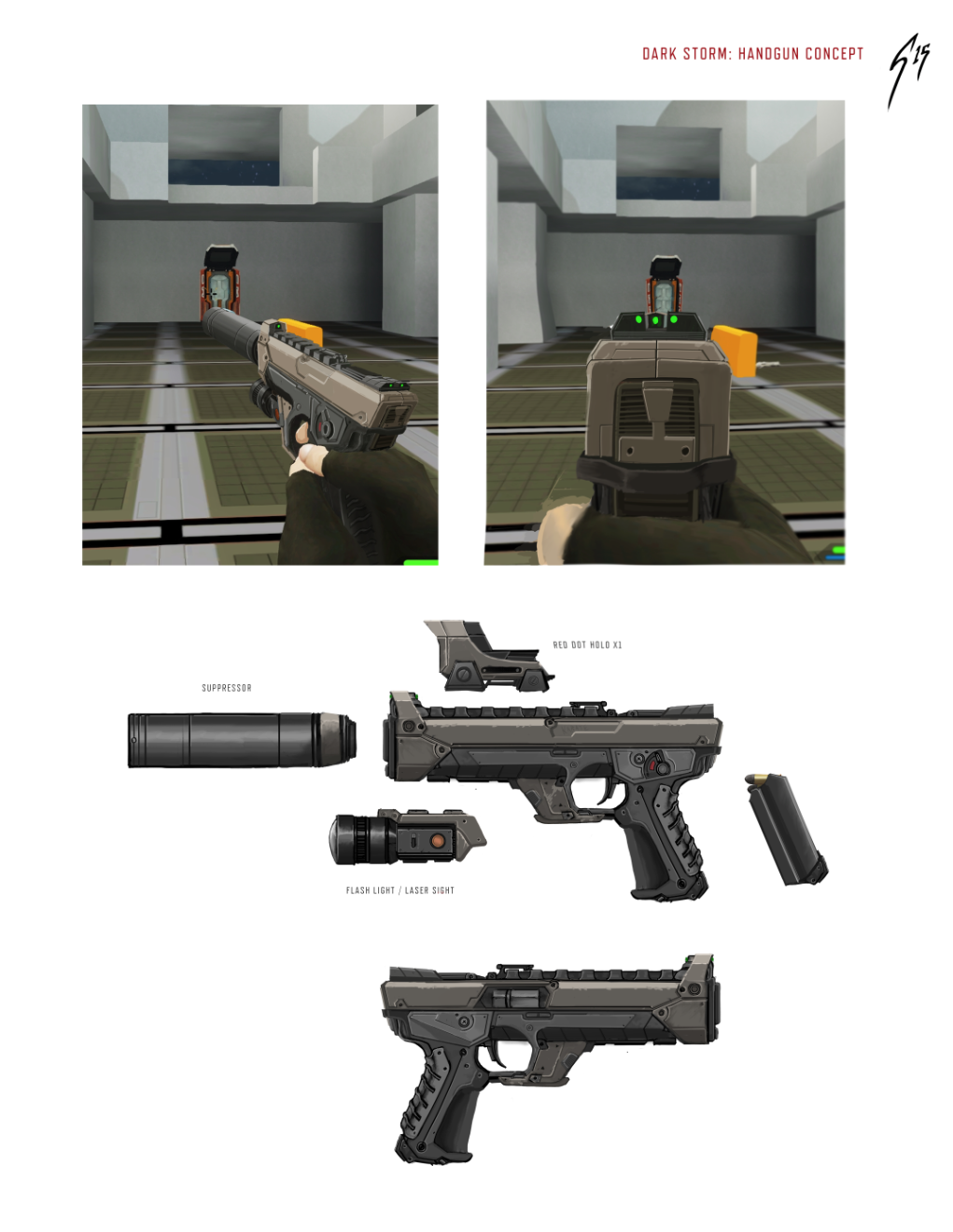 * Completely random model names and numbers subject to change.
Tune in next time and we'll have some more tidbits for you, including sound updates and possibly an excerpt of the Dark Storm novel!
Yours ever so truly,
The Dark Storm Team