Hey everyone, Ian here, artist and game designer for Crimson Keep. Over this last week we've been working on making some enemies that are substantially smarter and more difficult to fight, and I think we've been somewhat successful. Now this test enemy will regularly charge at you to close the distance, if the enemy hits you when charging the player's movement speed is reduced for a couple seconds, and there is also a chance that they are stunned, leaving the player open to the enemy's follow up attack. For more difficult enemies like this we've added a dodge maneuver that allows the player to do a quick sprint in whatever direction they are moving, or straight back if they aren't moving. We're still figuring out what kind of resources the dodge/dash will use if any. One possible option is a fatigue debuff that stacks up as it is used, or maybe just a couple charges of dodge that recharge after a cooldown.
There's also a bit more environmental art this week, this time a rock pillar that seems to add a nice bit of caveyness to the cave, as well as some subterranean roots. The new first person arm rig is complete, so now we just have to make some animations for it, and get the arms looking good texture wise. On the graphics front we've also been trying to make some of the particle effects better like the blood spray.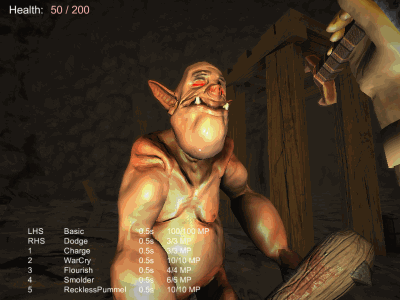 Thank you for your interest in the project, and we'll see you next week with more info!