Hey everyone, Ian here, game designer and artist for Crimson Keep. This week Ben made some big strides in getting some "game feel" stuff into the game. I also finished up the remaining "chunks" for the cave tileset. We now have 50 different pieces that the game will stitch together at run-time, some of these are hallways, others are big rooms, and some are a combination of both. It's a little bit of a hassle especially the more doorways a chunk has, as it's kind of repetitive snapping vertices to a doorway template, but now I can move onto the more fun part; filling the rooms with props, monsters, and content. This is going to be my big task for the next 2 weeks, but I'll mix in prop-creation as always, and maybe a new monster, as well as the ever-present playtesting.
Let's take a look at some of the game feel stuff Ben got implemented. These are easiest to see in the video, and the gif's I made just weren't turning out great, so I'll be lazy and refer you to the video.
Accel / Decel: Small amount of time to get up to normal walk/run speed and decelerate to stopped. This gives the player's movement a bit of momentum that feels a little more natural and fun.
Springy arm: The first person arm and sword lag behind the camera when looking around with the mouse. This is something that seems to be in most modern FPS games and it really does add a nice little bit of feedback that does feel good, not having this makes the game feel a little more fake like the weapon or first person models are just bolted to the camera unnaturally.
Strafe camera tilt: When strafing left or right the camera tilts slightly in the corresponding direction. Taking a note from Quake 1 (I don't think this is present in Quake 2, and many other FPS's since) we implemented this, I enjoy the little extra bit of feedback it gives the player upon pressing a strafe button. Really every single button press should provide some kind of visual, auditory, and ideally gameplay feedback, and this factors into that.
Flash on damage: Enemies flash when they take damage. This is just one more nice way of conveying information to the player, the blood effects when they get better in our game will also do a decent job of this, but making it a little more "in your face" never hurts. I'll probably be tweaking the color of the effect, and we have plans to change the brightness/color depending on how much damage was done with an attack, to convey if you're attack was weak or powerful.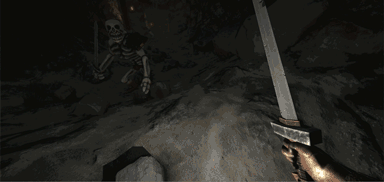 As always thanks for your continued interest in our game Crimson Keep. And stay tuned for more articles in the coming weeks. Please feel free to offer up any questions or comments you might have about the game, we're always looking for more feedback.