It's been a while since we created the page here and let you know we exist. Now it is time to let you in on some more information.
---
So, who are we?
We are Convoy Games. We are a 3 man team from the Netherlands. Convoy is our first official title as a team, though we've worked together in the past on other things.
And what exactly is Convoy?
You've probably seen the pictures, but without words they might not make any sense. Convoy will be a squad based, tactical, top-down roguelike-like.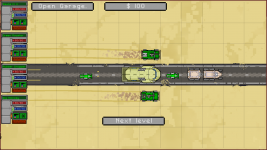 In the above image, you can see a road and some vehicles. The large ones on the road are your convoy vehicles. They need to survive!
The smaller green ones are your units. You use these units to protect your convoy vehicles from enemies.
During your travels, you will go through a series of random encounters. There encounters usually consist of some dialogue and a few choices you can make. These choices may lead to rewards, other encounters or combat.
Your units can be ordered to move around and shoot at any enemies. Units have health and armor, so you need to make sure you destroy armor before trying to do any health damage. Units can also have abilities, which may provide bonuses or utility instead of firepower. The loadout of your units depends on how you fitted them.
Customization
After an encounter, you may have received a reward. These rewards could be currency or items. If you've received an item, you can equip it or exchange it for an already equipped item. This way you can customize your units to your liking.So, that's it for now. We'll try to bring you updates at least once a week.
---
If you have any questions, put them in the comments section, and don't forget to like us on Facebook!