Hey CHKN Army!
Abilities are here! We are so excited to bring this update to you guys. Since creatures are the core basis of our game, we have been working on ways to differentiate each one besides stats and behaviour. Now with abilities, you must strategize on the best ways to build and use your creatures during certain situations! For example, drinking cows milk cures you if you get poisoned and waterblasts can put out fire caused by dragons (or you when you're being clumsy with a torch).
We also added an offhand slot so that you can carry a torch while also holding something in your other hand, such as food, a weapon, or a whistle. We also added a few more cool features! Check them out below in the full patch notes:

NEW FEATURES:
Octopus mouth shoots ink which obstructs vision.
Snake mouths have venom which deals damage over time when they bite.
Spider mouths have a paralyzing poison when they bite.
Damage-over-time and paralyzing darts can be crafted using snake and spider mouths plus a dart.
Charge ability added for creatures with horns.
Offhand slot added. This is an additional slot in the hot bar. Whatever is equipped in this slot will be placed in the left hand. The F key quickly switches the main and off-hand items. If an item in the main hand doesn't have a secondary action, right clicking will activate the off hand item. Torches and lanterns will provide light when equipped in the off hand slot.
New creature type: Cow! Cow udders will provide milk when activated with the bucket. Milk will remove all poison statuses.
IMPROVEMENTS/CHANGES:
Crafting recipes tweaked.
All items now properly fit in player's hands when equipped.
Damage indicator added to screen.
Status indicators added to screen.
Water reflections disabled to improve graphic performance.
BUG FIXES:
Fixed bug that prevented screen to shake slightly when hit
Fixed issue where couldn't place blocks near edge of edit sphere
ABILITY VIDEOS:
We made a few clips of the abilities in action. Check them out below!
CHARGING:
POISON & WATERBLAST: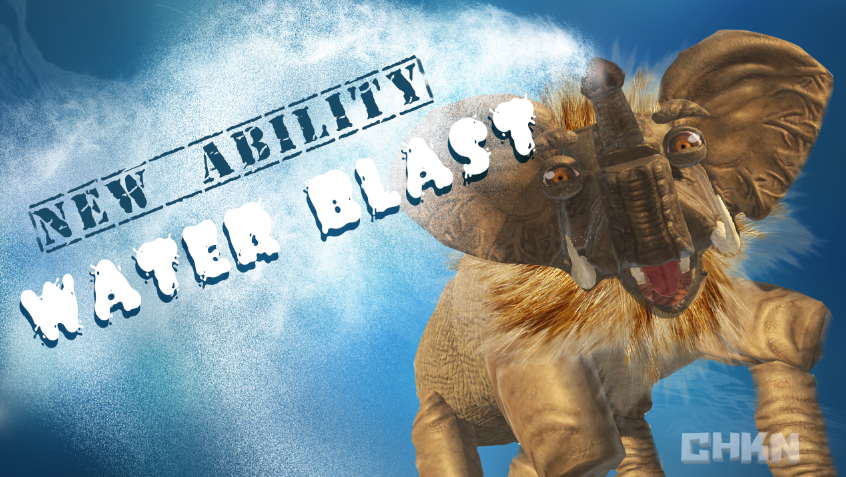 We can't wait to see what you guys make and do with these exciting new abilities! If you have any questions, comments, suggestions or bug reports for this patch, please let us know in the forum.
PS. We are also giving away 100 keys on IndieDB for 24 hours only! Check it out here.

-TEAM CHKN