Where to start- well first of all lets look at some of the latest assets created by the team.
Sam - So among other things, I've been working on this piece concept art for the past 5 weeks (on and off). I've finally managed to finish it and am pretty happy with the results. Why do it in the first place? Well, we felt that we needed an image with a bit more substance to help promote Bushido- but we're also using it for our new website (more on this later) and headers for various promo material.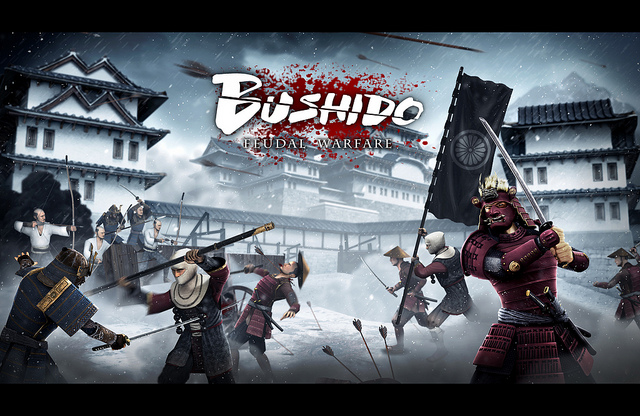 I've also been tweaking some of the weapon models and building a rig for the characters. As mentioned in some of the older news- we're looking to include custom animations for the player models, and as such need a versatile rig that'll give us full control over our characters. This is taking quite a bit of time to get right, but we'll be able to show off some custom animations soon.
I've also been working on a stand-alone website for Bushido, details of which we'll be releasing soon.
Rob and Kieran - Both of the chaps have been hard at work producing 3D assets for the game, with Kieran focusing on the player models and Rob working on environment models. Kieran's 'Blue Samurai' was revealed the other week, but here's a screenshot of it for anyone who missed it: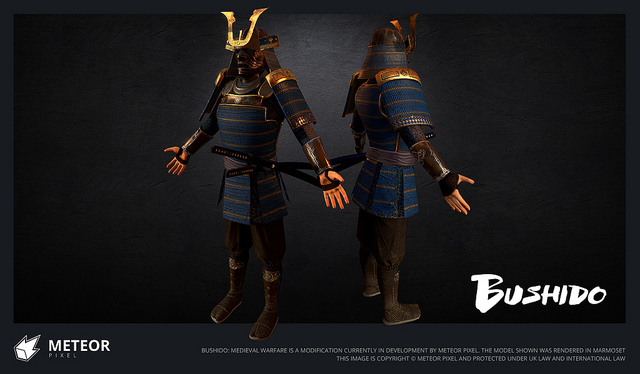 Most recently, Rob has been working on a modular housing system that'll allow us to create a variety of house interior/exteriors that can also be used for castles, temples, etc...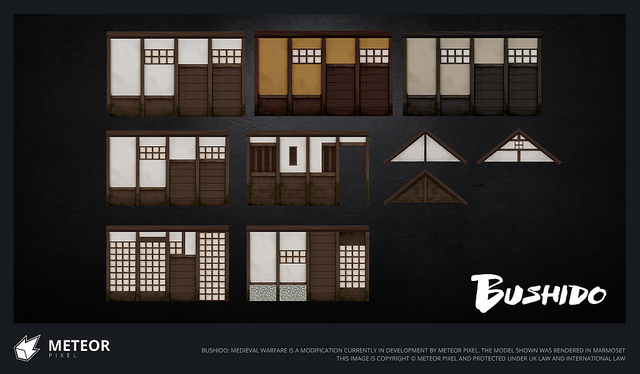 Finially, Beck has been slogging away at our new map. For anyone familar with the UDK, we're at the stage where the level is blocked out in BSP brushes and we can start testing and tweaking it before detailing it with too many assets. Images, and possibly video footage, to follow soon.
Thanks for taking the time to read this news update! For all the latest developments remember to follow us on Facebook and Twitter!
With the release of the SDK- development on the mod is now in full swing and we're hoping to show off some in-game shots/videos really soon.