Hello everybody! It's been a while, hasn't it?
I wanted to touch base with everyone and let you know we've noticed the confusion regarding adding a 2nd player and which gamepads work, and made an entire update addressing this!
In previous versions, you were required to use XInput devices (or use a 3rd party emulation layer for DirectInput) for Dumpy & Bumpy to recognize the gamepad, and you could only add a 2nd player by hitting START on a connected gamepad and then pressing right to assign it to Player 2- This could also be done in the overworld menu. This has been completely changed and overhauled! You can now use any DirectInput gamepad, and new menus have been added to assign and configure them. Note: For Playstation 4/5 and Nintendo Switch controllers, you still need to run an emulation layer. If Steam is open, you're able to use that to use those devices.
The biggest change, and probably the most important one, is that when the game starts, the first input you use from a configured/recognized gamepad on the title screen when you see "Press Any Button to Begin" determines Player 1's input device. This means you no longer need to navigate menus to switch to a controller if you've previously set keyboard as primary input.
If you have an unrecognized gamepad connected, Dumpy & Bumpy will let you know it needs to be configured before use: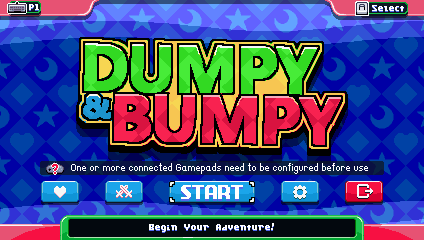 By selecting Options and going to the Action Mapping menu, you're shown a new option- "DirectInput Mapping":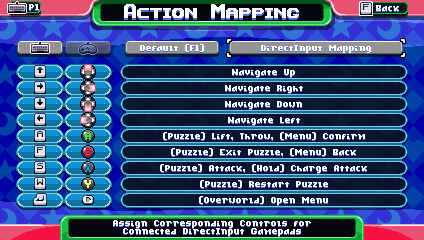 This menu will allow you to map any DirectInput gamepads you have connected to correspond with an XInput (XBOX) gamepad's buttons: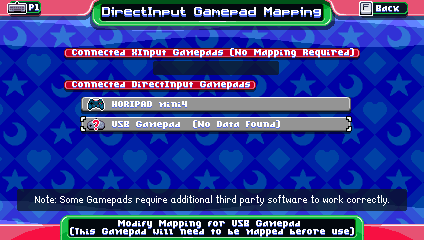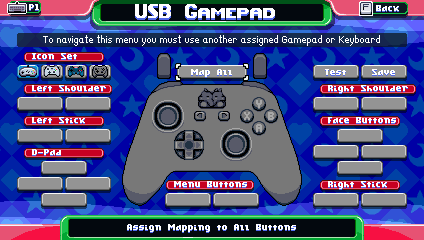 This menu lets you configure your connected gamepad, allowing it to be recognized by Dumpy & Bumpy!

The second major change is how you assign a 2nd player. While you can still open the overworld menu to add/remove Player 2 or assign a controller, there is now a screen that appears when you press START on the title- the "Choose Players" menu.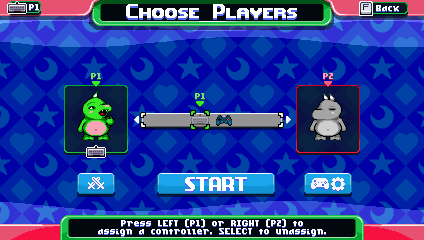 Additionally, if you have an unrecognized gamepad on this screen, another option will appear that will take you directly to the DirectInput Mapping screen:
While playing, if you have an unassigned gamepad connected, there is now a notification on the overworld letting you know you can add a 2nd player by pressing start on that gamepad: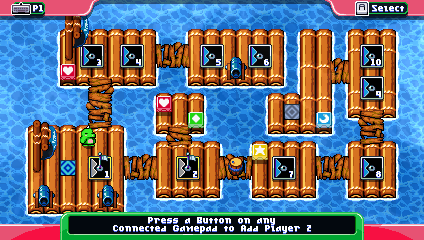 In addition to these changes, there are a number of quality of life improvements and tweaks to in-game options and multiplayer! If you'd like to read the full change-log, you may do so at the bottom of this post!
I want to thank everybody for your interest in Dumpy & Bumpy and all of the support you've shown since launch! It means the world to me to know people are checking my silly games out and enjoying them! Without your support, and without Retroware's hard work, this update wouldn't have been possible, so I appreciate you all!


-Programancer