What we initially started preparing as difficulty settings ended finally as different game modes! The changes are deep and surely will intrigue you to try the modes!
What is Book of Demons?
---
If you have never heard about the game here is a short video presenting its main features!


In a few words, Book of Demons is a Hack & slash game distilled to its purest form. Slay the armies of darkness in the dungeons below the Old Cathedral and save the terror-stricken Paperverse from the clutches of the Archdemon himself.

As usual, we do encourage you to give the game a chance and play Demo version!
NEW GAME MODES
---

Casual mode
Searching for a relaxing dungeon? Look no more. In this mode healing is way easier with faster replenishing fountains. All fight mechanics are also more forgiving and monsters attack less vicious. In this mode cards drop in a randomized order that helps you deflect monster mechanics' as they appear. Similar to the previous mode, at any time you can switch to the Normal mode.

Since it is sooo hard to die, characters playing Casual mode do not have any leaderboards.

Normal mode
The way it was meant to be played by developers - it's the mode all who played know already. Its balance remains as it used to be. There is a little change to it though - all characters playing this mode are eligible for the "First death" leaderboard what replaces the old Daredevil setting. But don't worry! If your character dies for the first time it does not perish as it used to be - you will be able to continue the adventure further without leaderboard.
Characters created in this mode can also be switched to Casual mode at any time (however, they will be recorded in the "First death" leaderboard when they are switched for the first time).

Roguelike mode!
We heard that the game was too easy for some, so… you got what you all asked for!

In this mode it is really easy to die. Changes start with very limited healing: fountains which do not replenish anymore, amulets which work only in combat, healer finally becoming a businessman (he now charges for healing in Town), healing, mana and rejuvenation potions no longer can be resupplied in Town....

Finally, you have to pay much for resurrection, and even more for the next, and then next one. After all, no money means no resurrection. How does it go? You get what you pay for?
Anyway, when a character dies permanently they are immortalized in the "Final death" leaderboard.

The best change, which we all love here, is that cards drop in a completely random order and are usable regardless of any level requirements! No matter if they are useful for you now or not. Awesome, isn't it?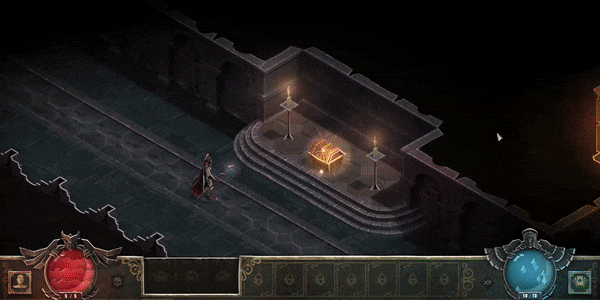 But remember - once a rogue always a rogue! Characters created in this mode can't be switched to any other mode.

New leaderboards - new Daredevil!
While we are keeping old leaderboards (and new scores will be uploaded there until game's launch) the Daredevil status will work differently now. All characters playing Normal and Roguelike modes will start as Daredevils and have their first death recorded in the "First death leaderboard". This also means, that unless you die, you won't be able to choose setting and difficulty which you like to play in the Freeplay (after completing the story). With the first death Daredevil status will be removed.

Additionally, all characters playing in Roguelike mode will be recorded in the "Final death" leaderboard, but now it should be much harder to climb high!
While we will be keeping all-time leaderboard data for posterity the public leaderboards will be cleared once in a month.

Feedback Request!
Both new modes - Casual and Roguelike, are released as a beta stage. This means we will closely watch their balance and it would be super awesome if you could report any glitches you encounter via the in-game feedback widget. We can't fix what we don't know about! Of course feel free to write down your thoughts on the new modes as well, we appreciate all the feedback we get!

Other news
This update brings a lot of stuff under the hood, so saved dungeons will get regenerated on the first load. Besides the new modes, there are also some quality of life changes and small fixes included. Most prominent one is cutscene skipping (including miniboss introductions), which we know many of you wanted!
As always (and especially now in Roguelike mode)
Stay safe in dungeons