Hey Racers, Happy New Year!

I have a new Bloody Rally Show update for you, fresh from the oven! It's not much, but some of the changes will certainly have a positive impact on the fun factor!

All Cars Unlocked in Custom Race

Occasionally players would complain about having to grind to unlock the faster cars in Custom Races, and while there was a cheat to unlock them, I decided it's not good enough. Since v1.8.0 there will be no level requirements for Custom Race, meaning you can download the fastest and deadliest workshop cars and test them out in a Custom Race without having to grind until reaching a high level in a Campaign. It also unlocks the possibility to play Time Attack with any car and set lap records on demand. Less grind, more fun!

Note that in Campaign you will still need the levels to unlock the cars, as usually.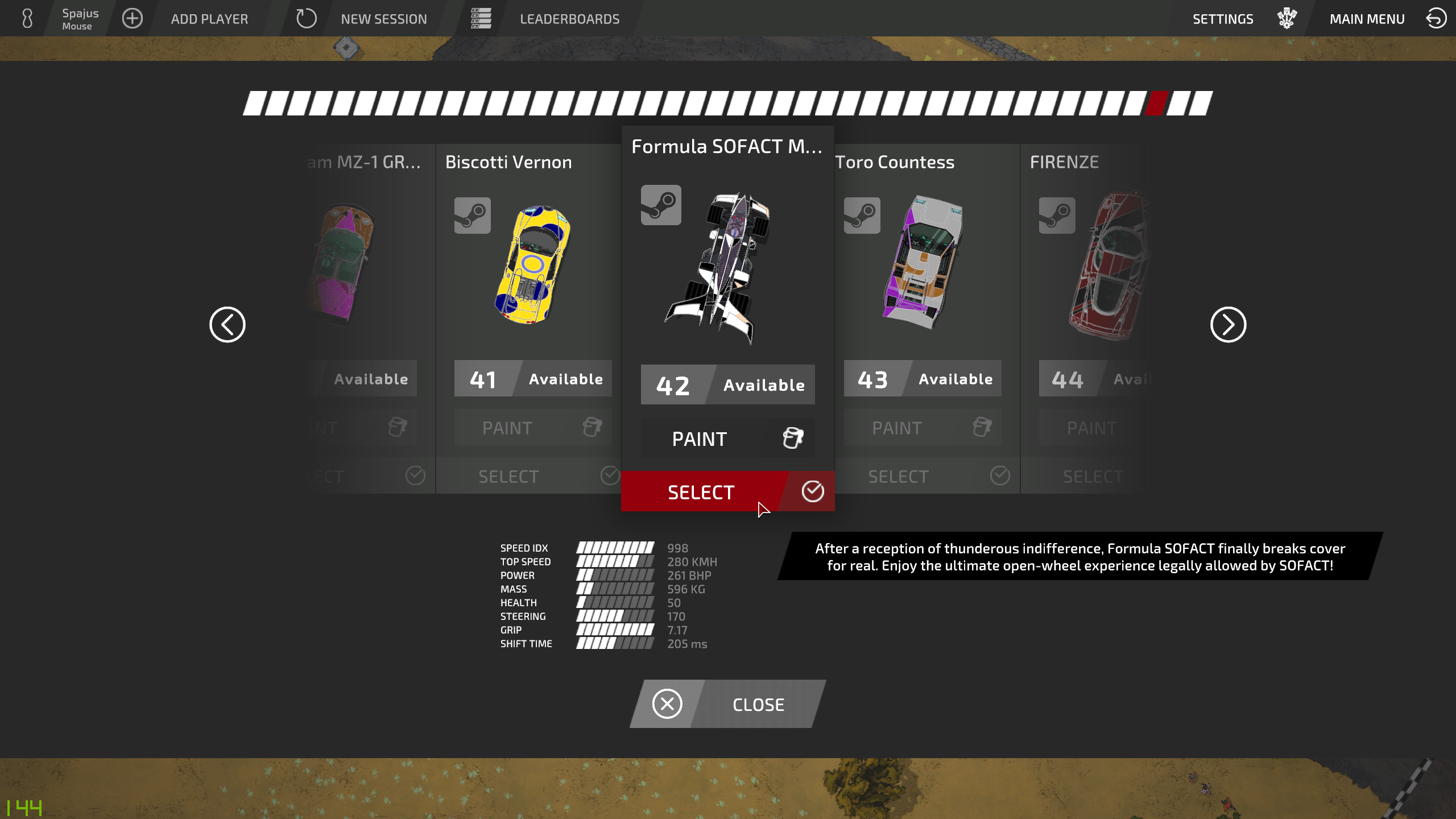 Objects On The Road For Custom Tracks

Previously Track Editor was really strict about anything placed in the middle of the road. You could do that in the editor, but couldn't save a track with obstacles on the road do to validation failure.

Now this requirement was completely lifted, so you are free to torture yourself and others (especially the AI racers) with walls, rocks, trees and whatever else you want placed right in the middle of the road! Less restrictions, more fun!

Procedurally generated tracks will remain clean, so this only affects custom / workshop ones.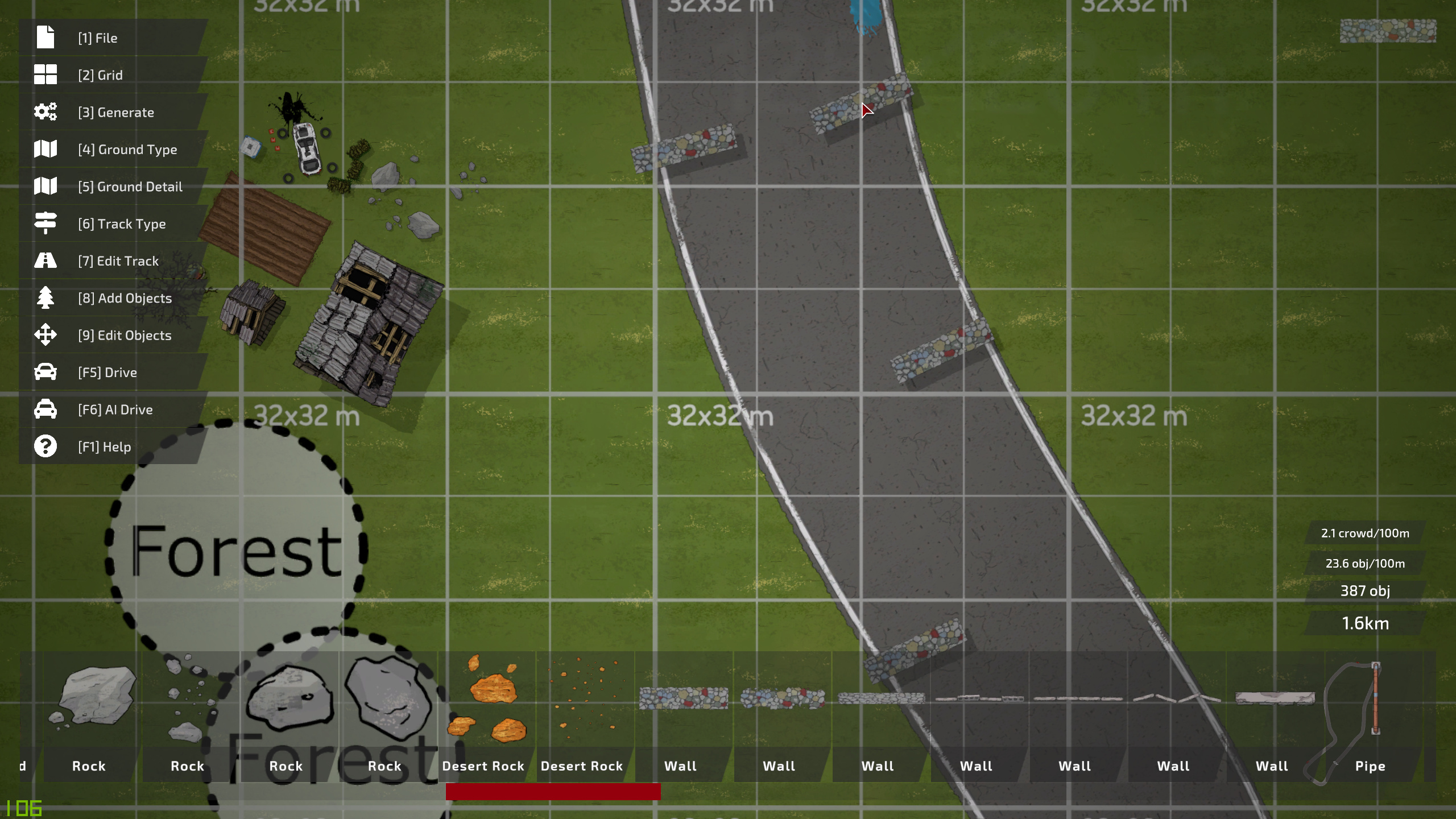 Default Lap Count in Time Attack and Daily Challenge

I noticed that a lot of players didn't change the default lap count for Daily Challenge races, and after talking to some, I figured they didn't even know it could be done! The old default of 2 laps was a little too short for a good daily run, so since v1.8.0, default lap count is going to be 5 laps. It is still configurable, so you can change it if you want something different.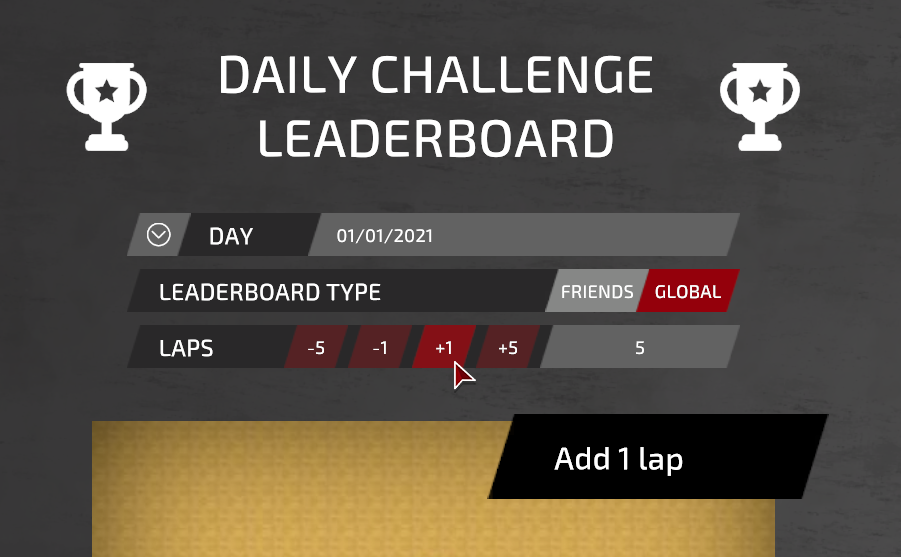 Other Changes

Aside from that, there were a few bug fixes and Unity upgrade from 2020.1 to 2020.2, that should add some free overall performance improvements.

And since my Unity license has expired and I chose to not renew it, the main loading screen will now show the "Made with Unity" badge of shame logo -_-;...

Note to Mac Users

Unfortunately my macOS is too old to run the build made with Unity 2020.2, so I could not test if the game works, but it should. If there are any issues, please let me know in the comments, and it's always possible to switch to the "previous" version in Betas in case the game won't launch.

Full List of Changes:

v1.8.0 (2021.01.01)
- Upgrade Unity to 2020.2.0f1
- Fix last checkpoint occasionally touching the start/finish area, resulting in bogus "corner cutting penalty forgiven" message
- Fix Track Editor track selection being below track length / object count widget
- Set default lap count in Time Attack / Daily Challenge to 5 laps (will update current saved value)
- Remove the requirement to reach a certain level to unlock faster cars in custom races
- Allow placing things in the middle of the road in Track Editor for custom and workshop tracks
- Fix some physics based objects composed from multiple parts (mainly rocks) being dragged and rotated inconsistently in Track Editor
- Round object and pedestrian density count in Track Editor

Cheers!
Spajus

P.S.
I'm working really hard on my next game. If you enjoy story generators like RimWorld and Dwar Fortress, or base building games like Prison Architect or Oxygen Not Included, add it to your wishlist, it helps me out a lot! Thank you! :)