It's hard to define a precise Birthday date of a project, because there is no single day when you're simultaneously visited by the Muse, you make your first sketch of your future project, generate buttloads of content, gather a mighty team and release the mod! After some thoughts, I devised that there are currently two important milestones in the history of Rogue Republic.
Those are first skin made - 7th of February and the time when we first became public - 18th of July. Let this absolutely credible story retell you about the absolutely truth events which took place 1 year ago!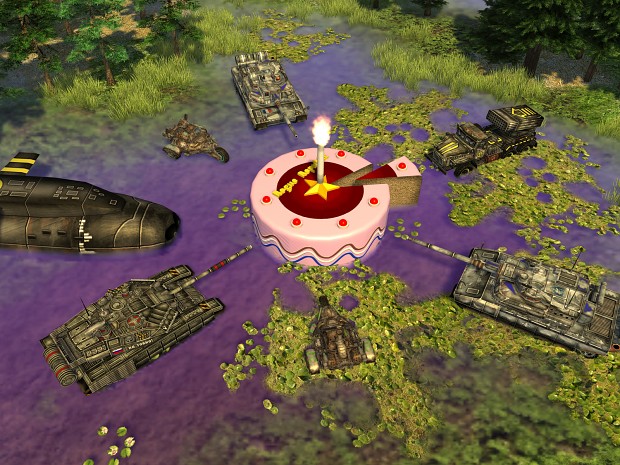 "...We were fighting, all our bodies covered with sweat and blood, shot after shot the deafening roars reached our ears... the battle looked to be endless, the enemy - immeasurable in numbers, and even though we fought with heroic courage - so did he. We were both tired deadly and each of us wanted to ask: "When will you stop"?. Even the mighty Kilo sub came to join the battle!
Until all of a sudden - the waters around us became pink and a magic cake appeared out of nowhere.
- Put down your heavy weapons, small ones! - said the Mighty Birthday Cake.
Shocked, we put our strives aside and listened what else will it say.
- For it is by grace you have been saved, through faith-and this not from yourselves, it is the gift of me, Sacred Birthday Cake!
But the fruit of the Spirit is love, joy, peace, patience, kindness, goodness, faithfulness. Forget all your strive and animosities and become the ones to know, that today is a day to remember - it's Rogue Republic's 1st year anniversary!
...and it's time for first Intermarian unit as well: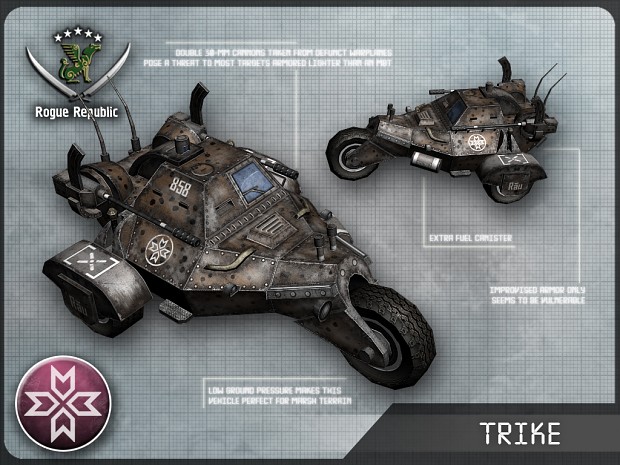 The Trike is light, fast and cheap tactical asset of Intermarium. It takes its origins from various improvised easy-to-do armored cars which Luka's partisans used to counter EU invasion during the pre-Intermarium times. With rising tensions between EU and Intermarium and Intermarium and Russia, the Trike idea was revisioned and put into serial production.
Although they bear less armor than a Fennek and can't even hold troops, it's one of the few vehicles which is able to pass through the vast marshlands of Central-Eastern Europe and Scandinavia.
The Sacred Cake will appear several more times in special events and occasions.
That's all folks! Visit our gallery and track us at all costs, and let the Sacred Cake guard you from your enemies!