Hi guys, We've got quite a big announcement to make, one which will hopefully lead to Bushido becoming bigger and better than it ever was before...
Some of you have noticed that our ModDB page has recently moved and now appears on IndieDB instead. The reason for this is that we've made a decision to stop production on Bushido as a mod and instead focus on releasing it as a stand-alone game.
The feedback and support from both the Chivalry and ModDB community has been overwhelming- and we strongly believe that this decision will lead to us being able to create a game that stands out based on its own merits, not living in the shadow of Chivalry (a game we all love).
This move has prompted us to re-evaluate some of the core gameplay elements, and we can now confirm that the following features are being developed:
A totally new and innovative combat system which lends itself to the intricacies of Japanese combat

The ability to customise your own Samurai character, including his face, hair, armour and weapons

A suite of new game modes

Even more weapons!!
We've started to prototype the character customization and new combat elements already- below is a quick visualization that Kieran has created.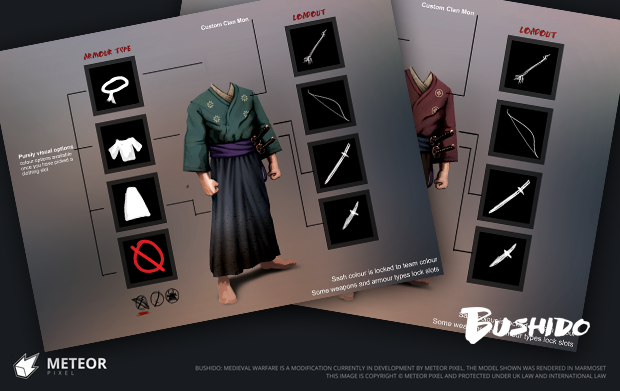 We realize that this new will leave many people disappointed. The decision to pursue Bushido as a stand-alone game was carefully considered and evaluated, and we firmly believe that the game has the potential to do well as a commercial title.
That said- we wont be forgetting about the community that helped to get it where we are today. As such, we're committed to bringing Samurai armour and Weapons to Chivalry once the team at Torn Banner have implemented the Steam Workshop functionality (if they deem it appropriate).
On behalf of the entire team, we'd like to thank everyone who has helped to support us with their comments and feedback.
All the best,
Sam & the rest of the team