I want to wish everyone a Happy New Year! Here at Flix Interactive we have high ambitions for 2013 and a raging determination to back them up. The work on Eden Star is at its full pace and I have decided to reveal a glimpse of my contribution to the project.
My name is Marcin and I am the Visual Effects Artist at Flix. My favourite things involve delicious food, watching cheesy TV shows and killing raid bosses with friends, preferably all at the same time. I have a burning passion for games and all things magical... and that will do in terms of introduction.
Here is a tiny little preview of particle effects I will be responsible for on Eden Star. We are aiming to create visually stunning and unique Sci-Fi environments, that will simply be lovely to desperately struggle for survival in.
I am currently a part of the art team working on the cinematic, which, I hope you will all be able to enjoy before not too long. Environment compositing is a delicate and difficult job, especially on the visual effects end of the pipeline. Sometimes one light can change the entire feel of the level and the trick is to adjust it with separately invisible elements. That is, however, not what this post is about. Here I need you to see those elements.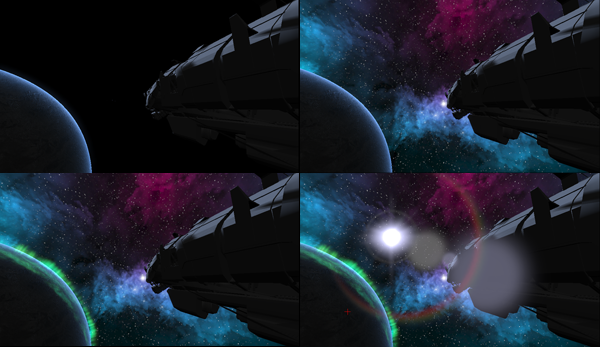 My practise involves a lot of back and forth work. In order to get a specific effect I need to create all the bits that make it and that usually means using a different piece of software every 30 minutes. I might need to paint one texture in Photoshop, then generate another one in After Effects, put the former on the mesh modelled in Maya, clip the latter with an Illustrator-made mask, combine everything in Cascade and see if it works. Most of the time it doesn't, so I have to go back and change a bit or two.
I think that's about enough of me blabbering. I should better get back to work and see how this space looks orange. I hope you enjoyed this little preview. Thanks for reading and hopefully next time I will be able to give you guys some character development insight. Have a great one and remember that all of this is pre-alpha and subject to change.