This week we worked on some concept art for the bedrooms in the past for Rhea's bedroom and in the present for Sophia's bedroom.
We also have some concepts for the kitchen of the past version of the house. For this we are still trying out some different sizes.
We also decided to share our gameplay loop to make the gameplay clearer.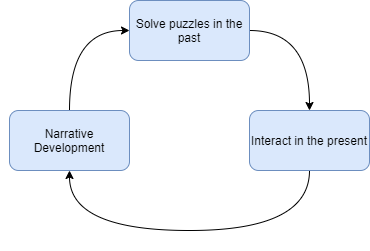 So, the basics of the game is the back and forth between the past and the present all this hopefully tied up in an interesting narrative that drives the player to keep playing.
Moreover, when in the past the player has a time limit so he must be organized and know what they're doing and why, because different alterations in the past will have different results in the present. That's why the player must interact in the present with the environment to know what specific changes must be performed in the past.
The solving of puzzles will drive the essential story points further, smaller details can also be discovered when exploring around the house.
And if you're interested in the development of Sophia and the Girl in the Past follow us on our socials:
Instagram: Instagram.com
Twitter: Twitter.com