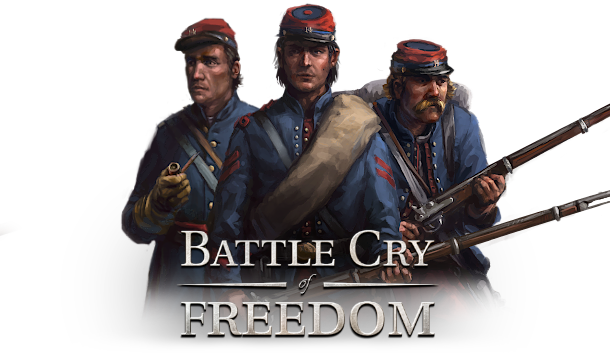 Hello there everyone! With the Steam Summer Sale currently going on you'll now get a chance to play Battle Cry of Freedom for free!


After numerous large updates to Battle Cry of Freedom, we have decided to offer players the ability to try out the game for free! Battle Cry of Freedom is now offering a free Demo for anyone to download and play.

Although the Demo will not be time-limited and allows you to play for as long as you want, it will only include a select number of playable classes. These classes will be limited to the Enlisted and Officers of the 13th Virginia and 20th Maine, plus the Color Bearer of these Regiments.

You will not be able to play any other regiment or branch. Artillery, Enginers, and the Ambulance Corps will also be locked away. Modded content, such as the Age of Napoleon mod or the First World War and Space Eras will also be available to players in a limited fashion.



Battle Cry of Freedom Sale!
Battle Cry of Freedom is currently on sale! For a limited time, you can pick up Battle Cry of Freedom with a special discount of 40% ($7.99/€7.99) off of the retail price of $19.99 (€19.99).

Are you interested in attending huge organized Linebattles with hundreds of players? Then join our Discord and enlist with one of the Regiments (Clans) hosting organized events!



Large Scale Linebattle Event - June 26th 9:00PM CET
We will be hosting another large-scale Linebattle Event.
The Event will take place on the 26th June at 9:00 PM CET (3:00 PM EST).

This will be the perfect opportunity to stress-test our Server again- We managed to reach 500 players last time. Our Server can now theoretically hold up to 750 players, however, we do not know where the current practical limit is, so we urge everyone to attend the event! Let's find out how many players we can get on the Server before it starts to be noticeable!

Any Regiment is welcome to attend! Pre-Event Signups can be done here: CLICK ME

The Rules for the event can be read here.


Community Campaign Event - Every Saturday 8:00PM EST
We are happy to announce that the 8thVA and Thomas Legion are starting an 1863 Grand Campaign Civil War Event 8pm EST/1am GMT on Saturdays starting June 25th!

The Campaign Event will allow each team to decide how to win the American Civil War by picking where to attack and how to gain territory. The campaign map will include Virginia, West Virginia, Maryland, Delaware, and parts of Pennsylvania with many modded maps to represent these areas.

Each team takes turns deciding what tile to attack and how to achieve ultimate victory. The map contains 38 tiles each with its own unique terrain and perks.

Each Saturday an hour-long battle occurs to determine if a tile is taken or successfully defended. The map includes the states of Virginia, West Virginia, Maryland, Delaware, and Southern Pennsylvania. Each team has a limited amount of Artillery and Sharpshooters, make sure to use them carefully! Capture the enemy colors to gain points! Bonus cards are also a feature, these can be earned in specific battles and allow for various hidden actions!

Event includes
An active dedicated staff of Admins who will happily answer any questions.
The ability to choose where to attack and plan your grand campaign.
Team communication and strategy.
Admins that listen to your personal feedback to improve the event.
The chance to play Artillery and Sharpshooters.

Learn more: Docs.google.com


We hope to see you on the battlefield soon!
/Flying Squirrel Entertainment