This is not a humongous update, but more an announcement that B-12 is no longer on hold. I've decided to develop both this game and Hoverbike Joust simultaneously, but with a very important important focus on simplifying the feature-set and gameplay elements of B-12.
Originally it was meant to be a simple, arcadey third-person jumpy-shooty game influenced mostly by Mega Man X, with controls that felt less like Mega Man Legends/64 and more like Mario 64. And I wanted the game to maybe look a bit like Journey, knowing full-well it wouldn't be quite as pretty.
Then I wanted to add first-person view and support VR and design big huge sprawling levels, or maybe I wanted it to be open world or etc etc etc NO! Stop it, Phillip. I got sick of it and decided to work on a different game for a while.
But I did go off on one tangent in the end, before I got totally fed-up, and that was an algorithm for making the levels randomized/procedural (based on pre-made sections, but versatile ones!).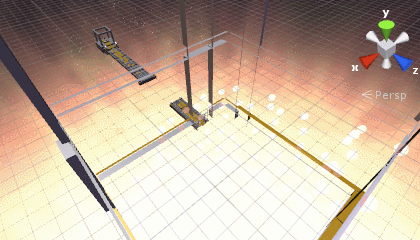 It's crude right now, but that feature stays, as it's sort-of what's helped me to decide what to do with the game. Take it back to basics. Just your main weapon and abilities. No leveling-up, inventory, upgrades, or f*cking crafting wtf? A tough robot-filled action-platformer that's simple, randomized, re-playable and can be completed in one sitting if desired.
So here we go... Gonna make both games at once. I just get too bored and uninspired working on one thing all the time.