Hello everyone,
Here we are, four days out with about $5000 to raise. Are we scared? No way! Super Roman Conquest is going to happen, and it's thanks to all of you. If you haven't done so yet, take a look at the additional reward tiers and see if you'd like to bump yourself up. Tell at least two other people you haven't told yet about SRC. Everything helps, and we thank you for it.
Here's a link to the SRC Kickstarter: Kickstarter.com

For today's update, we are proud to unveil the work of our newest collaborator, Sean Ward. We loved the work that Sean did for Hyperlight Drifter, and we knew he'd be able to breathe some life into the sprite animations of SRC. Here is just one animation he's done: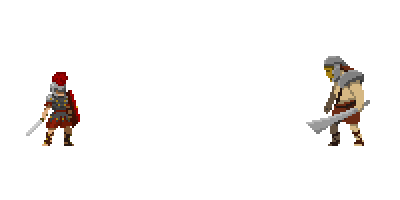 After we reach our funding goal, we'll be able to work with Sean on creating better animations for all the units. We're super excited about this, and frankly I can't take my eyes off that animation.

What's Next?
As we mentioned last update, the Art overhaul process is multi-staged. In the next updates, look for our Environment art redesign, with more concepts coming through from more talented artists.
Additionally, our pre-Alpha demo is just about done. You'll be playing a prototype of SRC very soon!
Thanks again all -- this is the sprint to the finish!
- Tim