Hi everyone! You may remember that over the last two weeks, I asked for [hosters] and [hardcore playtesters]. Hosters are people who run servers from their personal computers, to facilitate playtesting, the hardcore playtesters are my personal testing squad who do some more in-depth playtesting together with me. The response to the hardcore playtesters requests had a lower quantity than I'd expected, but a much higher quality. I got a nice enthousiastic group of hardcore playtesters at the moment, and I can't wait to find some time to invite a few of them to play with me. There still are some spots left, however, so please [read this] to see if you're interested.
The response to the hosters request, on the other hand, was overwhelming, if you consider I'm basically asking people to lend me their personal computers. I got offers from various people, and most of them already have been able to set up a working server. Let's hope they'll stick around, like Johnlier and TomasOlsson. The most interesting offer, however, is that of [the Gamesketch network]; they're a superfriendly community offering free servers for various games, and they offered to run an Olvand server as well. And not only that, they actually gave me remote access to their server, so I can update and restart the server whenever needed. In other words, I now have to power to make sure there will always be a server online and up-to-date! I really recommend you give these guys a visit [here], they deserve it. They also run servers for Garry's Mod and Natural Selection 2, and servers for Minecraft and Starbound are coming (when it's finished).
And finally, a new update was released last week. I described its contents in detail [here] and [here], except for its most important addition: fishing contests. Starting a fishing contest works just like starting a race: everyone can start a pre-fishing contest, invite a few people, and start the actual game when he/she feels there are enough players. But instead of trying to get to a checkpoint as fast as possible, what you do now is trying to catch as much fish as fast as possible.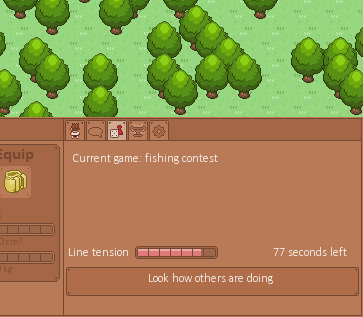 A fishing contest lasts 90 seconds; I've tried various durations (30 seconds, 60 seconds, 120 seconds, 360 seconds), but 90 seconds resulted in the most exciting games (you've got enough time to catch some fish, but it's not boring yet). By the way, this timer unexpectly added a whole new dimension to fishing: it's surprisingly exciting to try to catch that last fish while the timer nears 0, and very rewarding when you actually get it with 2 seconds left or something.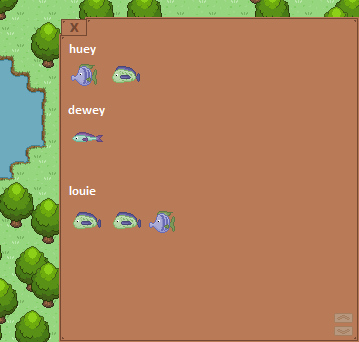 And, at the last minute, I decided to make fishing contests a bit more colorful by actually displaying the fish everyone caught (instead of a number), like you see above. It doesn't make a difference for the game itself, but I think it allows you to see how well you're doing faster, and it's a nice way to get to know the ([randomly generated]) species the server you're playing on has to offer.
If you're interested in Olvand's development, follow this blog, [twitter] or [facebook]. If you want to be a tester, but not a 'hardcore' one, you can subscribe on [olvand.com].