Happy New Year Survivalists!

We hope you had a great start in 2016!

We are excited to present you the new update 5.1, which adds the ammo-management for all mounted weapons and turrets, auto-grouping of mounted weapons, as well as a first installment of a larger space map for all space playfields, player models that are now visible sitting in the cockpits and a heap of improvements and bugfixes.

Lock'n Load!

With update 5.1, spraying bullets at your enemies, while sitting in a vessel, isn't for free anymore! You need to add an ammo box and fill it with the corresponding ammo types of your mounted weapons and turrets. Weapons will reload automatically if you just hold down the left mouse button, but you can of course reload them manually as well.
In addition, weapons are now automatically grouped! A weapon icon with a number, displaying the quantity of this weapon available on your vessel, is visible in the left cockpit toolbar. In terms of the new ammo management, you are always reloading the whole group of weapons.
To ensure your weapons do not run dry, you can select from a large and a small ammo container.

Finally, you'll notice a slight update of the lower right info panel in the cockpit view, displaying something like: AMMO 2x25/200

This translates to:
- The weapon-group you just selected in your cockpit toolbar holds 2 weapons of the same kind
- Each of those two weapons got loaded with 25 bullets. That's a total of 50 bullets loaded.
- /200 = You still have 200 bullets left in your ammo container from this specific ammo type. In this configuration, these will last for 4 reload cycles (4x50).

The new ammo management applies to all Bases and Vessels.
Turrets and mountable weapons have now to be re-loaded and take ammo from the ammo box: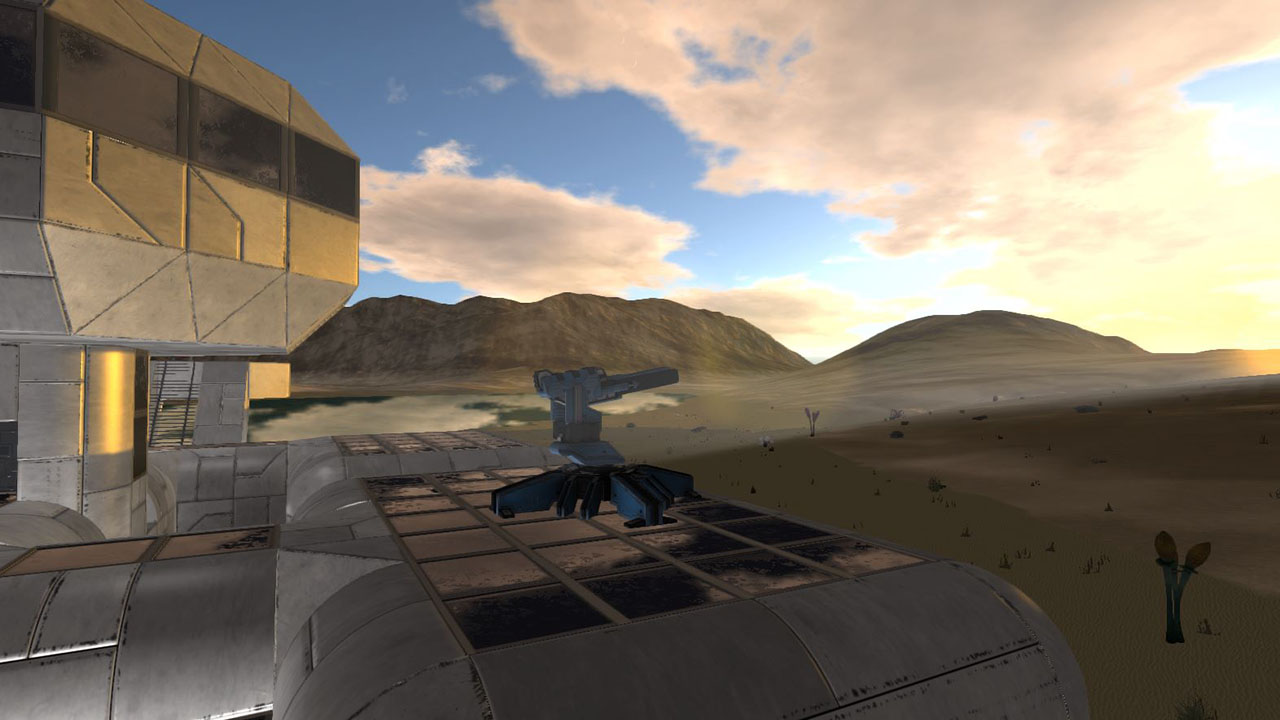 The new ammo box: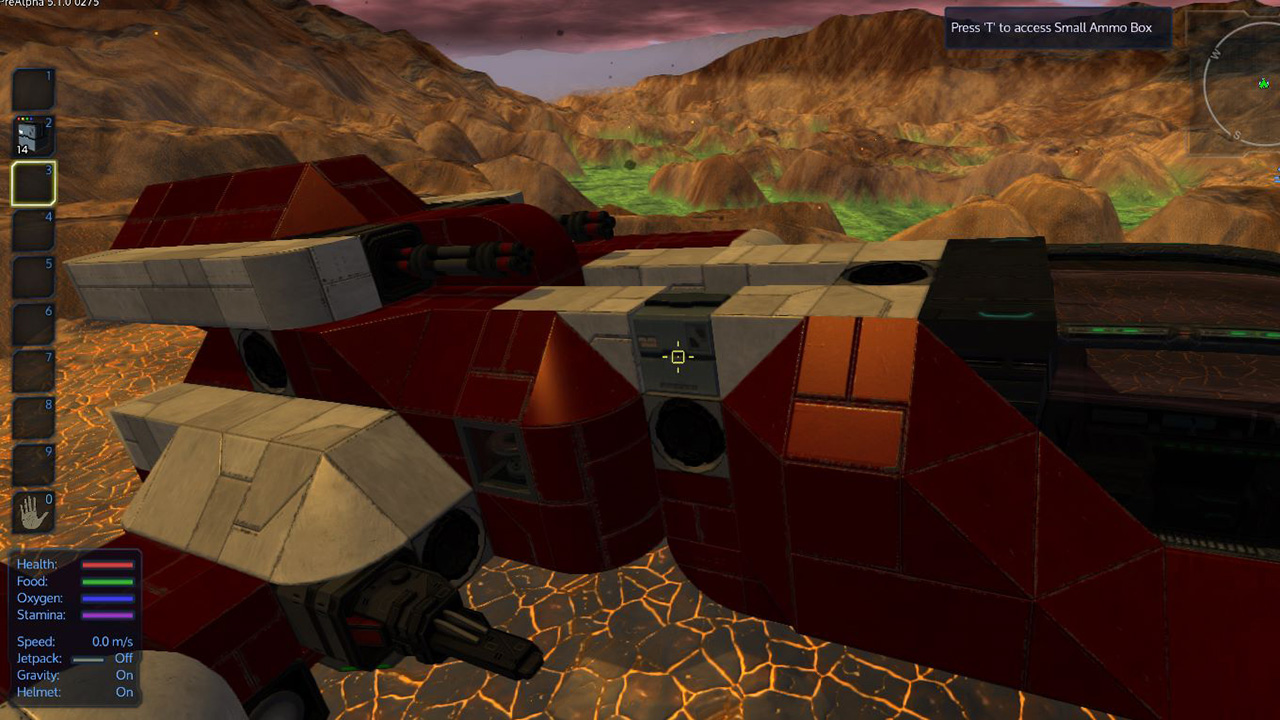 The player model is now sitting in the cockpit: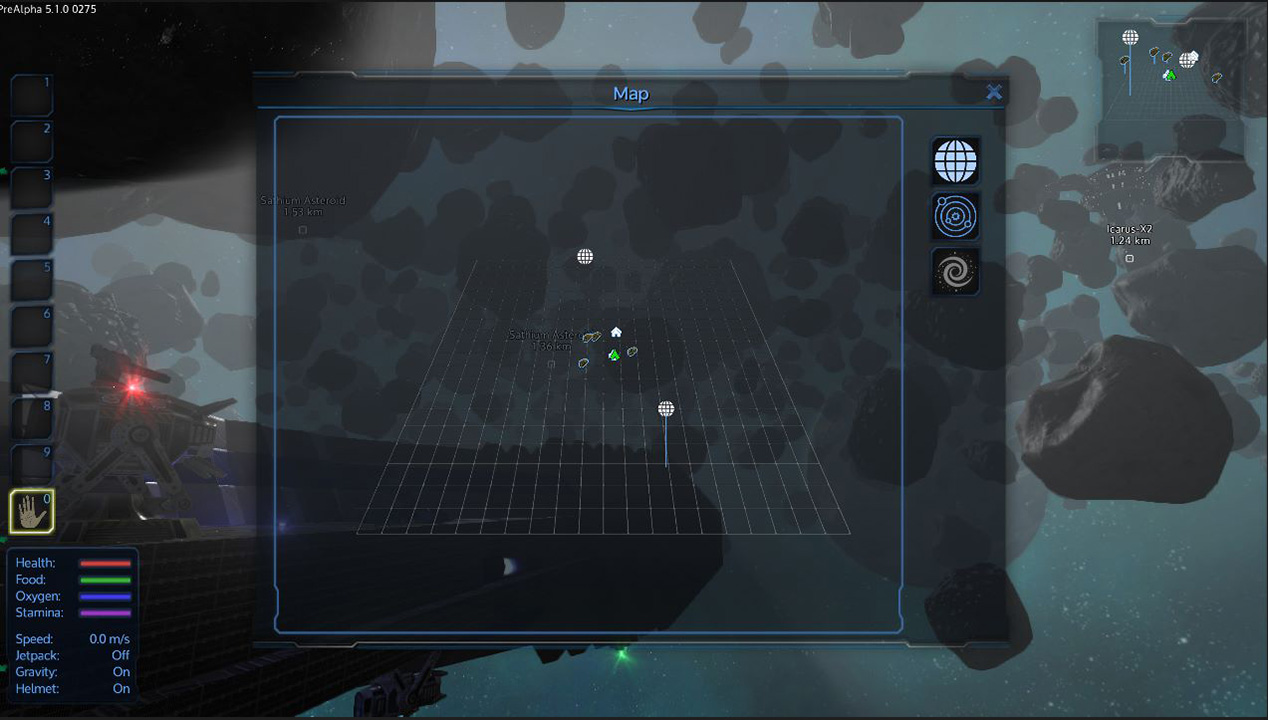 Improved dust in the asteroid field: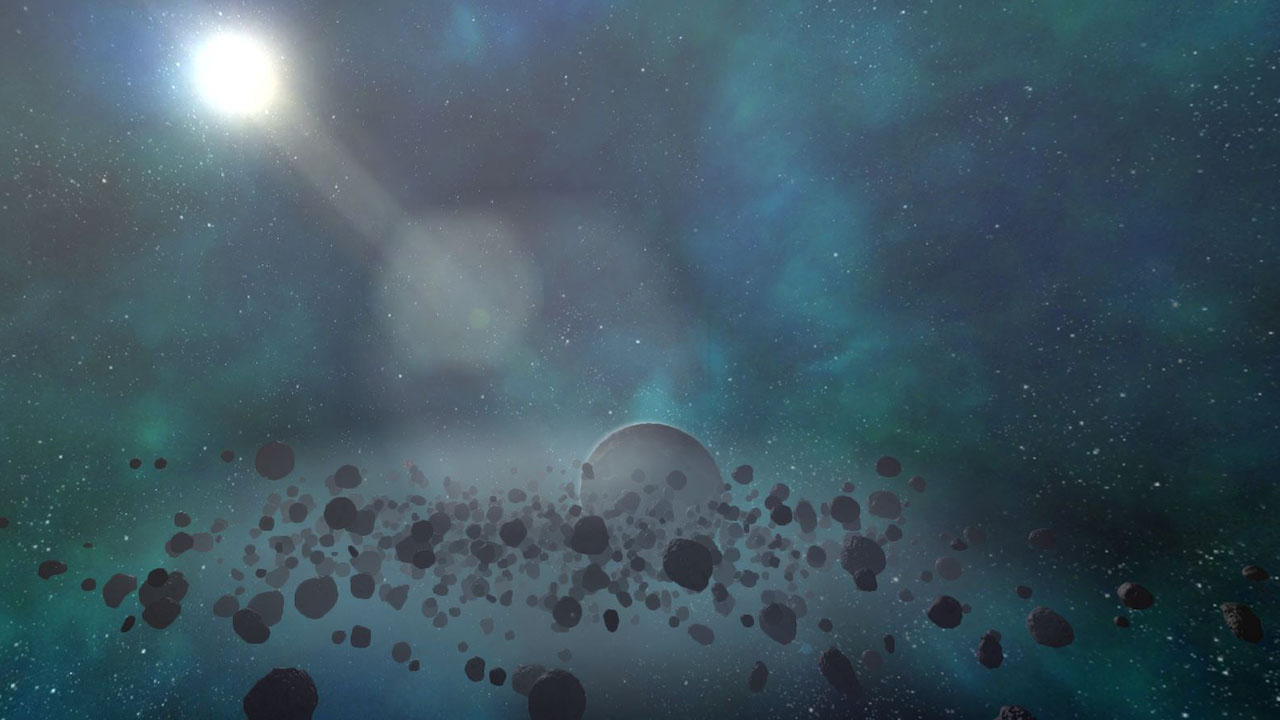 Drones show now up on the radar map: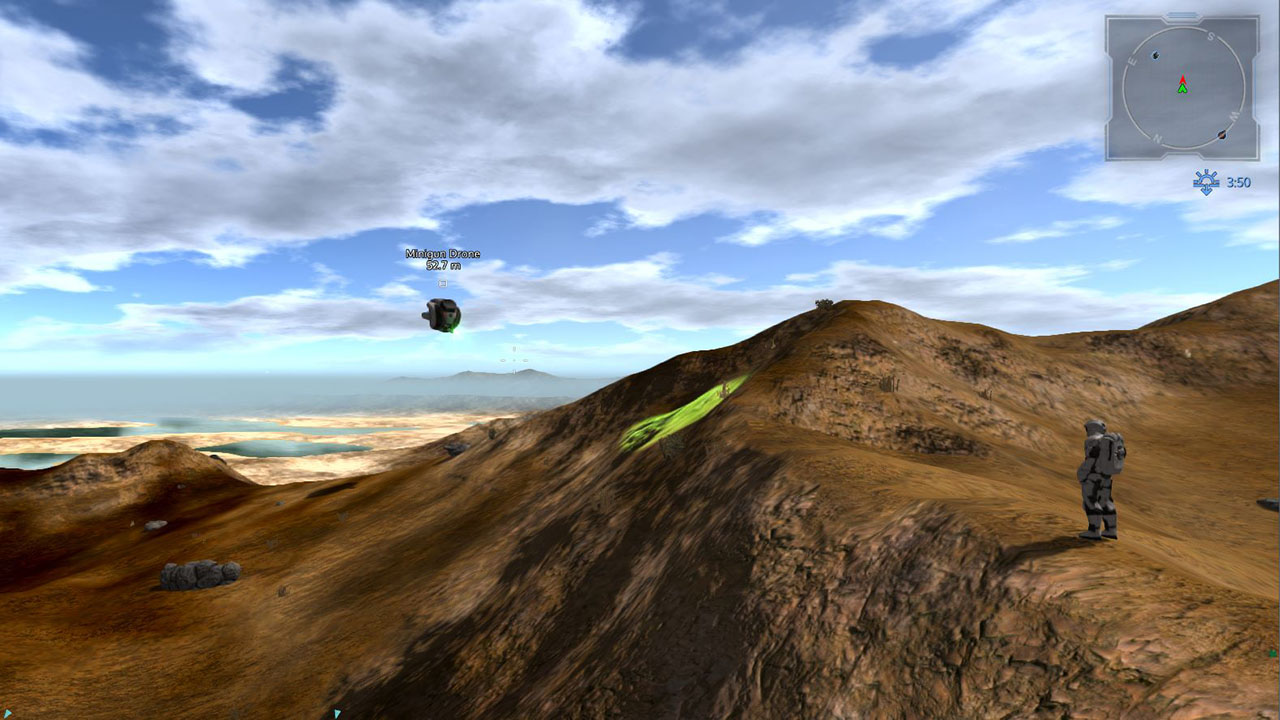 CHANGELOG: Pre-Alpha 5.1

Features:
- Turrets and mountable weapons (SV/HV/CV) now consume ammo and take ammo from an ammo box
- Mountable weapons are now grouped together so that you can have more than 9 weapons per vessel
- Added main map M to space (centered around zero position of a sector)
- Added sitting player model to passenger seats and cockpits

Changes / Improvements:
- Drones on a planet are now shown on the radar map
- Planets of the sector now shop up on the radar map and main map
- Improved asteroid dust area. Borders are less visible.
- Warp jump effect for CV is relocated and placed closer to the vessel
- When activating warp drive, vessel maintains speed and direction until warp jump is done
- Added short landing gear for CV to facilitate loading of HV
- Added cockpit to Starter Block CV to indicate flight direction, adapted template Starter Block CV
- CVs can now also be built on planets.
- Only the player that pilots a CV/SV/HV can switch power on/off
- Adjusted camera position on cockpit CV
- Better 3rd person view on CV/SV/HV (per default it is now a bit lower)
- Added passenger seat (interior) SV and deactivated old (cube and slope) passenger seat SV
- New Base/SV/CV/HV is now set to the player's private faction on placing per default.
- Added faction check on landing gear (now you can only dock on another CV, if it belongs to your faction. Change was made to avoid blocking of other factions' CVs)
- Info window (bottom right) is only shown when a weapon is active
- Showing total number of remaining ammo (inventory or ammo box) in lower right info window (also for players with handheld weapons)
- Major revision of block info (weights, etc.)
- Updated preview icons (ammo + missiles)
- Better sorting of ammo in template overviews
- Added more info to mountable weapons (ammo, capacity, range etc)
- Tweaked reload sound and delay for mounted weapons (we will add more variation and different sounds later)
- Server Browser: Added counter of currently shown servers, improved display of server details
- Added Cancel button to 2nd stage of connecting to server (before you had to completely shut down the game)
- Increased output count of magnesium powder (to take into account higher demand for ammo)
- Last selected panel in main map is now opened when re-opening map
- Adapted drops/loot of plant monster to be consistent with what is growing on Akua
- Alien Container does not show up in Control Panel anymore
- In local single player games, a player can now change the playfield from space to the planet surface even without a ship
- Added error message when spawning Blueprint on Dedicated Server in Creative Mode

Bug Fixes:
- Fixed fuel consumption bug: now when switching on a Base/SV/CV/HV, no extra amount of fuel is consumed (before, the amount of fuel was consumed since the last activation)
- Possible fix for CV vanishing / clipping through the world when parked on terrain
- Fixed problem with playfield sleep mode that stopped constructors/plants and did not restart them when reactivated
- Possible fix for problem that sometimes dug out terrain reappeared and underground bases got refilled (fix works only for areas that have not yet been visited)
- Possible fix for problem that terrain placeables (H2O2, O2, H2O Generators and Survival Constructor) were sometimes vanishing (fix works only for areas that have not yet been visited)
- Fixed problem with "invisible" golem
- Fixed problem that sometimes it was not possible to warp jump with CV ("you have to fly in direction of destination") even though you were flying towards destination
- Fixed problem that alien turrets and other projectiles could shoot through terrain
- Fixed exploit problem: Inventory could be multiplied with suicide + fresh start
- Fixed problem that wrong fuel consumption was shown in control panel when structure was turned off
- Fixed problem that when exiting a passenger seat or spawning within a room that is only 2m high the player was teleported one level higher
- Fixed problem that resource meteorites sometimes spawned in space
- Fixed problem that hitting T repeatedly (and fast) after reaching a warp-destination lead to unexpected ejection from vessel
- Fixed texture problem when Water and Hull Block were at same level
- Fixed problems with Tech Tree: color flicker when changing tabs and position resetting when unlocking an Item
- Fixed problem with turrets in third person view (now first person view enforced)
- Fixed: Mouse pointer no longer jumps to center when clicking Connect in server browser
- Fixed problem with Alienplasma having "O2 content"

Thanks for reading and stay tuned for the next update

Empyrion Dev Team