So this week I will be talking about what happens when things do not go according to plan. I had intended to have cityscape concepts to show. This did not quite happen. I believe I mentioned that this was not ground well trod for me. The majority of my artwork prior to this has been figural or at least on that scale. I was a bit overly optimistic.
There is a distinct difference (at least for my brain) between the busy and detail strewn cacophony that is a cityscape and the relatively simple realm of characters and their scaled environments. I started and scrapped a lot of quick "sketches" which were basically being used to try to find a decent composition. After realizing that this was not the best use of time I tried to make a straight forward view out over the first city I was concepting. The result before I became overwhelmed by irritation was this.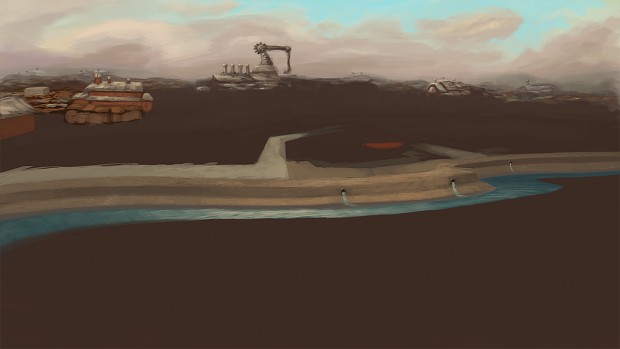 I found it simple enough to get the back of the cityscape established but could not figure out exactly what I wanted as I moved toward the viewpoint. So I started over again, this time with more overhead view as that is the perspective the game will utilize. Crazy idea right? Sometimes the obvious eludes me. As you can see I tried to work from the front this time as layers give that luxury. Still a no go, and I started to realize what was giving me problems.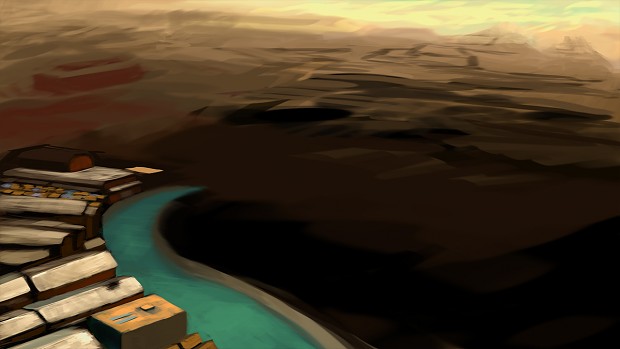 I have trouble simply throwing down mark and working out the gist of buildings from there. My mind simply doesn't work in such a maelstrom. After having a conversation with the new third member of our team he suggested I start by doing some sketches of the different buildings that would be going into the cityscape so that I would have less chaos to contend with and more of a basis to start from. I figured I should tackle the housing which was causing me the most irritation. Part of that conversation I mentioned also resolved how the housing in at least this city would work. The ramshackle buildings are crammed together and even stacked when necessary. As there is no direct incentive to the industrialists to set up decent infrastructure to deliver fuel to these homes the populace has taken it upon themselves to tap into nearby pipelines and then snake piping throughout the district. The resulting tangle will stand in contrast to the buildings of industry which will have clean and perhaps semi-ornate exteriors (I have been kicking around this idea more and more in my head).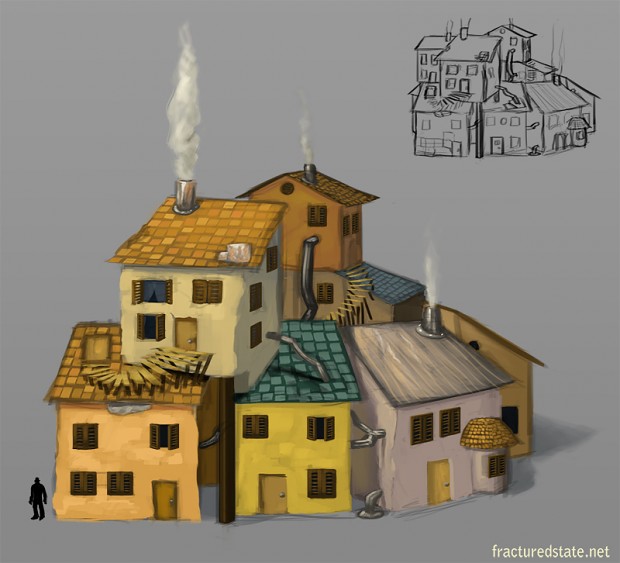 You may now disembark from the fail boat. I hope to do so myself sometime in the next two weeks and actually have at a completed cityscape to show. I will likely continue doing sketches of buildings to inform the cityscape and will post those also. I apologize if this post in more rambly than usual, the past two week have done unkind things to my brain...