In order to get a better handle on the general look of the game world I sometimes jump into tangential sketches. In this week's case that would be the interior of a factory and associated props. By fleshing out the world and sketching machines that may or may not be used it makes designing props and units for the game world easier.
In the case of this sketch there are some elements that can be directly carried over. The crates can be utilized around factories and perhaps around cargo hubs. The style of engine will eventually be used on vehicles and some external props attached to buildings.
Before starting this image I sketched up a bullet casing/shell press. I figure machines in this world will be for the most part straight forward, but lacking in safety features. After all, cheap labor abounds inside the Empire so injuries or maiming are not a design concern. Each machine is powered by its own engine piped directly into a main source. In order to not immediately asphyxiate all the workers inside the building the exhaust is carried via another pipe out to the roof.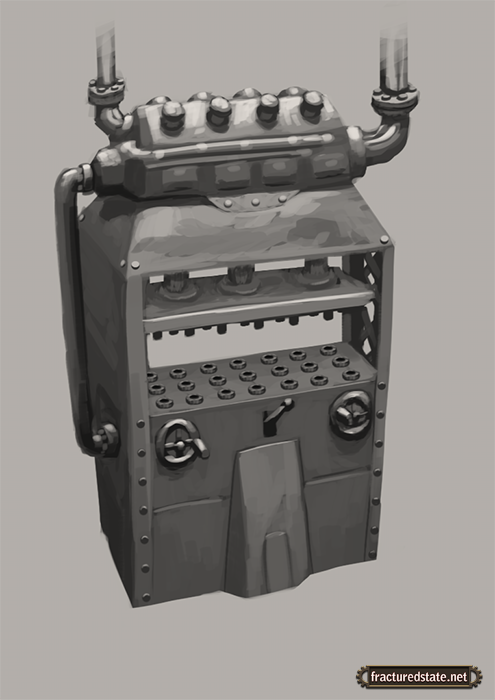 On a separate day dedicated to sketching I threw together an overly thought out idea for a crate. The handles on the sides slide in and out so that the crates can be carried more easily (higher efficiency of work, this isn't for the workers benefit except tangentially) and still stored compactly. Other than that...it speaks for itself.